Shiny, cotton fabric that won't get terribly crumpled after a long day of wearing? The mercerization of fabrics is a refinement process that gives cotton fabrics new properties, very desirable in garments and accessories. What is the cotton mercerisation process and how does it change cotton fabrics?
What is mercerisation?
Fabric mercerisation is a chemical process in which the thin, matte layer that covers the yarn is dissolved. As a result, the inner part of the natural fibre is exposed, which makes it more susceptible to the absorption of external factors, including pigments and dyes. The paint or ink then penetrates directly into the material's structure, thanks to which the colour becomes more profound, more saturated. Without a matting barrier, mercerized fabrics also gain greater gloss. Cotton mercerization makes the fabric a delicate shine, becomes more durable, the surface of the fabric is easier to dye, and in everyday use, the material is more resistant to creases. The mercerization of fabrics is not a new process in the textile industry – the method was patented in 1850 by J. Mercer.
What does mercerized cotton look like?
When mercerized cotton lies next to regular cotton fabric, it is easy to indicate which material has undergone the refinement process. Cotton mercerization makes the fabric smooth and shiny. Clothes made of mercerized cotton will be subtly shiny, with a deep shade, and you can expect fewer creases on the fabric after wearing or washing them. You will also notice the difference when ironing – the mercerization of cotton makes it much easier to iron out small creases on the fabric. The ennobled cotton fabric is also a more solid, durable material, it can even seem elastic. Compared to any cotton fabric, mercerized cotton cannot be torn that easily.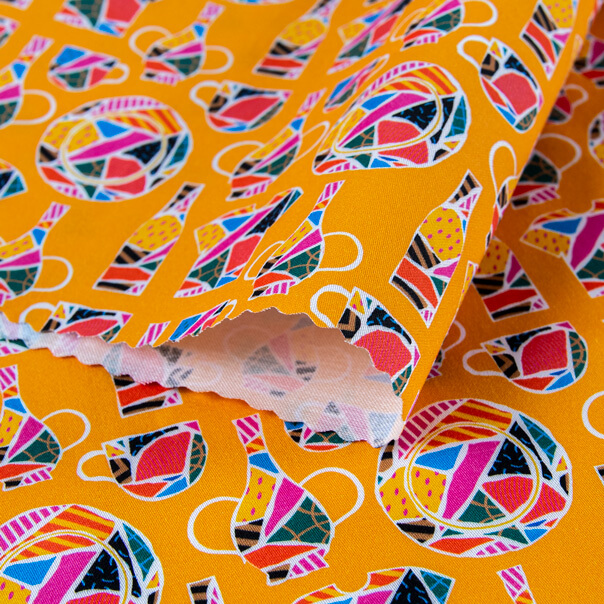 Does the mercerization of cotton change its properties?
The fabric subjected to the process of refinement, although gaining additional properties, still retains the original features of the natural fibre material. Cotton mercerization does not affect its air permeability, so mercerized cotton clothes are suitable for any season, from cold winter to hot summer. Mercerized fabric is still a very pleasant material to sew, which will not be a challenge even for the simplest household machines. Mercerization of fabrics does not change anything in the care of the material – mercerized cotton satin can be washed in a washing machine at 40 degrees.
Mercerization and sanforization – a reliable duo
When deciding on such an elegant material as mercerized satin cotton, before you think about slicing it, remember to sanforize. What exactly is material sanforization? Although the name sounds like another, complicated process of refinement, sanforization is known to everyone to steaming the material. After the first washing, fabrics and knitted fabrics change their dimensions a bit, so in order not to be disappointed with the newly sewn garment, which turns out to be too small after the first wash, it is necessary to condition the fabric before sewing. Sanforizing the material at home consists in washing it or ironing it with steam. Under the influence of temperature and humidity, the material shrinks and reaches its final size.
What cuts are mercerized cotton suitable for?
The subtle shine of mercerized cotton fabric makes this material an ideal candidate for sewing exclusive clothes, such as elegant shirts, party dresses or unique accessories for a suit, including ties, bow ties and pocket squares. Smooth and soft mercerized satin is an excellent material for contact with the skin, so it is perfect for sewing clothes, underwear or high-quality bedding. Mercerized fabric can add splendour to lunch or dinner – from this beautiful and shiny fabric, you can create luxurious napkins or tablecloths.
If you care about clear details and saturated, vivid colours when printing on fabrics, choose mercerized cotton satin for your projects. On the smooth, slightly shiny satin surface, the colours appear even more saturated and vivid. The fabric looks extremely elegant and retains its shine even after repeated washing.