The patterned fabrics in the wardrobe can be overwhelming, particularly for enthusiasts of minimalism. Though, there is no denying that, with the right patterns, you can usher in a bit of creativity to a simple outfit, and even add elegance and class. What should be the guiding principle in choosing patterned fabrics to match the unicoloured ones? How to combine colours and patterns to achieve the desired effect?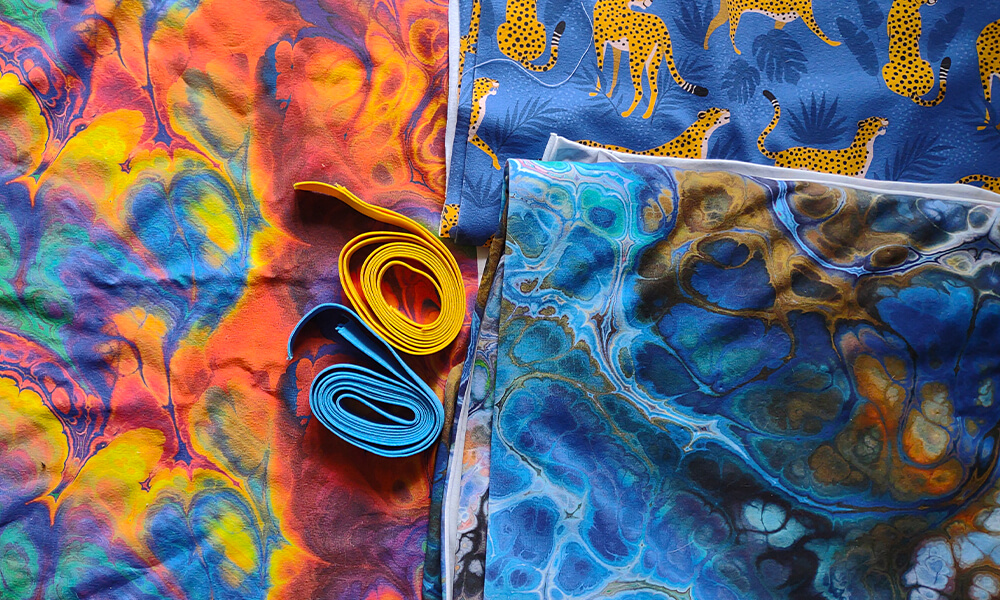 How to combine patterned fabrics with unicoloured ones?
If simplicity and elegance in the wardrobe are the most relevant features for you, then opt for small accessories made with patterned fabrics. The perfect combination of the colour of the pattern and the base garment is essential here. If you plan to add a patterned element to an olive shirt (e.g. a collar or cuffs), choose a pattern whose base colour is olive green, or there are elements in that colour. Try to match the colour as best as you can. Even small variations in saturation and shade will be visible in this type of clothing. Do you want the patterned elements of the outfit to be eye-catching? Go for the contrast and complementary colours, the ones on the opposite side of the colour wheel. Then, you do not have to worry about the perfect match between the shade of violet in the pattern and the knitted fabric you want to order.
How to combine patterns?
The combination of patterned fabrics with plain fabrics is certainly not the only option. A bold solution is to combine different patterns. However, it is not a trivial task, and it is worth knowing a few basic rules that will make outfits with patterned fabrics look aesthetic.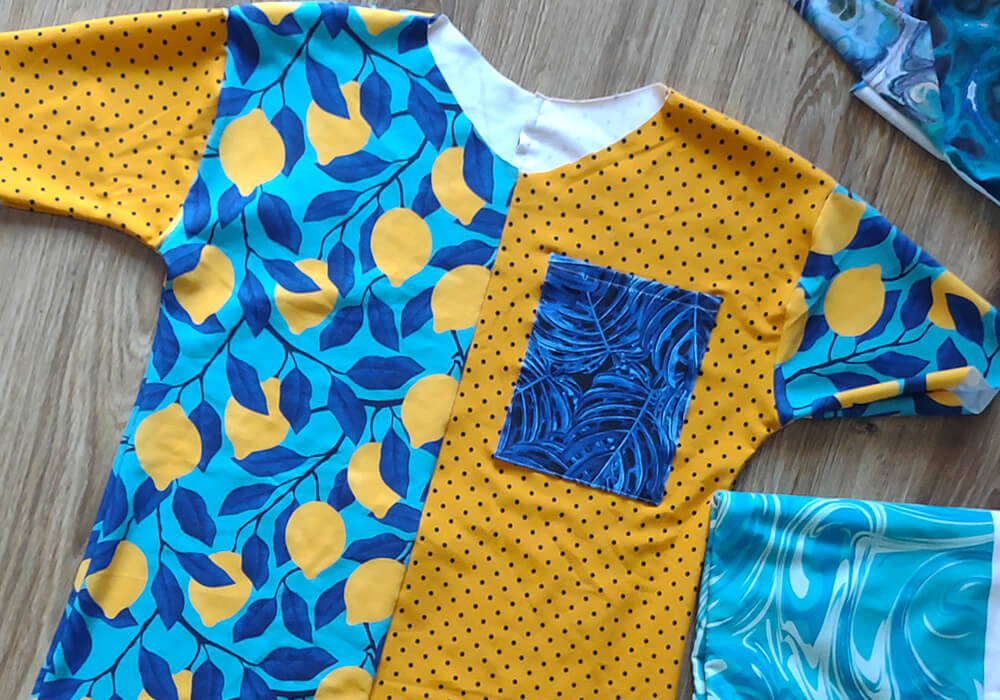 Choose a second pattern as an embellishment
You are not certain where to begin your experiments with combining patterns? Add a small embellishment made out of a fabric with a distinct pattern to your design. Enrich a shirt sewn with patterned fabrics by adding piping made from different knitted fabrics with a pattern or sew a small pocket on the front. Add stripes to the leggings, sew a contrasting shirt yoke. Start with small elements and see which effect suits you best.
Combine patterns of various sizes
When you combine two different patterns, make sure they are of various sizes. Add little dots, a checker or smaller flowers or leaves to a dress sewn with a fabric decorated with impressive monstera leaves or beautiful and large flowers. Add embellishments made out of bold and large prints to finely patterned clothes.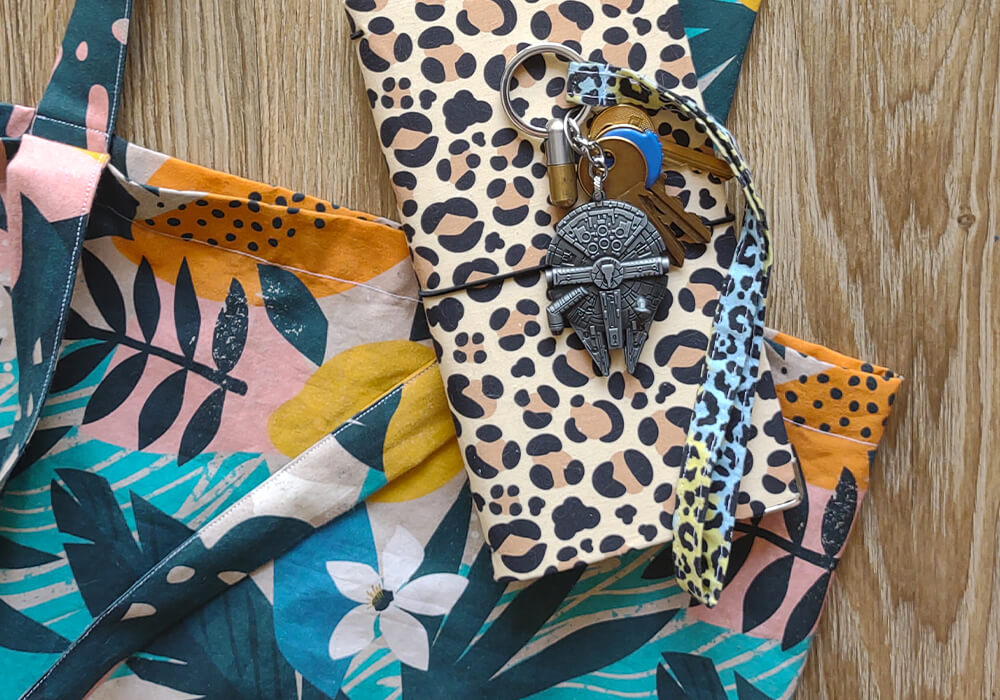 Search for patterns that contain the same colour
As with matching a plain fabric to a patterned fabric, the same colour will help to create a consistent whole. Even two large flowery patterns can look good if both of them contain blood-red poppies or impressive yellow sunflowers. Here, it is essential that the colours match perfectly – turquoise butterflies will not suit mint stars.
Treat the stripes like plain fabrics
Stripes are both a timeless and universal pattern. They are suitable for sports outfits, office clothes or in the most comfortable pyjamas. Patterned fabrics are extremely easy to combine with stripes. You can match their colour to the dominant colour of the pattern, opt for contrast or complementary colour. Stripes kept in a neutral colour will make the patterned elements of the outfit play first fiddle.
Monochromatic patterns
In an outfit or a project, monochromatic patterned fabrics will serve the same purpose as stripes. Especially in the case of finer patterns, which then turn almost into a texture. Fabrics with a pattern maintained in a monochromatic colour palette can be combined with any pattern – floral, geometric or abstract.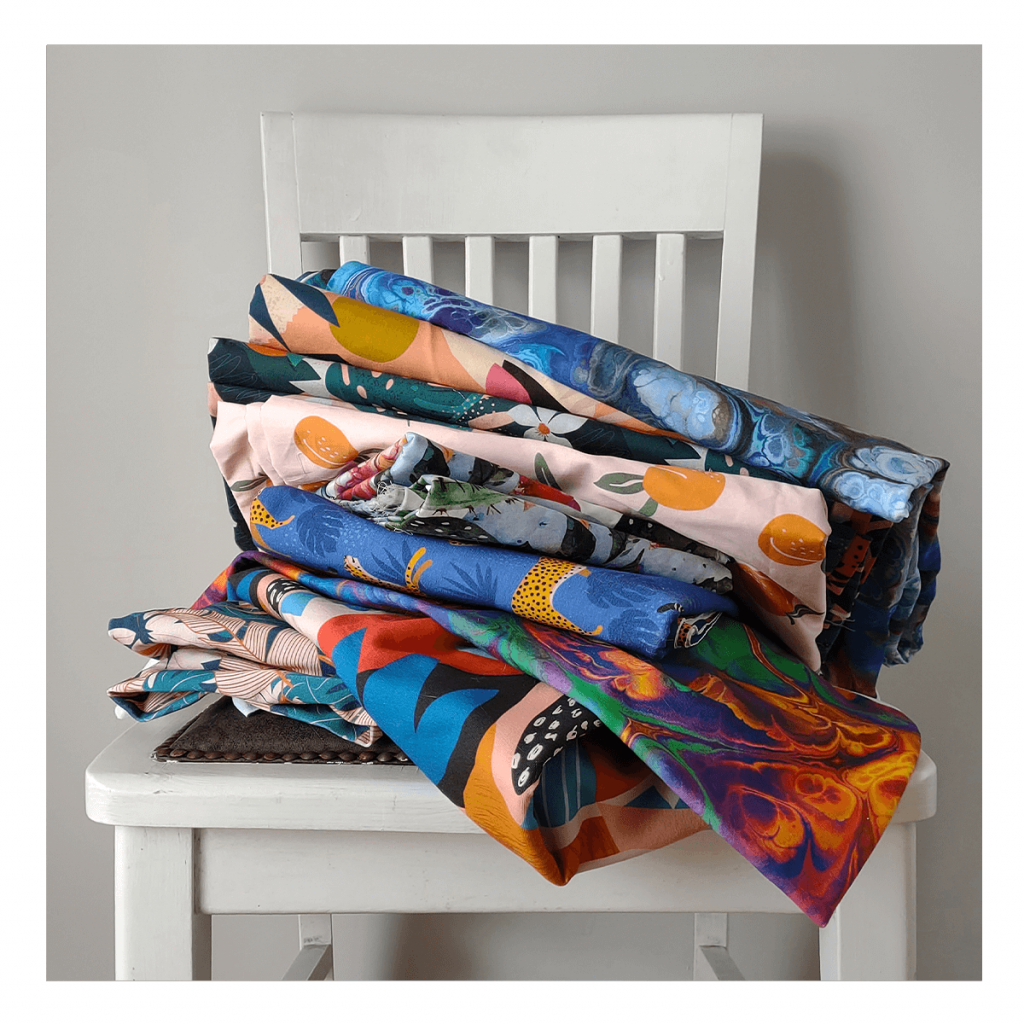 When combining patterns, avoid combinations of two patterns of the same category and size. If you want to combine two floral patterns, make sure that one of them is smaller, maintained in a monochrome colour palette, or that the same colour appears in both patterns.
There is a method in this madness
The patterned fabrics are an exceptional element that can diversify even the simplest t-shirt. When working with patterned fabrics, apply the rules mentioned above, and your projects will be eye-catching and sure to charm the customers.