10% discount on organic fabrics
We have a GOTS certificate! To celebrate getting GOTS certified we'll have a promo code for #OrganicAugust! For the entirety of the month of August you can print your organic fabrics with 10% discount using code ORGANIC21EUR!
How to get the discount?
✔️Add at least 1 meter of organic fabric to your cart.
✔️While finalizing your order apply the code ORGANIC21EUR in your cart.
The promotion is valid from the 1st of August to the 31st of August. The promo code applies to orders of at least 1 meter of fabric and cannot be combined with other promotions or bulk discounts.
Print organic fabrics with a 10% discount!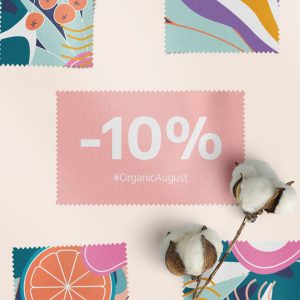 Was this article helpful?
Related Articles