The OEKO-TEX Standard 100 certificate is a guarantee of the safety of textile products intended to come into contact with the skin. Products marked with the OEKO-TEX® Standard 100 certificate have been tested in the certification process for the presence of over 100 substances harmful to humans.
Leading Quality Mark
Textile products marked with the OEKO-TEX® Standard 100 mark can be easily found all over the world. Over 10,000 manufacturers of the textile industry certify their items and products in accordance with the OEKO-TEX® standard. The OEKO-TEX® certificate greatly facilitates the sale of textile products in the European Union, Canada, the USA and Japan. A product bearing the OEKO-TEX® Standard 100 mark guarantees safety and protection against harmful chemical substances.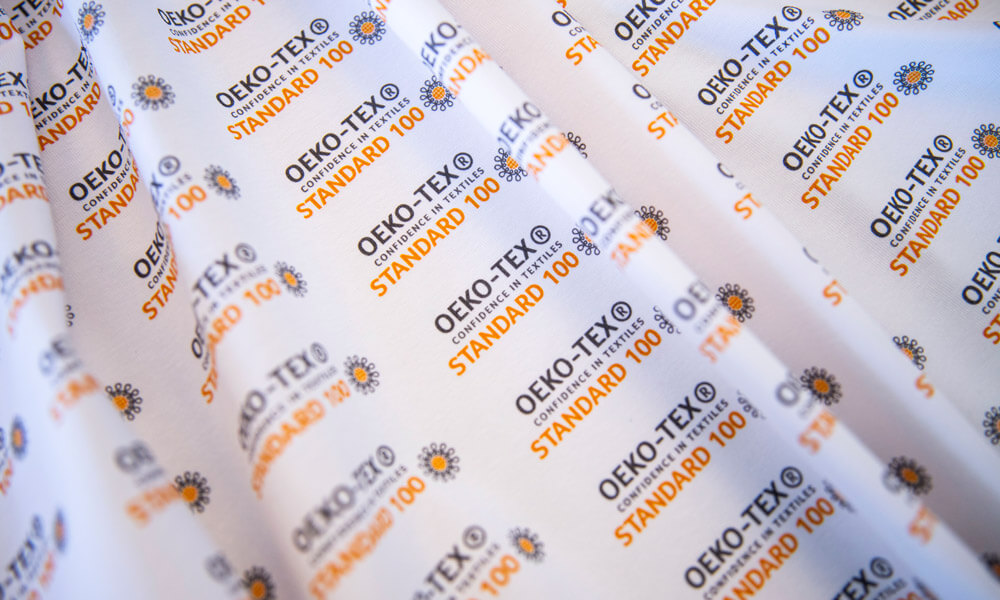 What is the OEKO-TEX® Standard 100 certificate issued for?
The certificate is issued for textile products at every stage of their production. The certificate may be given to ready-made garments as well as fabrics or yarns. Items that may be certified include, among others, raw and dyed yarns, woven and knitted fabrics, sewing threads, ready-made products, including clothing, bedding, home textiles, but also clothing accessories such as buttons, zippers, etc. From the perspective of the OEKO-TEX® certification process, it is most important that the chemicals used in the production of clothing or textiles do not exceed harmful levels. The OEKO-TEX Standard 100 certificate is issued only to products that have passed strict human-ecological tests and only such products can use the STANDARD 100 by OEKO-TEX® mark.
OEKO-TEX® certificate for printed materials
Certified printed materials are a guarantee that all your products and projects will be safe for human skin in everyday use. OEKO-TEX® Standard 100 is one of the most recognizable quality marks for textiles tested for the presence of harmful substances. All the fabrics you print at CottonBee have undergone rigorous testing and are certified to Standard 100 Class I. But what does certified fabric mean in practice?
Safe textiles for the youngest
OEKO-TEX Standard 100 Class I is a label for products that meet the strictest criteria. The Standard 100 Class I certificate marks products for infants and children under 3 years of age. More than one hundred parameters important for children's health are checked in the certification process. In addition to the presence of hazardous substances, our materials have been tested for various organoleptic factors, including foreign odours, and resistance to colour transfer by water, saliva and sweat. You can without a doubt use materials with this certificate to sew baby rompers, sensory cubes and rustling sensory books, which will be completely safe for babies.
The perfect choice for allergy sufferers and health-conscious
Various chemicals, including dyes and the compounds they contain, can cause allergic reactions when in contact with the skin. Harmful substances can also enter the body through the action of moisture. Most often it is sweat, and in the case of young children, it is usually also saliva. The toxic substances in the dyes can cause allergies or severe poisoning. OEKO-TEX® certified materials will not sensitize or harm our health. They are safe in everyday use, so you can fill your wardrobe with them or use them to furnish your bedroom.