Who said that plant pot has to be simple and boring? And who is to say that a cactus cannot wear a vest? Plants also want to be fashionable. But how to achieve it? Quick fix for your old and questionably pleasing to the eye plant pot is sewing a slipcover from printed cotton. Without a mess of replanting your houseplants in a single afternoon, you can give a new look to the entirety of your household flora. With simple care instructions, you don't need to worry about ruining your fabric with dirt stains. A quick wash on delicate setting should do the trick. Kubraki creates designed for plants vests or slipcovers, to be more precise.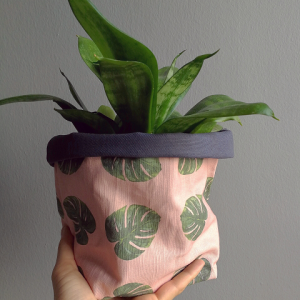 Plant pot holder made of printed cotton – made by Kubraki.
Cotton cloth printed by CottonBee.
Gosia z CottonBee