Fabric printing
We print on cotton sewing fabrics of the highest quality - woven and knitted. We use the technology of printing on fabric that guarantees vivid and long lasting colours. No minimum orders and with short delivery time!
You can choose from cotton woven and knitted fabrics of different grammage and weave. Perhaps you don't know what custom printed fabric will be the best for your sewing project. Learn more about fabrics we print on below:
How much printed fabric you need?

Sample
20x20 cm

2,49 EUR/GBP
(regardless of a fabric type and a design)

Swatch
48x48 cm

4,99 EUR/GBP
(regardless of a fabric type and a design)

Running metre
from 145 cm wide, price depends on a fabric type

from 14,90 EUR/13,90 GBP
Tag us on Instagram!
#cottonbee
How does a digital printing house of woven and jersey fabrics work?
Are you looking for sewing fabric that fits your latest project? You can't find anything extraordinary? You've come to the right place! CottonBee is a digital printing house of jersey and woven fabrics. You can start from a sample or a swatch! No minimum order, no minim cotton um number of colours, exactly as you want it. Let your creativity fly as high as your ideas and design custom-printed sewing fabric.
We print on cotton sewing fabric. You can choose from jersey and woven fabrics of the highest quality, different weave and grammage. We can print your ideal pattern on the fabric of your choice. Decide how much fabric you need this time. If you want make a bulk order, you'll get a discount. Small orders are welcome too – we can print even a sample of your design so you are able to check if it meets your expectations.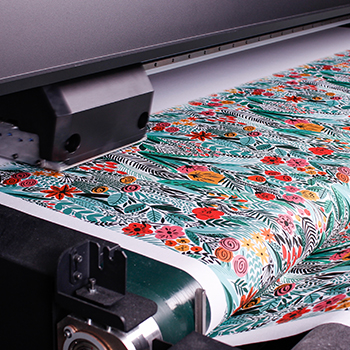 Fabric printing - how it works?
You have chosen a pattern from the catalogue or uploaded your design into our application. You have selected its size and the way it is repeated on the fabric. You have decided to print it on woven fabrics – voile, cretonne, satin, gabardine or linen. Perhaps you have tried jersey fabrics - cotton single jersey, interlock or sweatshirt jersey? We are happy you have ordered the sewing fabric with a design. The bees in our hive can't wait to get busy with a new order. Do you want to know what happens next? Printing machines with a roll of white unprinted fabric are started after a file is prepared. When the fabric is printed, we cut it off the roll and fix the print at a high temperature to make it durable. We care for our planet; that is why, we don't use any chemical substances or water. The finished sewing fabric is ready to be packed into colourful parcels and sent to the world! Straight to your door.
Unique colours, great colour fastness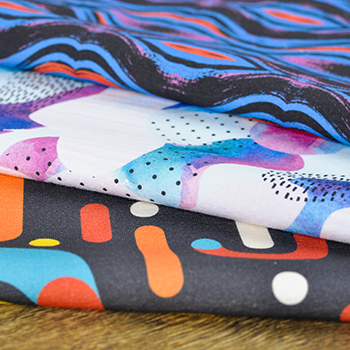 Custom-printed sewing fabric gives you new opportunities. Let your imagination run free and fulfil your artistic aspirations by decorating your home. Use the fabrics that make the interior cosy and extraordinary. Self-made gabardine curtains will please the eye more than the ones bought in a chain store and a cotton linen tablecloth with your design is a great occasion to show the home dwellers your good taste.
One thing is certain: if you print your favourite design on fabric and use it to sew a dress that you'll later wear at a party, nobody will have the same one. You'll feel unique and the outfit will fall in the guest's memory for a long time. Design your pattern or choose one from the catalogue and we'll print it on satin or sweatshirt jersey that are perfect for sewing a dress. If you want to make a T-shirt, single jersey – 100% cotton or with lycra is the best choice. Choose the fabric that meets your needs and let your project carry you away! With the help of little bees from CottonBee, you'll create extraordinary outfits for you and your family, show your inventive soul and take satisfaction in creating. Fly as high as your ideas with CottonBee!
For business
Haven't decided yet?
Order a Swatch Book
x

Haven't decided yet?
Order a Swatch Book!
Order our Swatch Book including 10x10 cm samples of all CottonBee fabrics and be sure what you buy.
Only 1,99 EUR / GBP and free delivery.
Order a Swatch Book