There are at least two ways how to tackle a custom cover for your notebook. You can sew a soft cover for your planner or travel journal if you don't want an extra weight to carry on an everyday basis. Printed fabric can be also added on top of already existing hardcover notebook or sketchbook if you want a one of a kind stationery on your desk or in your bag. Just glue it down, add end-pages and your custom notepad is good to go. Higher grammature fabric will be your best bet here – it'll add some structure to the cover and glue won't seep through to thin of a fabric.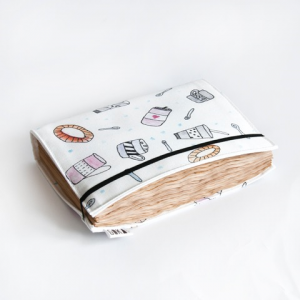 Notepad with cotton cloth cover made by Goka Made. 
Cotton cover designed by the shop owner and printed on fabric by CottonBee.
Gosia z CottonBee