You probably saw poplin more than once in a clothing store or fabric store. The fabric is gaining popularity every year, and it can be seen especially often in the spring and summer months. Why cotton poplin, although produced for over 500 years, is now so popular?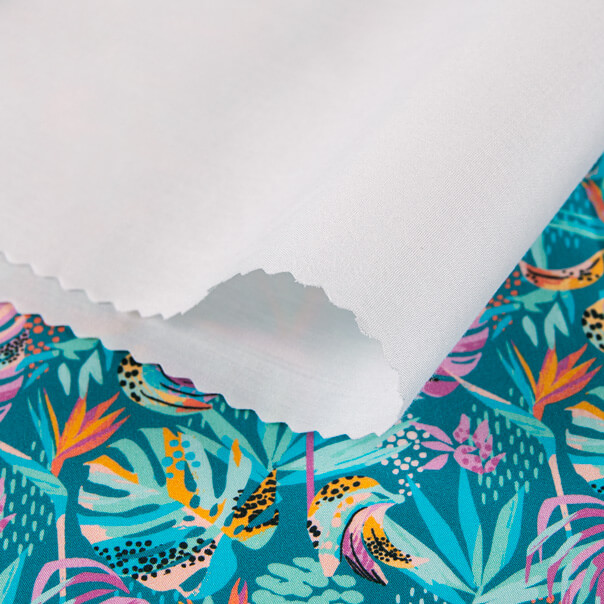 Poplin – what material is it?
Poplin is a fabric with a plain weave that is quite clearly visible on the surface of the material. This textile was made of a variety of fibres, including wool, silk and cotton. However, it was this exact fabric that gained the greatest popularity. It is a densely woven and durable cotton fabric, which is also a very breathable material. Currently, when you see the name "poplin" in a clothing store or on a product tag, you do not have to check the composition, but you can be sure that it is 100% cotton fabric. The fabric has a long history, and the fabric's name probably dates back to the 15th century. What was then most often sewn from this specific fabric? Cotton poplin was an immensely popular choice for papal garments, and it is this application that this fabric gets its name.
Organic cotton poplin – a fabric with many uses
The biggest advantage of this textile is its high durability, even in the case of a fabric with a low or medium basis weight. Cotton poplin drapes nicely, is easy to care for and sew, and is made of organic cotton, it is a great foundation for building an environmentally friendly garment or brand's offer. Both for sewing an elegant shirt and a light summer dress, poplin will be perfect. The fabric is perfect for airy clothing, but nothing prevents you from using it to create bedding, light-transmitting curtains or decorative tablecloths that will add splendour to every meal eaten at home.
Is cotton poplin suitable for dresses?
If you plan to sew summer dresses, you should be interested in this textile. The fabric can be easily sewn on a home machine or even by hand, and the printed poplin will allow you to create a dress in any colour and with any pattern. Before you start sewing the poplin, remember to decatize the fabric first. After the first wash, the dimensions of cotton fabrics may slightly change, so to avoid situations where you will sew a beautiful dress from poplin that turns out to be too tight after the first wash, it is necessary to steam the fabric.
Does it crease?
Unfortunately, as with almost any cotton fabric, poplin is not a crease-resistant material. Just like any cotton, this fabric will crease the most when sitting, so while it won't look too attractive after a day at the office, it can be a great choice for an afternoon walk in the summer and spring months. You can iron out stronger creases on the fabric – remember, however, that in the case of printed poplin, you should always iron it on the left, unprinted side.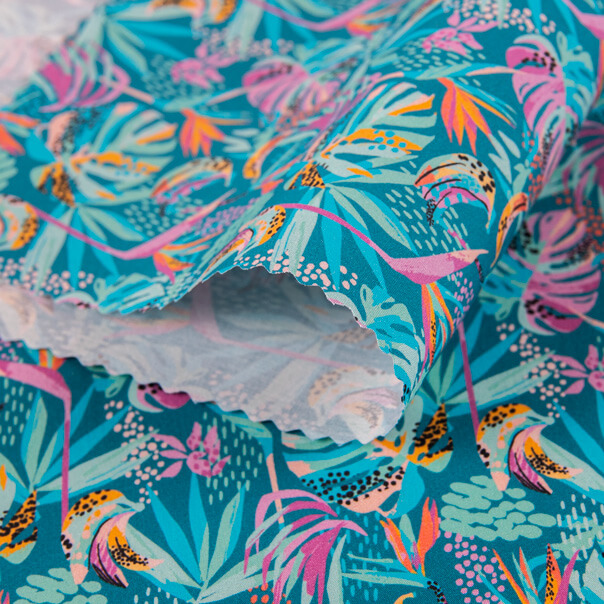 What does cotton poplin look like after washing?
Printed cotton poplin requires special handling. Do not wash this cotton fabric at too high a temperature – 40 degrees is enough. Do not confuse the printed materials if they get dirty on the surface. In this way, you can irreversibly destroy the pigment print on the material. To avoid heavy creasing after washing, reduce the spin speed to 400 revolutions per minute, and evenly hang the damp cloth to dry immediately after washing. Do not use any bleach with printed fabrics.
What patterns are best printed on poplin?
The surface of the poplin is smooth with a visible plain weave. You can successfully print delicate, bright patterns on this material, but if you want more saturated, intense colours, you can be sure that they will also look beautiful. Our organic cotton poplin is certified by GOTS and OEKO-TEX Standard 100 Class I, thanks to which the printed material meets all ecological criteria, has been tested for the presence of 100 most harmful substances for humans and is safe in contact with the skin and saliva of children under 3 years of age.