What does OEKO-TEX® guarantee?
OEKO-TEX® Standard 100 is a certificate issued by the International Association for Research and Testing in the Field of Ecology of Textiles and Leather. Products bearing this mark are free from harmful substances in concentrations that have a negative impact on human health. The certification process checks the levels of pesticides, chlorophenols, allergenic dyes, formaldehyde and heavy metals. The OEKO-TEX® quality certificate allows you to determine the safety of textile products intended to come into contact with the skin.
Fabric printing with OEKO-TEX® and GOTS certification
When printing cotton fabrics in CottonBee, you can be sure that the final product meets all the stringent requirements of OEKO-TEX® and GOTS standards. Our printed fabrics made of conventional and organic cotton have been subjected to a series of tests for the presence of harmful substances. Print on conventional and organic cotton fabrics that have received the OEKO-TEX® Standard 100 Class I certificate, which means that they are safe for infants and children under 3 years of age. Organic fabrics printed at CottonBee are also GOTS certified, proving that we take care of environmental factors at every production stage.
Print on OEKO-TEX® certified fabrics
Fabrics free of chemical substances
In the process of certification, tests are carried out to verify the presence of the 100 most harmful and dangerous substances for consumers. The materials tested in the certification process are checked for the presence of banned azo dyes, carcinogenic and allergenic plasticizers or pesticides. Woven and knitted fabrics marked with the OEKO-TEX® certificate are free from formaldehyde, toxic to the skin, respiratory system and liver, and polycyclic aromatic hydrocarbons with carcinogenic properties, used as fungicides of organic tin compounds, which are highly toxic to the nervous system. The certified materials do not use phthalates, which increase the risk of allergies and asthma, highly toxic cadmium and lead, and nickel, which is a strong allergen.
OEKO-TEX® or GOTS certificate?
The GOTS certificate is the world's leading standard for processing textiles made of organic fibres. The entire production process, including the supply chain, is taken into account in the GOTS certification process. The standard defines stringent environmental criteria that must be met along the entire production chain of organic textiles.

The OEKO-TEX® certificate is issued for finished organic, inorganic and leather products and semi-finished products. Certified products and intermediates are tested for the presence of substances hazardous to health.
Certyfikat OEKO-TEX® Standard 100 Class I
Fabrics tested for the presence of 100 harmful substances
Free from strong allergens and carcinogens
Safe for infants and children under 3 years of age
For business
GOTS fabrics
Haven't decided yet?
Order a Swatch Book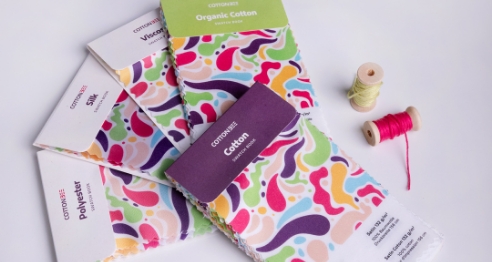 Order CottonBee swatch book with free shipping!
Compose your own swatch book! The base version includes cotton fabric swatches, but you can also add organic cotton, viscose, polyester and silk swatches.