Baby's skin requires special care. The skin of newborns is even 20% thinner than the skin of an adult human. Harmful substances, chemical dyes and allergens penetrate it much faster, which is why a child's wardrobe and environment have to be filled with materials that are safe for children.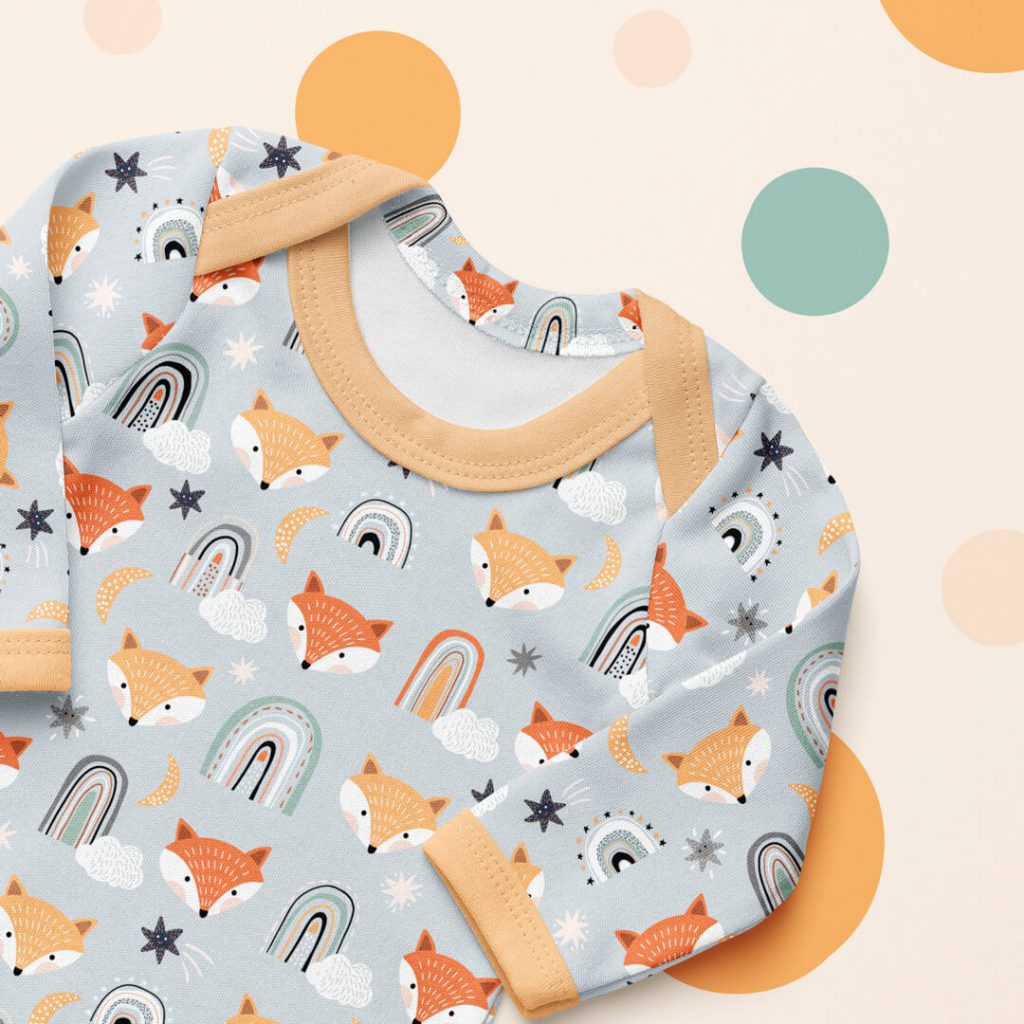 What materials are safe for children?
The first and most common choice when it comes to the safety and comfort of children is natural fibres. Of course, even in the case of materials made of natural fibres, you need to pay attention to more features than the composition of the material itself. Cotton can be grown with the use of pesticides, insecticides or artificial fertilizers, and at the stage of fibre processing, chemical bleaches and dyes can be used. The best choice for little ones will be organic cotton, which is grown using only natural substances.
Safe cotton fabrics for children
Cotton is the best material to come into direct contact with a baby's skin. When choosing cotton for baby clothes or accessories, pay attention to the certificates of the materials. Both conventional and organic cotton are subjected to comprehensive tests checking the fabrics for the presence of popular allergens and harmful chemicals. Safe cotton fabrics for children are free from any chemicals, harmful dyes, bleaches and allergens. Such a guarantee of safety is all cotton fabrics with the OEKO-TEX Standard 100 Class I certificate. OEKO-TEX-certified cotton is safe in contact with the skin and saliva of children, even the smallest, under 3 years of age. There are many types of cotton woven and knit fabrics on the market, so it's worth knowing which ones work best for children.
Cotton satin, and especially organic cotton satin, is a smooth and pleasant fabric with a subtle sheen. The satin weave not only gives the fabric a slight shine – satin is pleasant to the touch, perfect for the delicate skin of a child. This amazing material for bedding can easily become an elegant dress or shirt.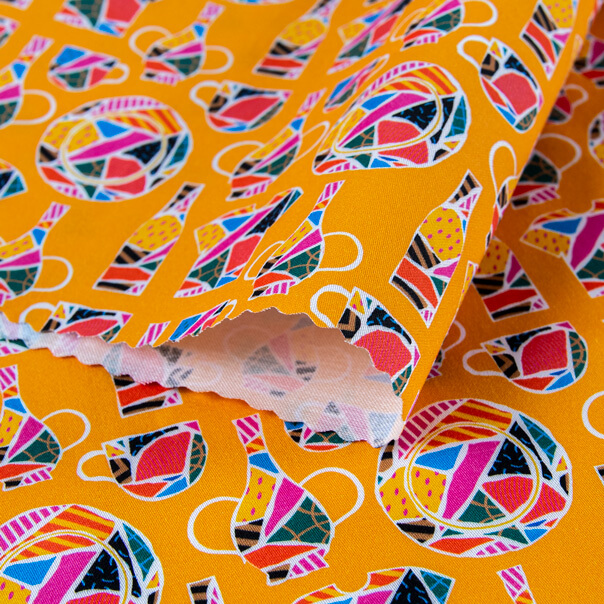 There is no better material than a cotton veil for summer. Airy, light, and thin, perfect for dresses with frills. The slightly translucent voile will be perfect for a decorative canopy over a child's bed, and on warm, spring days, it will be perfect as an airy scarf for a neck or head.
The versatile cotton poplin is a former favourite of papal tailors. Today, organic cotton poplin is widely used in the garment industry. It is a durable and soft fabric from which you can create children's accessories, bedding or other everyday textiles. For older kids, poplin can be very useful in adding new items to the wardrobe. Cotton poplin clothes allow the skin to breathe and are comfortable to wear.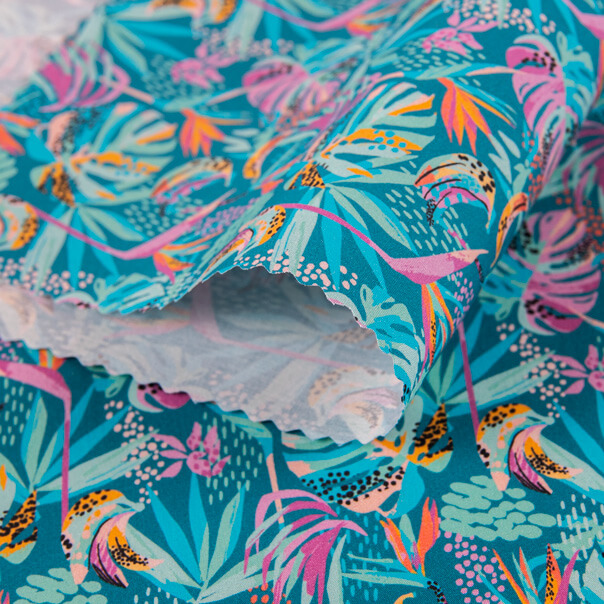 Cotton interlock has become known as a "onesie" knit. The right and wrong sides of the fabric are just as smooth and pleasant to the touch, so they won't irritate the delicate skin of babies. The stretchy interlock will not restrict movement, will allow the skin to breathe and will work well not only in the wardrobe. Custom-printed cotton interlock is a great material to create a unique mascot, personalised blanket or children's turban.
It is not for nothing that a single jersey is one of the most popular cotton knit fabrics. Soft, stretchy, and breathable, with a wide range of uses. Printed single jersey will be useful when sewing children's t-shirts, rompers, pyjamas or everyday clothes. Perfect for scarves, hats, turbans, and headbands. A single jersey made of organic cotton will be a perfect fabric choice for your underwear.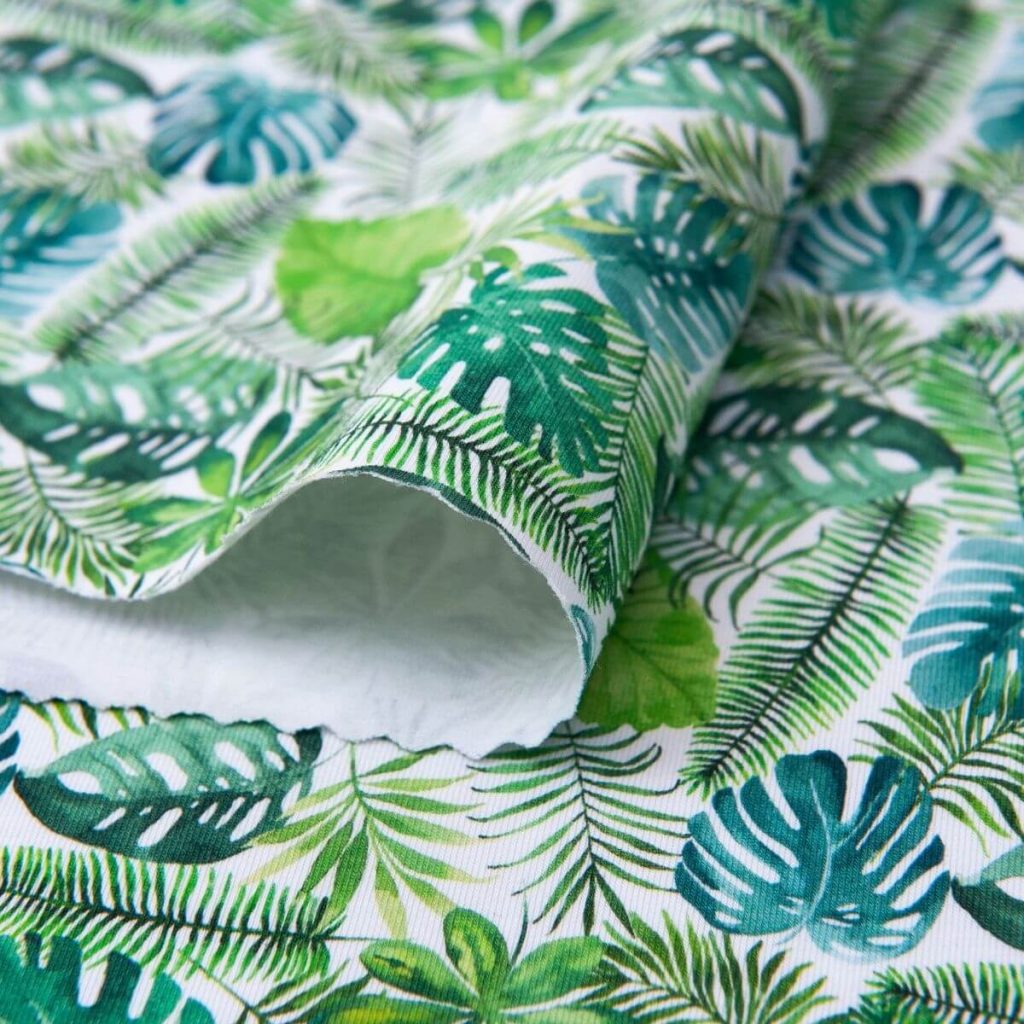 You're gonna need some cotton loopback jersey for colder days of the year. Smooth and pleasant to the touch on the outside, covered with loops on the inside. At a lower temperature, it will protect against the cold, absorb any moisture and allow the skin to breathe. The loopback jersey sweatshirt fabric is great for sweatpants in which your child will neither freeze nor sweat.
Where to use materials that are safe for children?
Fabrics safe for children should be used anywhere where the fabric has direct contact with the child's skin. Safe cotton fabrics for children should be the foundation of children's wardrobes. But children's underwear or rompers are not the only use for safe materials. Organic cotton with the OEKO-TEX certificate is an excellent material for children's bedding, blankets, handmade stuffed animals or accessories.