Easter is the time of joy and colour. It is associated with the painting Easter eggs, Easter Monday, the smell of a freshly baked Easter shortcake or the search for a packed candy basket. Moreover, it is the most important holiday for Christians, as it commemorates the resurrection of Jesus Christ. That is why it is essential to create the right atmosphere at home during this special time, which can be facilitated by sewing your own Easter fabric ornaments. What can you design with fabric?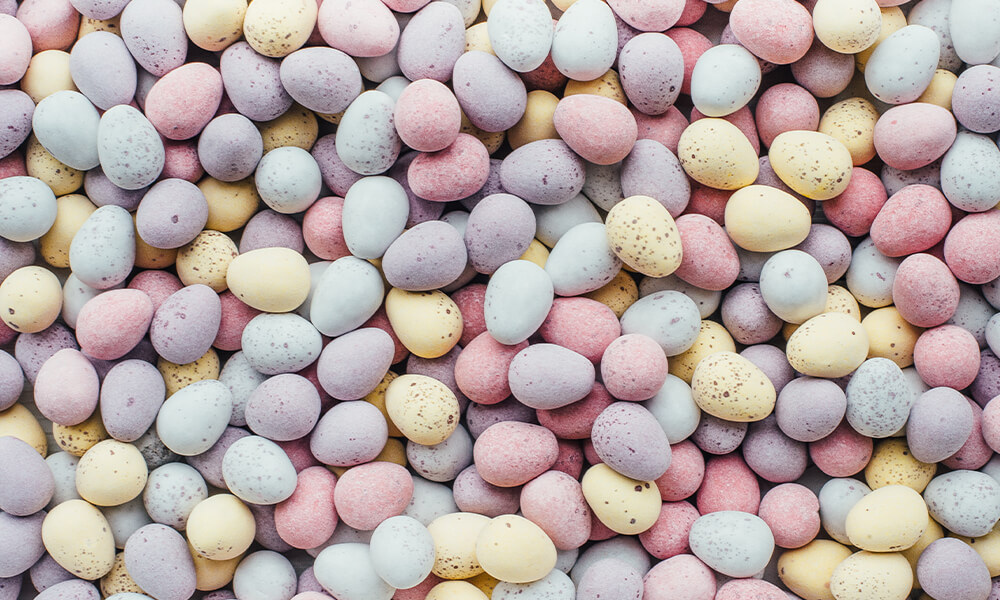 Easter tablecloths and napkins – how to sew them?
Easter Sunday begins with a festive breakfast with family and friends. Therefore, the table setting, which consists of decorations, tableware and a tablecloth, plays a vital role. If you cannot find a tablecloth that suits your needs, you can sew one yourself. All you need to do is prepare your tailor's shears, needles, threads and the proper fabric and then get down to work. This way, the tablecloth will fit not only the size of the table but also its shape.
What fabric to choose when sewing a tablecloth? Cotton cretonne will be perfect as it has a plain weave, which allows you to draw a straight cutting line. Moreover, it is a thin fabric, so embroidering Easter bunnies or eggs will not be a problem. If you are not at home with designing ornaments, choose a fabric with a printed pattern. If you like slightly shiny fabrics, you can make a tablecloth out of satin.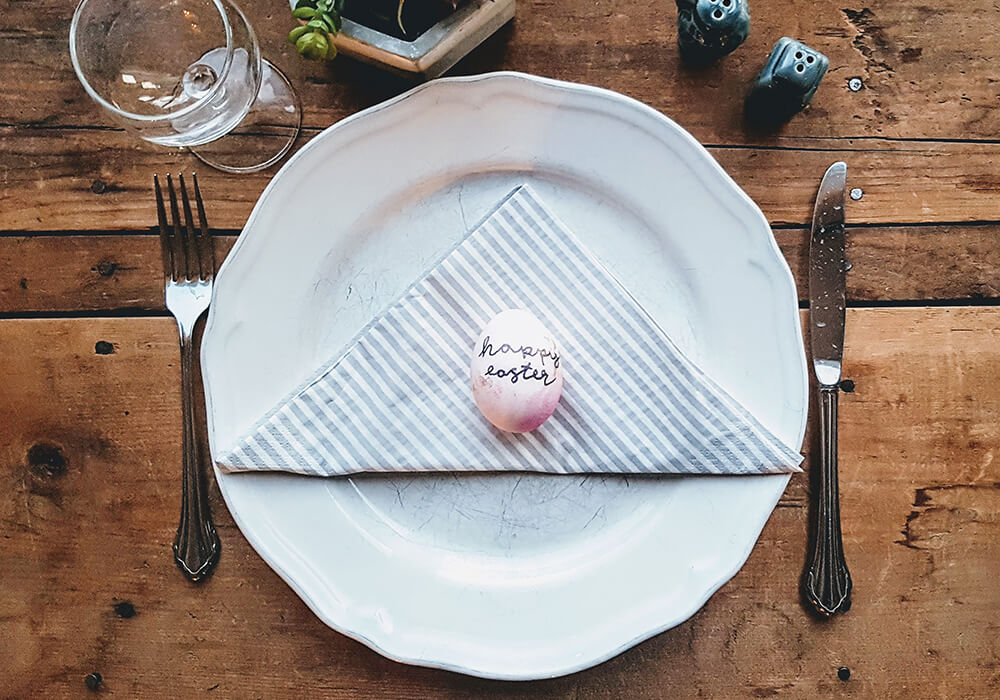 Table runners also complement the Easter table. Placed in the centre, they subtly decorate the tabletop, adding a festive touch to the tablecloth. When preparing DIY Easter decorations, opt for cheerful colours. Table pads with delicate, colourful flowers such as daffodils, tulips or pussy willows look good. If you prefer classic solutions, go for bright shades and light, minimalist patterns.
Easter decoration ideas – stuffed bunnies and fabric Easter eggs
Which Easter decoration ideas deserve a shot? It is worth referencing such Easter symbols as the bunny, the chick and the egg. They can be used to decorate your home, for example, by creating festive wreaths. These will look great on a windowsill or shelf. Invite your children to join you in preparing such decorations. The youngest members of your household will certainly enjoy making plushies.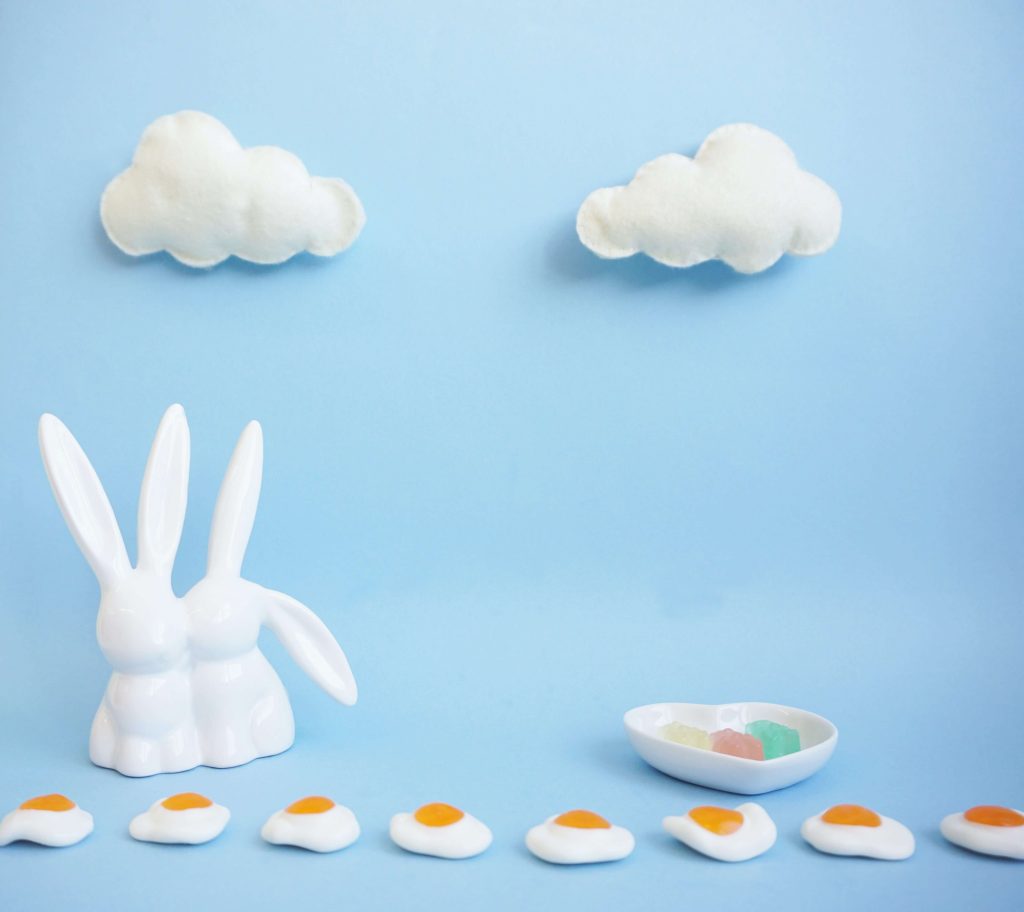 For almost everyone, Easter is associated with the Easter eggs, which is why they are a terrific inspiration for home decorations. What is more, you can let your imagination run wild when creating these decorations. It is solely up to you whether you make monochromatic eggs or embroider them with colourful adornments. Sewing sequins, bows or pearls onto the fabric Easter eggs will result in an original design. Such eggs can be used to decorate a vase with daisies or pussy willows, as well as, for example, cupboard handles.
DIY Easter decorations can also be used as wall decorations. All it takes is to make a garland out of the sewn Easter eggs or bunnies. To prepare it, you only need a string, a needle, threads and some additions that will be put in the decoration. It is worth mixing plush elements with, for example, artificial flowers and ribbons. This colourful accessory will not only introduce a festive atmosphere into the room but also a spring vibe.
DIY Easter decorations you must have in your home
Easter decoration ideas do not have to mean only table decorations or plush Easter eggs. A tough and durable fabric, such as panama, can be used to make unique pillowcases that look great on a sofa or an armchair. It is also worth getting a little crazy and creating Easter curtains or a bed blanket. After all, this special period is only once a year, and an Easter fabric will help you create the right atmosphere and experience it even better.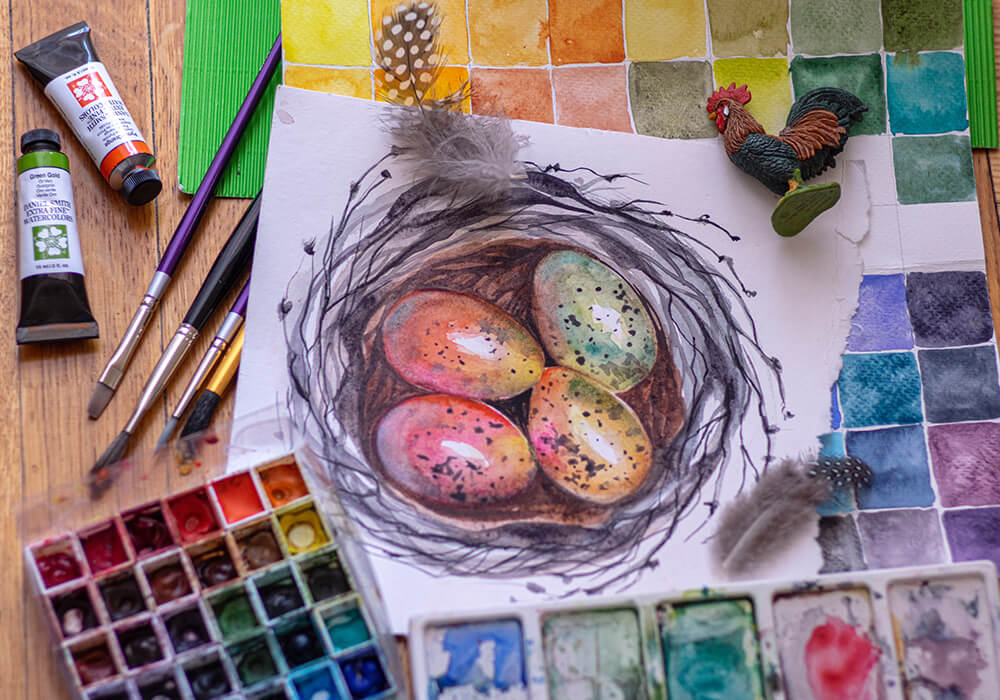 Festive pot and vase covers made from gabardine or cotton are some of the other exciting DIY Easter decorations. Decorate your coffee table with a napkin. It is a practical decoration because you can put hot dishes on it, which will protect the tabletop from the heat. Such decorations complemented with a bunny or Easter eggs should also adorn your shelves.
DIY Easter decorations – why is it worth making them yourself?
Sewing the Easter decorations yourself, you can be sure that they are one of a kind. They are also a great alternative to ready-made decorations from the shop. What is more, making your own tablecloth, pillowcases or plush Easter eggs is very satisfying. Sewing is also a great way to stimulate imagination and involve the whole family in the Easter preparations. These Easter decoration ideas will help to introduce a unique and festive atmosphere to your home. The joyful atmosphere will also rub off on the visiting guests.