Organic cotton fabrics
Organic cotton crops use up to 80% less water than conventional cotton
Sustainable fabric printing
GOTS 6.0 compliant, OEKO-TEX 100 (Class I and II) certified pigment inks.
GOTS certificate
CottonBee is a GOTS certified company (license number: 1099579).
For crafters and sewists
no minimum order quantity
always print as much as you need
5 business days fulfilment time
For business
flexible offer tailored to your business's needs
bulk discounts
competitive turnaround times
Free shipping over 100 EUR
Once your order surpasses that amount we will ship it for free.
Ready to ship in 3-5 business days
You never have to wait long for your custom printed fabrics.
Excellent quality at a good price
Order with bulk discounts or have your order priced individually.
GOTS and OEKO-TEX® Standard 100
We are GOTS (Global Organic Textile Standard) and OEKO-TEX® Standard 100 certified.
Print your design
Create your custom sewing fabric! Choose an image you want printed on fabric and we will print it for you on woven or knit fabrics from organic cotton, conventional cotton or polyester.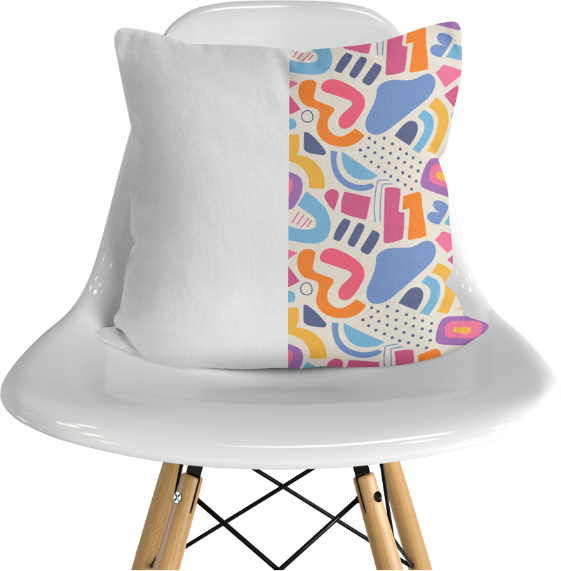 See pattern collection
Our catalogue contains over a million of miscellaneous, seamless patterns to choose from. We compile them into themed categories to inspire you and make that decision a bit easier.
#eco
Green printing technology

with minimised consumption of water, energy and chemical substances

Our certifications: We are GOTS (Global Organic Textile Standard) and OEKO-TEX® Standard 100 certified.

Read our eco statement
Frequently asked questions
What is organic cotton?
Organic cotton is a fibre whose production process is designed to be as ecologically sustainable as possible. No pesticides, insecticides or other chemicals are used on organic cotton fields, so the soil retains its fertility. By excluding chemicals from organic cotton production, local bodies of water are not polluted, and the work environment is much safer for human health.

Organic cotton is mostly watered by rainwater. It is estimated that up to 80% of the crops are irrigated like this. Thanks to that, it is possible to reduce water consumption in the textile industry considerably. Cottonseed oil, a by-product of the organic cotton production process, is used in food and cosmetics.

Although the price of organic cotton is usually higher than that of the conventionally-grown one, by investing in organic fibres, you not only receive a high-quality product, but you also contribute to reduced water consumption, cleaner air and improved working conditions for the farmers who work in the cotton fields.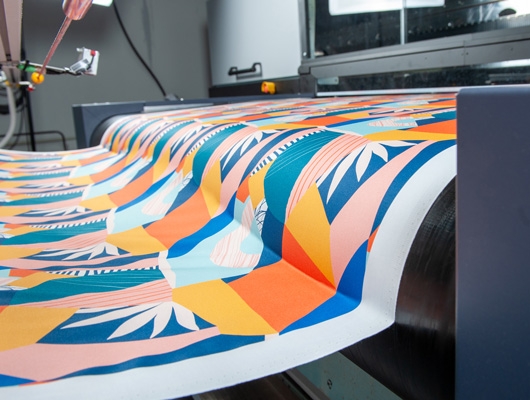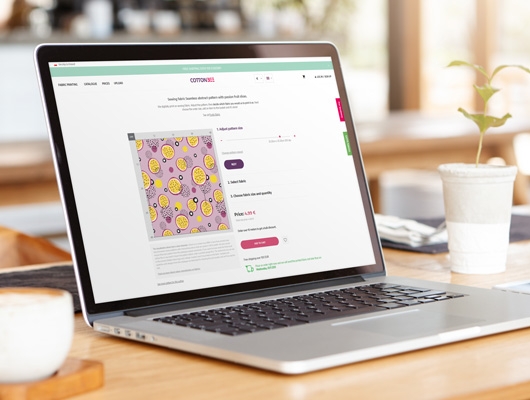 What can you sew using organic cotton?
You can use organic cotton everywhere you would use its conventional counterpart. It is used to produce both woven and knitted fabrics, which you can use to create clothes, underwear, bed linen and home décor. Organic cotton fabrics are not only environmentally friendly but also safe for the skin. These fabrics do not irritate, even in the case of sensitive skin, do not sensitise and are safe even for the youngest.

Sewing using organic cotton is no different from sewing using conventional cotton. Both woven and knitted fabrics made from organic cotton are easy and pleasant to sew, machine washable, as well as pleasant to the touch and airy.
More than 20,000 customers from all over Europe have already trusted us!
Jestem zadowolona z jakości druku i przejrzystej obsługi telefonicznej. Bardzo polecam i wracam!

Magdalena , Warszawa
Bardzo dobra jakość wydruku i obsługa na najwyższym poziomie. :)

Marzena, Gzy
We love your fabric and what you do, our designs always arrive to a good standard in prompt timing

Megan, Milton Keynes
Szybko, sprawnie, materiały świetnej jakości. Polecam!

Łukasz, Nowe Proboszczewice
Bardzo dobra obsługa klienta, realizacja expresowa. Jakość materiału super. Rewelacja. Na pewno jeszcze skorzystam.

Ewa, Łąck
Love the print and the ability to wash printed fabric in the washing machine (single jersey with lycra). Print itself is very sharp and the communication during the order being processed was great.

Katy, Leicester
I have been printing wovens for home decor for some time now, but I tried printing on knits with you for the first time. Would reccomend for sure! Such a pleasure - fast, always friendly and the quality is great. THANKS!

Amelia, Walberswick
Keep going your great work! Love your printed fabrics!

Amelia, London
Za każdym razem zamówienie jest realizowane szybko i sprawnie. Cudowne wzory i kolory, materiały bardzo dobre gatunkowo. Do tego możliwość wyboru wielkości grafiki na tkaninie jest po prostu genialna! Będę wracała :-)

Katarzyna, Nekla
Zawsze świetna obsługa i ekspresowe terminy. Nadruk bezbłędny!

Zuzanna, Warszawa
Super kolory, dokladnie to czego chcialam:)

Kamila, Warszawa
Jakość użytych materiałów i druku jest rewelacyjna. Błyskawiczny czas realizacji. Świetnie, że można u Was zamówić próbkę materiału zanim zdecyduję się na zakup całego metra.

Anna, Szczecin
What is organic cotton?
Organic cotton is a great fibre for every fashion lover who is not indifferent to the natural environment. Sourced in an environmentally sustainable way, organic cotton is a great alternative to conventional fibre, the crops of which consume huge amounts of water. Organic cotton is grown without GMOs, pesticides and insecticides. Still, wondering which fibre will be better - organic cotton or conventional cotton? Organic cotton clothes are just as pleasant to wear as conventional cotton clothes. Organic cotton is easy to sew, easy to care for and airy. Organic cotton clothes are ideal for sensitive skin - the material they are made of is free from any harmful chemicals, and thus will not sensitize or irritate even sensitive skin.


Our printing on organic cotton does not affect the ecological balance. We use pigments in accordance with the requirements of the GOTS 6.0 certificate and all our printing technology is certified. Digitally printed organic cotton is an environmentally friendly material for sewing and all creative applications, which perfectly fits the eco-trend. Take care of the environment and choose unique, printed organic cotton!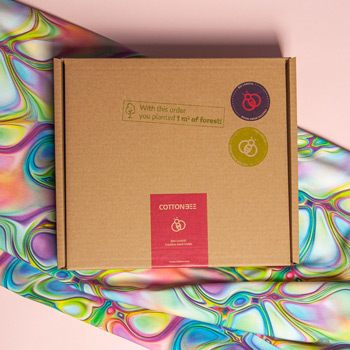 Why is organic cotton clothing more expensive?
Organic cotton clothing is made of fibre, the production process of which is friendly to humans and the natural environment. When growing organic cotton, no insecticides or pesticides are used in order not to contaminate local water reservoirs and not to expose farmers working in the fields to harmful chemicals. Organic cotton is also 80% watered with rainwater, which must be properly harvested, so growing organic cotton is a slightly more complicated process than growing conventional cotton. This, of course, translates into the price of the fibre itself. Organic cotton garments may therefore cost a little more than their conventional cotton counterparts. However, when you choose organic cotton clothes, you know that you are focusing on quality and you get a product that does not violate the ecological balance.
Organic cotton or conventional cotton - what to choose?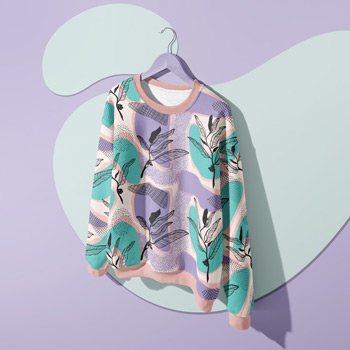 Both organic and conventional cotton are excellent fibers with a wide range of applications. Whichever fiber you choose, you are dealing with a material that is natural, airy and gentle on the skin. Both cotton fabrics and knitted fabrics are easy and pleasant to sew, and their care is not complicated. Both organic cotton and conventional cotton work great in applications for everyday use, i.e. clothes, underwear, bedding. Organic cotton is a great material for clothing, especially in the case of the sensitive skin of an allergy sufferer - it is a fiber free of any chemical substances that can potentially irritate or sensitize. Organic cotton will be perfect for all applications for the youngest, i.e. clothes, blankets, bedding, toys. Conventional cotton can be the perfect choice for interior decoration or to make unique accessories made of natural fibers.
Do you want to change your wardrobe or refresh your interior design? Printing on organic cotton fabric will allow you to create one-of-a-kind clothes or home decorations. The print on the fabric can be easily adapted to the interior design so that the decorative accents perfectly harmonize with the furniture and the color of the walls. You can introduce patterned accessories to your wardrobe that will emphasize your style. The textile printing house will let you unleash your creativity. Create unusual sewing materials - fabric prints can present any motifs and patterns, you can also apply photos, reproductions of artistic works or typography on the fabrics.!
For business
GOTS fabrics
Haven't decided yet?
Order a Swatch Book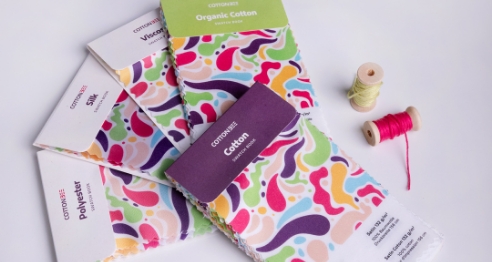 Order CottonBee swatch book with free shipping!
Compose your own swatch book! The base version includes cotton fabric swatches, but you can also add organic cotton, viscose, polyester and silk swatches.