Christmas prep might be a stress-inducing activity. Especially, when you leave everything until the last possible moment. Vacuum the flat, press tablecloth and wait for the custard for your trifle to cool completely. Everything before guests arrive at 5 o'clock. Don't forget the gifts! Are you putting off buying your Christmas gifts until the last second?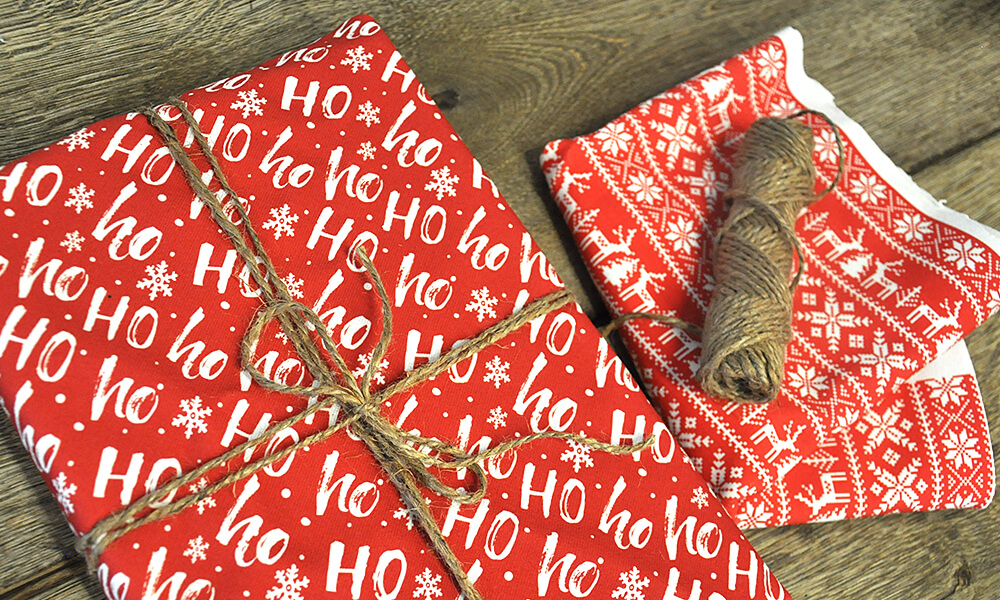 Christmas gifts – do it yourself
The sheer idea of waiting in lines in the mall gives you chills? Or maybe shops are already closed and you have to make do with what you have in your sewing room? Here are some ideas for easy to make last-minute Christmas gifts that will let you relax in all the Christmas prep hassle. To make any gift from the list you don't need huge amounts of time or supplies. Your stash is full of fabric leftovers from previous projects? Great! Use them to make unique gifts for these holidays!
Scarf made out of printed fabrics
Infinity scarf is a really easy to make project. To make it you need about half a yard of fabric printed with Christmas patterns and just two stitches. You can have it done in under 10 minutes. Begin with folding the fabric lengthwise, right sides together and sewing a long tube. With the right sides inside the tube fold it to the middle, so the right sides of the fabric meet again and all the raw edges are on one side. Sew the raw edges leaving a small gap, through which you can turn your infinity scarf to the right side. The remaining gap can be sewn by hand using a ladder stitch (slip stitch). First last-minute Christmas gift is done!
Warm hat
To create a set you can add a hat to your scarf. It's a great and useful wardrobe accessory during winter, that can completely change your outfit. Warm hat can be sewn from loopback jersey or any other cotton knitted fabric. You can sew a classic beanie or a loose, oversized type. On top, you can add a yarn pompom or one made out of imitation fur. Making a hat for a kid? Maybe add ears instead?
Eco-friendly cotton bag
Tote bag is one of those "super useful" last-minute Christmas gifts. To make one you should opt for a higher in grammature cotton fabrics. A bag made out of such fabrics will be more durable and you don't have to worry about it ripping when it's loaded with heavy groceries. With fabrics printed by an online textile printing company, you have a chance to create a one of a kind gift. Print can be personalized, so the recipient feels special. To make a tote bag you need to cut a rectangle of fabric that will be the width of your bag (plus seam allowance) and two times the desired length. Add few centimeters to the length, so you can neatly finish the top edge. Fold the fabric right sides together and sew both side seams. Fold the top edge twice to hide any raw edges. Straps can be done using cotton webbing or sewn from the same material as your bag.
Custom printed socks
It is believed that no one likes to get socks as a Christmas gift. But a handmade pair is much more appealing, which is good since socks make for an ideal last-minute Christmas gift. To make them you need knitted fabric with elastane. Use a pair of existing sock to create a pattern, adding seam allowance. Place your pattern on the fold and cut it out, so that your socks will have just one side seam. That's the quickest way to make them. From the remaining pieces of knitted fabric, you can make a cuff to finish your socks.
Headbands from printed jersey
There's a ton of ideas and patterns handmade headbands. All you need is narrow stripes of knitted fabrics, that you have to sew and turn right side out. The possibilities are nearly endless. You can make ones with bows or decorative flowers, knots, and ties in them, or just plain ones – so many options. It's a great accessory for an outfit or hairstyle. Not just that, it can be quite a useful gift that will come in handy during morning routine in the bathroom.
Hand warmers from fabric and rice
When gloves aren't enough to keep your hands warm in the freezing cold, you need to have a backup plan. Hand warmers can keep your hands from getting stiff and achy but can also be used in a variety of ways. From fabric and rice, you can make hand warmers, that can easily be reheated, when they get cold. You can even make them smell nice by adding a few drops of essential oil to the rice. Rice hand warmers can act as a great alternative for a hot water bottle or heating pads for your bed or aching neck or shoulders.
All of the above gifts can be made in just around 30 minutes. During the time spent on making them your custard for the trifle will be already cool and after making three of them you can remove your cheesecake from the oven. The only thing left is to wrap them and your last-minute handmade Christmas gifts are done.
Photos of handmade Christmas gifts are from CottonBee's advent calendar.