Do you dream of tie-dye clothes but do not have the time or patience to dye them yourself? At our printing house, you can print any pattern you want on a wide variety of cotton fabrics, so you can get beautiful sewing fabrics without making a mess. Hand-dyed fabrics are quite complicated to prepare, and the colour fades quickly. Find out how beneficial printing on textiles is. Clothes and home accessories made from these fabrics look original and extraordinary.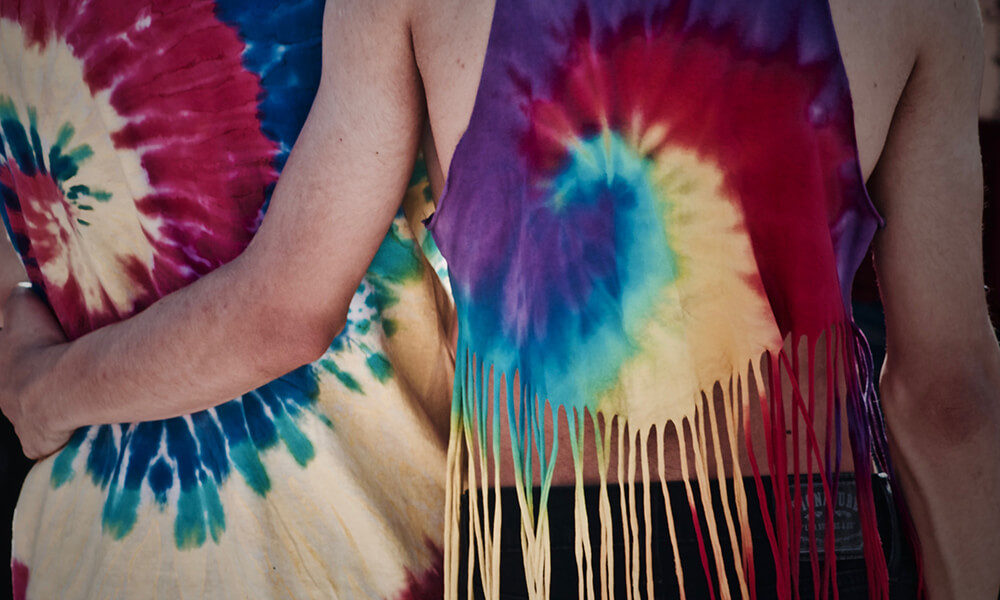 Why print tie-dye patterns on fabrics?
Did you know that the hippie patterns popular in the 60s were a modernised version of the traditional Japanese art of shibori dyeing? In both cases, the fabric is tied, held together with wooden pieces and sometimes even sewn together to prevent the dye from reaching the tightly compressed parts. It ensures that only the outer layers of the fabric gain a particular colour. Therefore, the tie-dye pattern depends on how the cloth is folded.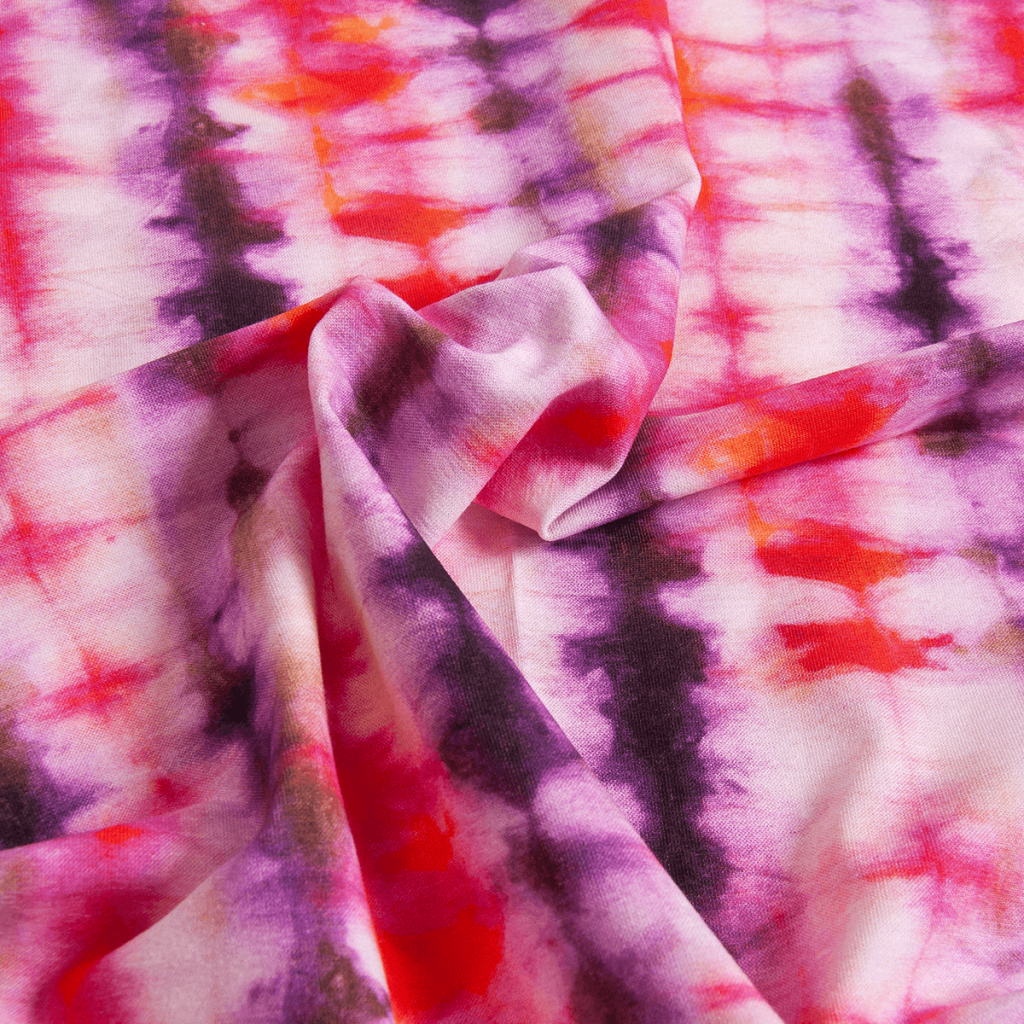 The major disadvantage of preparing fabrics yourself is that you cannot predict how the pattern will look. Experienced dyers know which technique produces a result close to their expectations, but every process contains an element of unpredictability. Sometimes dyeing takes numerous hours, especially if you want to achieve a complex ornament. An unsuccessful attempt to change the colour can prevent you from being able to dye the fabric a second time, especially in the case of vivid colours.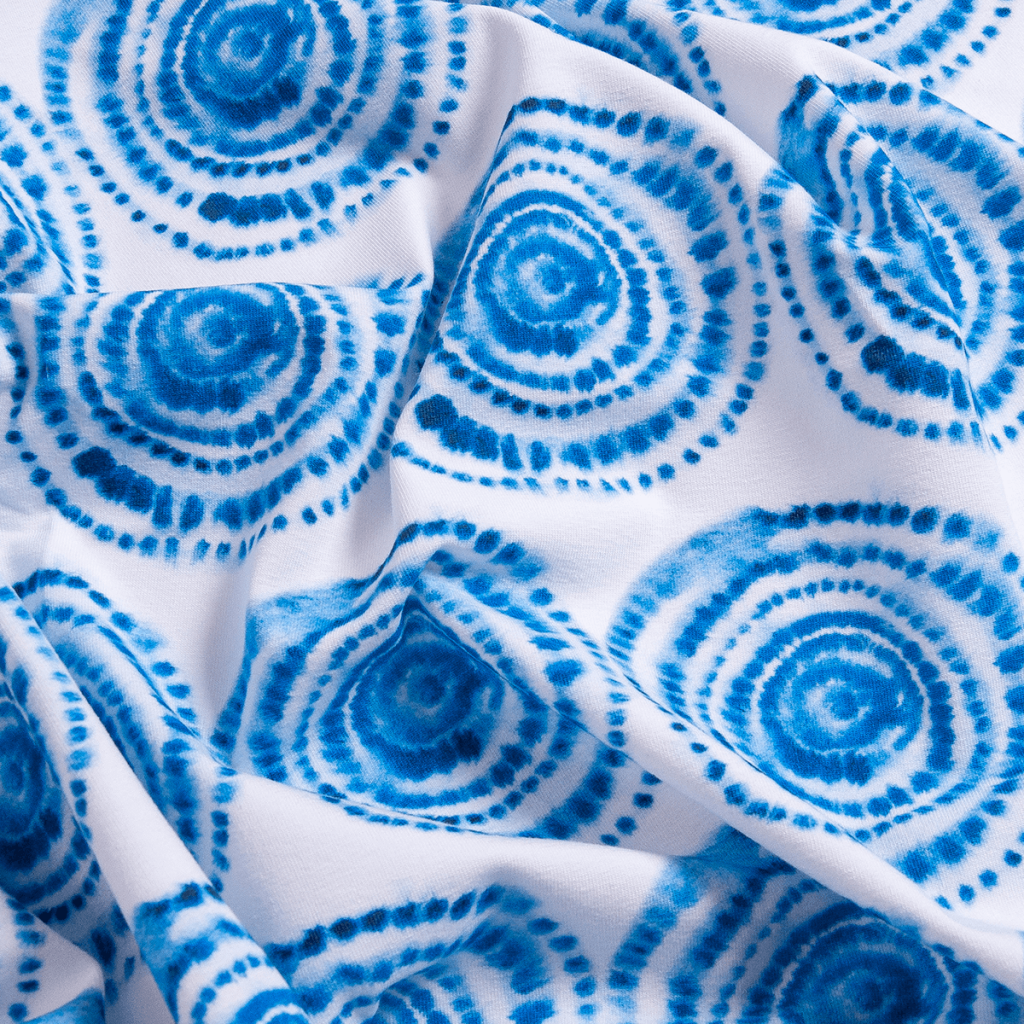 Printing patterns on textiles is a much easier and faster process. All you need to do is select one of the various tie-dye patterns on our website, scale its size and pick the appropriate fabric. If you know exactly what you want to sew with the printed fabric, the whole process will take a few minutes at most. You do not have to worry about making a mess or unexpected results – your home-delivered tie-dye will look just like the chosen design, and if properly taken care of, the fabric will not fade when washed.
What to sew with tie-dye fabrics?
In spite of appearances, tie-dye patterns are surprisingly versatile. They look fabulously on summer clothes. You can choose from several different types of designs such as organic stripes, frayed circles and spots. You can match the available colours perfectly to your summer outfits. For men, we recommend shirts and t-shirts with explosive, colourful floral prints, and for women, we recommend airy dresses or satin shorts with subtle patterns. Vintage fashion enthusiasts should try out cuts taken from old fashion magazines.Some home décor items also look magnificent with a tie-dye print. Accessories such as cushions and curtains with an organic pattern are growing in popularity. It is worth choosing the right fabric for these, such as panama or gabardine. Scandinavian or minimalist interiors will gain an exciting colour accent if you opt for indigo printed fabric. Bright, rainbow-coloured decorations are ideal for the children's room in the form of a satin bed linen or a voile canopy.