GOTS-certified organic cotton
GOTS Certificate, i.e. Global Organic Textile Standard is a leading standard of certification for textiles made from organic fibres.
CottonBee is a GOTS 6.0 certified company (license number: 1099579).
Organic
Certified by Control Union CU1099579
How did we obtain a GOTS certificate in CottonBee?
Eco-friendly raw materials
Organic fibers
Neutral for the environment crops
Certified suppliers
Positive ecological balance
Eco-friendly print technology
Minimised consumption of water and chemicals
Eco packaging and shipping
Strict norms
Compliant pigment inks
High quality certified fabrics
High work standards
What does a GOTS certificate guarantee?
The standard guarantees all of our fabrics produced and printed in accordance with the highest ecological and social criteria. Such a certificate tells you that a company cares for both environmental and social matters.
Highest quality organic textiles
Certificate can be applied to fibres, woven and jersey fabrics or final products such as clothing, accessories or home textiles. The "Organic" certificate can be applied to products made from at least 95% certified ecological fibres. Products made using at least 70% of certified ecological fibres are eligible for the "Made with (X%) organic" certificate.
Restrictive requirements
Articles eligible for certification have to be free from toxic colourants, heavy metals, formaldehyde and GMOs. All additives have to be biodegradable and GOTS compliant. A company applying for a GOTS certificate has to have an environmental protection policy and all paper or cardboard tags and packaging has to be made of recycled materials.
Sustainable production
The origin of GOTS certified fibres has to be all natural. All raw materials should be harvested from sustainable farms. A huge part of the certification focuses on water management. A company applying for GOTS certification has to have a closed water circuit and have a water filtration plant.
CottonBee is a GOTS 6.0 certified company
Global Organic Textile Standard 6.0 certificate
Printing process compliant with the standard
GOTS certified fabrics
For business
GOTS fabrics
Haven't decided yet?
Order a Swatch Book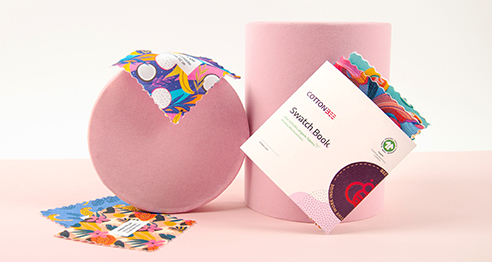 Haven't decided yet?
Order a Swatch Book!
also includes organic fabrics
Order our Swatch Book including 9 x 9 cm swatches of all CottonBee fabrics and be sure what you buy.
Only 1,99 EUR / GBP and free shipping.