The composition of the material is no secret to you, but you still do not know what fabric weight to choose? What exactly is the grammage of the fabric, how does it affect its wearing properties and how to sew fabrics of different grammages? Learn all about fabric weight and how to choose the perfect fabric for your project.
Fabric weight, what is it exactly?
Let's start by explaining the term grammage and what the abbreviation GSM stands for. If you see the marking "135 GSM" next to the fabric, it means that you are dealing with a material with a weight of 135 g / m2. GSM stands for grams per square meter. Simply put, the weight of the fabrics is determined by weighing a sample piece measuring 1m x 1m. Sometimes you can see the grammage of a running meter of the fabric, do remember that with such a unit the grammage will depend on the width of the fabric roll. Most often, however, in stores and wholesalers, the grammage expressed in grams per square meter can be found.
The weight of the fabric is influenced by the thickness of the threads used to weave it and the density with which they are woven. The weight of the fabric is not an indicator of the quality or type of fabric, it is only the weight of a square meter of a specific woven or knitted fabric. The higher the grammage of the fabric, the thicker the woven or knit fabric becomes. Usually, thicker, more densely woven fabrics are considered more durable (for example denim or gabardine) than delicate and thin fabrics, such as voile.
Classification of fabrics according to their weight
The weight of the materials, i.e. their grammage, allows them to be divided into three categories. Based on their weight, we can distinguish light fabrics, i.e. those whose weight is in the range of 1 g / m2 – 150 g / m2. This group includes chiffon, voile, organza, linen and some bedding fabrics. Medium-weight fabrics range from 150 gsm to 350 gsm. In this category, you can find materials such as satin, taffeta, poplin, polyester, and jersey. The last category includes fabrics with a high grammage, i.e. in excess of 350 g / m2. These types of materials include upholstery, denim, gabardine and thick sweatshirt fabrics.
What is influenced by the weight of the fabric?
When you browse the offer of a fabric printing company or a fabric wholesaler, the selection of the appropriate material, apart from its composition, is of course determined by the weight. What do you have to pay attention to when choosing the material for your project?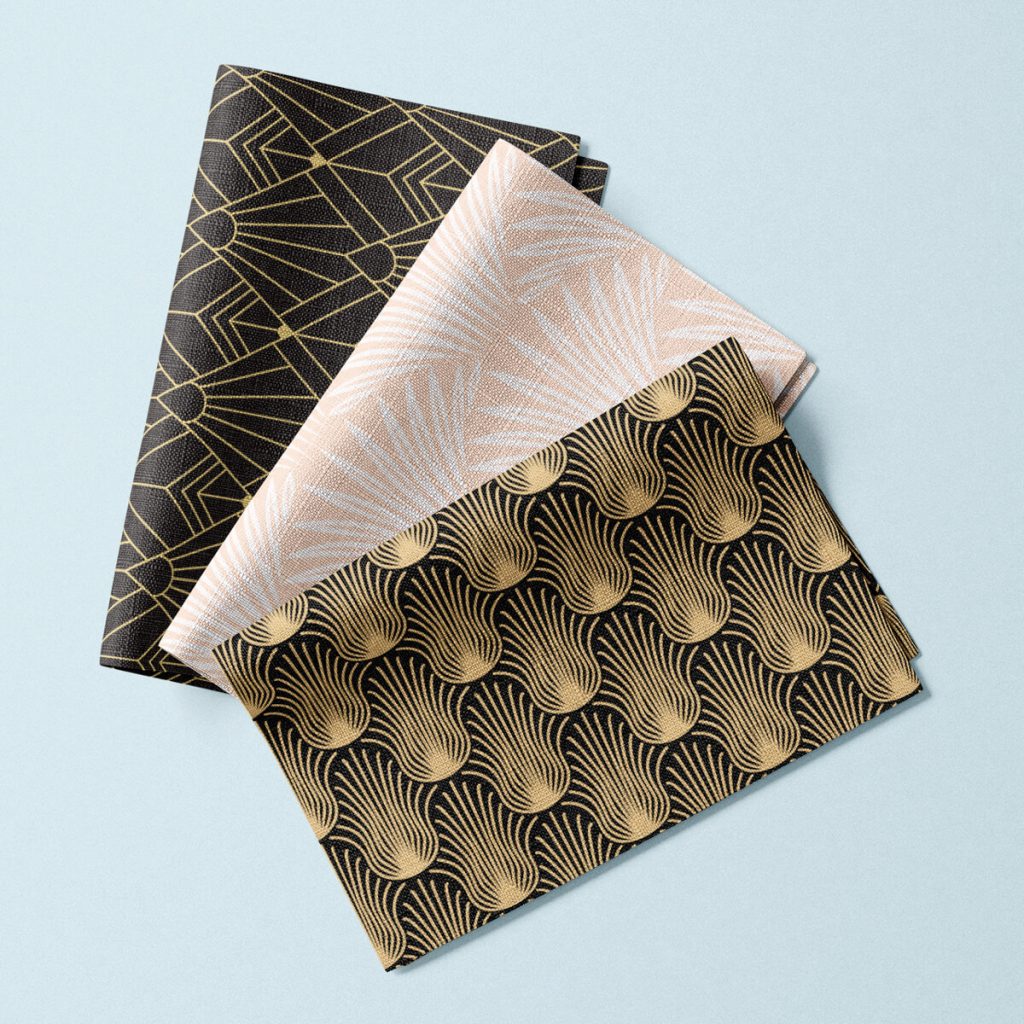 Machine sewing
When sewing on a home machine, you need to pay attention to whether your machine can handle fabric with a higher grammage or several layers of fabric with a medium grammage. Home sewing machines from a lower price point do not have a reinforced structure and may not be able to sew thicker materials, such as gabardine or jeans. Industrial machines can easily sew even several layers of high grammage material.
The comfort of use
Materials with a lower weight are usually better for everyday clothes. Low and medium weight fabrics can be easily layered. On the other hand, thick and heavy materials may be uncomfortable or restrict movement when worn for a long time. Fabrics with a higher grammage, however, will be much more durable in everyday use, which is why they are perfect for outerwear or accessories such as backpacks and bags.
Desired effect
How the woven or knitted fabric will fit depends on the weight of the fabric. Light materials are perfect for flowy or draped clothes or decorations. You can also easily make any fitted garments out of them. If you want to create clothes or accessories that will hold their shape, choose a heavyweight fabric. The same applies to elegant curtains that will reduce the amount of sunlight entering the room.
Temperature and weather conditions
When choosing your sewing fabrics, take into account when you will wear clothes made of them. On hot days, we prefer to wear light and airy clothes, while on cooler autumn or winter days, clothes made of materials with a higher grammage will be useful. Thicker woven and knitted fabrics provide better insulation and protection against heat loss.
Printing on fabric and fabric grammage
The weight of the material is of great importance when you choose the fabric for printing. Lightweight materials in pigmented printing work best with light patterns with low coverage. Save very dark patterns for medium to heavyweight fabrics.