The comfort of wear and an ability to ideally suit your needs – that's what you can provide yourself with by simply choosing the right woven or knitted fabric. But how to do so having little or no knowledge about the sewing materials? First of all, you need to grasp the basic differences between the woven and knitted fabric, and then you can pick sewing materials that suit your individual preferences. Which fabric to choose and what to focus on? We will help you decide.
Woven or knitted?
Let's start with the fundamentals. What are woven and knitted fabrics? Fabrics are created with two types of threads – warp and weft. These are arranged perpendicularly to each other. Woven fabrics are characterised by little to no elasticity, but they hold their shape much better. Knitted fabrics, on the other hand, usually consist of one type of thread, which is arranged in stitches similar to those made when knitting. They are stretchable, so they fit better on the body, do not require darts and complicated patterns. Though, this does not mean that they are easier to sew. But we will come back to that.
Natural or synthetic?
Choose natural fibres if comfort is an important factor for you. Cotton or linen sewing materials are breathable, do not sensitize or irritate. The big downside? Creases appear much quicker. A hint of synthetic fibres in knitted and woven fabrics acts as a stabiliser – such textile has a longer life cycle and will not deform to the same extent as entirely natural products.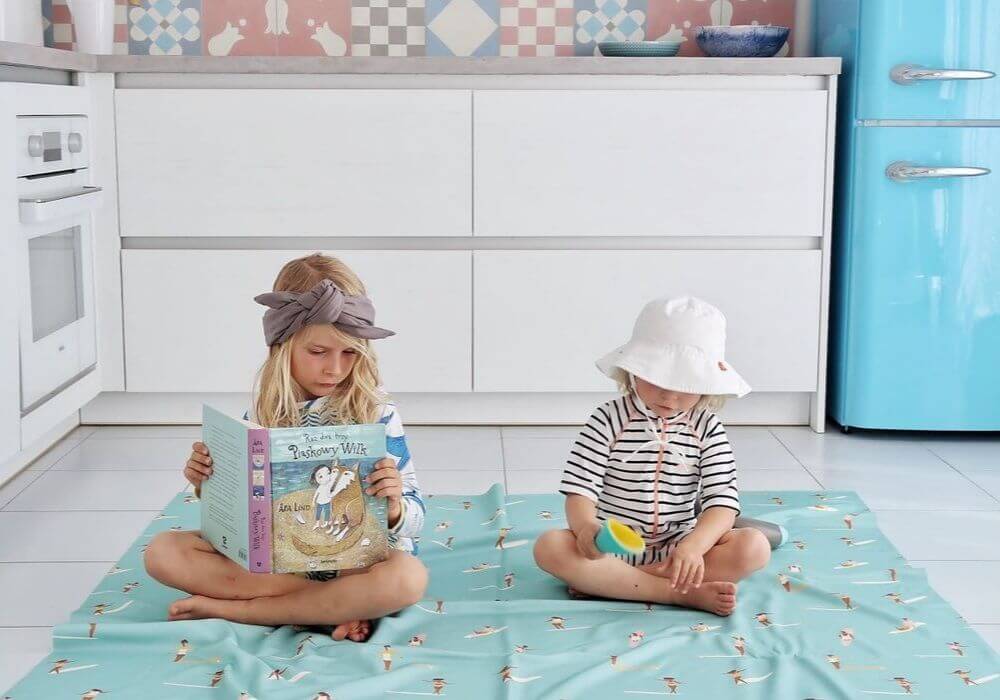 Although a trace of synthetic fibres in fabrics may prolong the exploitation process and is in many cases desirable, no one likes to wear plastic, i.e. only synthetic sewing materials.
OEKO-TEX certified sewing materials
Most often used in material science, this term is also very crucial for us. The grammage of a fabric product is expressed in grams per square metre of textile. This is how we determine its thickness and weight. It bears remembering that grammage is not attributable to a specific type of fabric or the fibre it is made from – knitted fabrics, such as cotton single jersey or loopback jersey, can be found in many different grammages as well.
See also: Certified fabrics – what to pay attention to?
Also, remember that not all cotton is the same. When selecting a fabric, pay attention to its place of origin and the manufacturing process. All CottonBee textiles come from Poland and are OEKO-TEX certified, which means they are safe for both people and the environment. The use and content of harmful chemicals, such as formaldehyde, pesticides, allergic disperse dyes and chlorophenols, are limited during the manufacturing process and in the final product. In English, they are safe for the skin.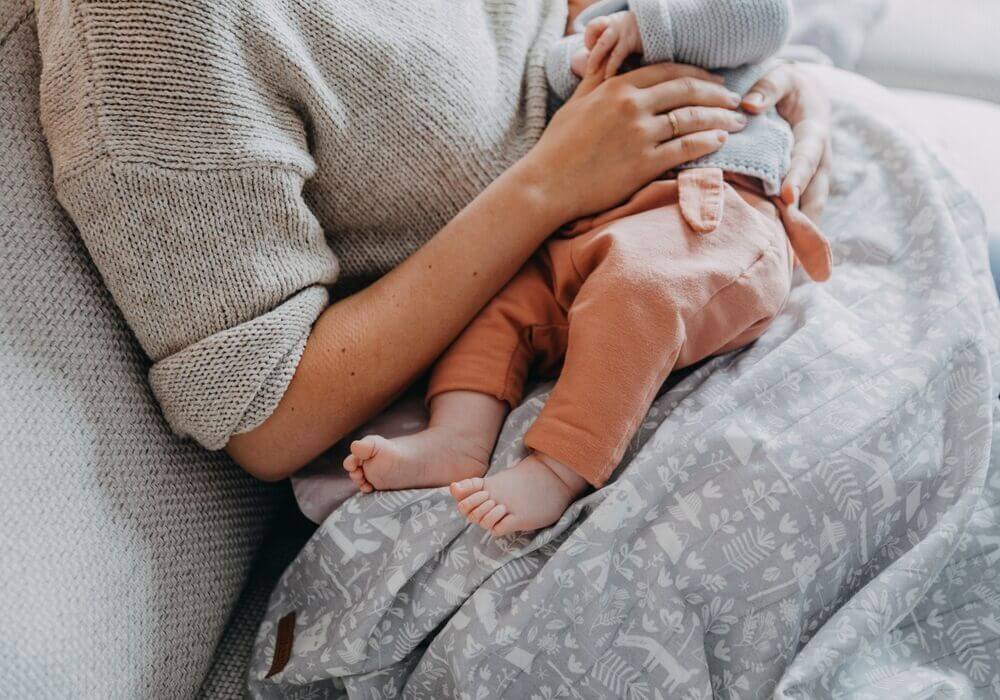 There! We have systematised the fundamental knowledge necessary to choose the right textile. Let's move on to specific types of fabrics available in our offer and their possible purposes. They have been divided into groups – knowing what you want to sew, you can immediately find the right woven or knitted fabric, choose a pattern and order a print on the fabric.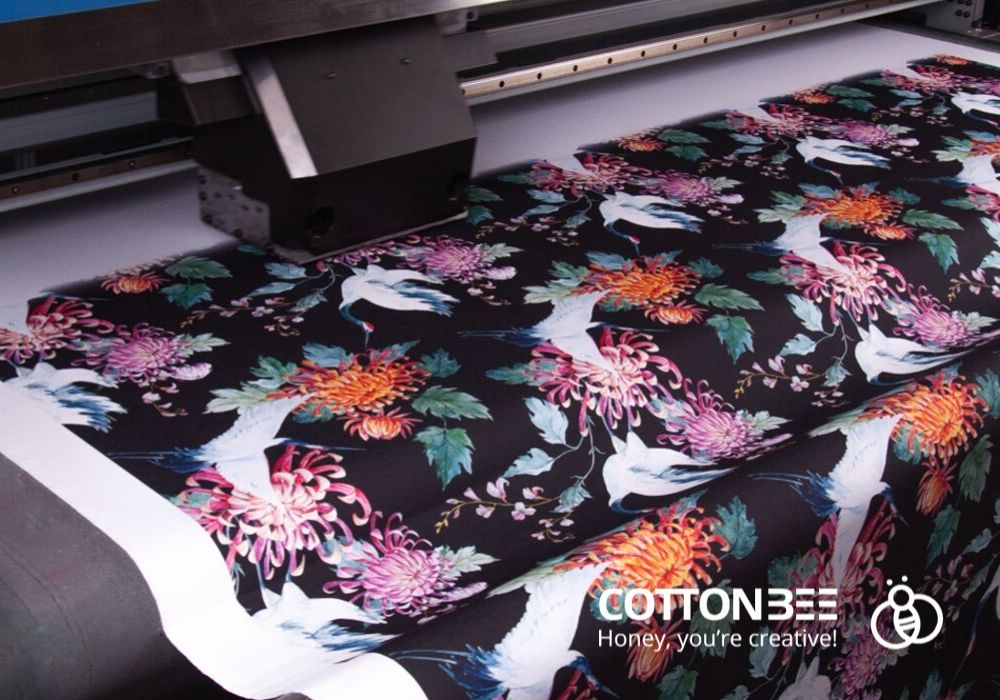 New T-shirt
Light low-grammage knitted fabrics such as interlock or single jersey< containing no polyester or lycra are perfect for simple T-shirts. They are also ideal for children's garments (that is why interlock has been proclaimed "baby-onesie jersey" – derived from baby bodysuits), as they are comfortable, soft and fit well. They are excellent for sensitive skin, as they will not irritate or sensitize. Products made with such knitted fabrics should be washed on a delicate cycle at temperatures up to 40°C. It is easy to remember.
Leggings or sportswear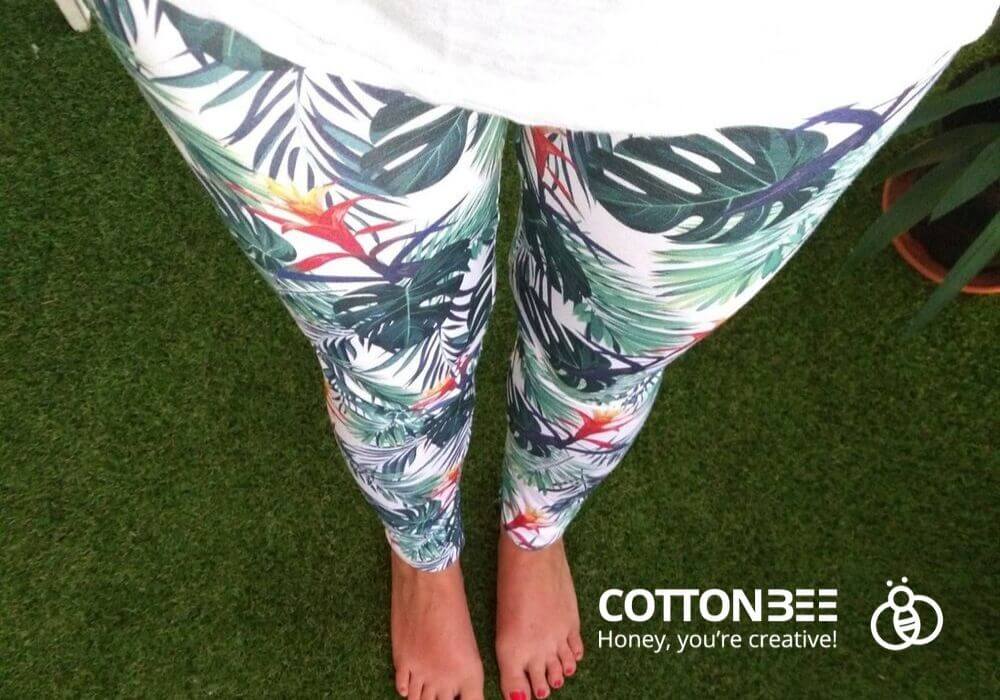 Single jersey of higher grammage with lycra is a perfect choice for leggings and sportswear. This knitwear is often referred to as the leggings jersey.
Even when the fabric is stretched to a large extent, it will provide coverage. You can create different kinds of elastic accessories using this knitted fabric too. A hat for the beginning of autumn? A decorative hairband? Or maybe a new set of yoga clothes? The addition of lycra will guarantee a body-fitting garment that will retain its original shape after numerous washing cycles. Just remember to use a delicate washing programme and low temperature.
Warm sweatshirts
Loopback jersey is a must-have in your autumn wardrobe. With it, you can sew sweatshirts or even complete loopback jersey sets that will provide you with extra protection against the cold. And while we are on the subject of the cold, there is nothing to stop us from making hats, shawls or tube scarves with this fabric. Polyester yarn in the fabric provides additional stabilisation, so you don't have to worry that a gorgeously patterned set of scarf and hat will enrich your autumn wardrobe only for one season.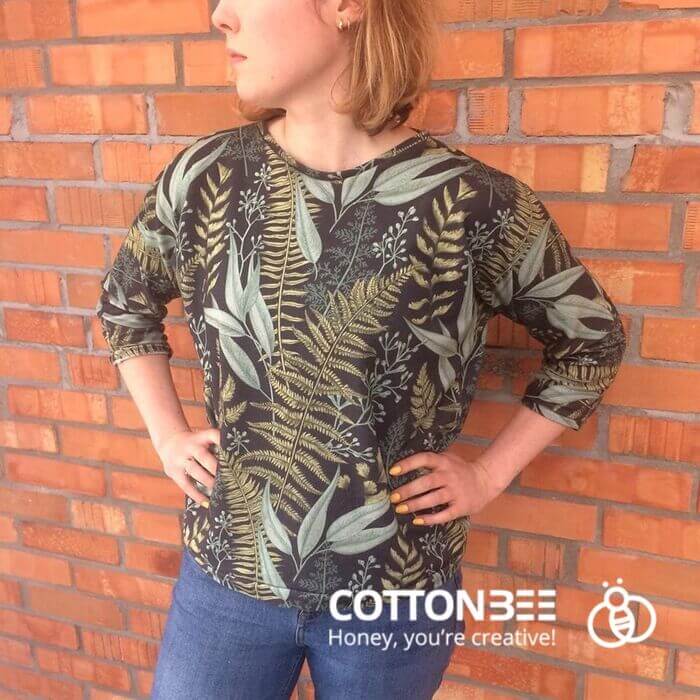 Although they are really comfortable to wear, sewing knitwear can prove to be a bit more problematic, especially for rookies of tailoring. Patience and a knitting or jersey needle are the keys. This type of needle has a rounded blade, so it does not cut through the stitches that build up the structure of the fabric. If possible, select the stretch stitch setting on your sewing machine. If not, a zigzag stitch will be the best alternative.
See also: Basic sewing techniques – review
Handkerchiefs, sheer dresses, shirts
The airy cotton voile is perfect for sewing summer dresses, t-shirts or pareos and sarongs. Voile is a slightly transparent and thin textile, which makes it more difficult to sew and wear. You should consider adding a lining in veil dresses or skirts.
Shirt and bed linen
Both cretonne and sateen come in useful when creating shirts, blouses or dresses that we want to give a specific shape and character by darts and embroidery. Cretonne has a clear linen weave (that is, well visible threads of weft and warp), so it will not cause anyone, not even novices, any problem when sewing. Its use is versatile. Sateen is characterized by a satin weave, thanks to which the fabric is soft and gently shiny (but not slippery!) on one side.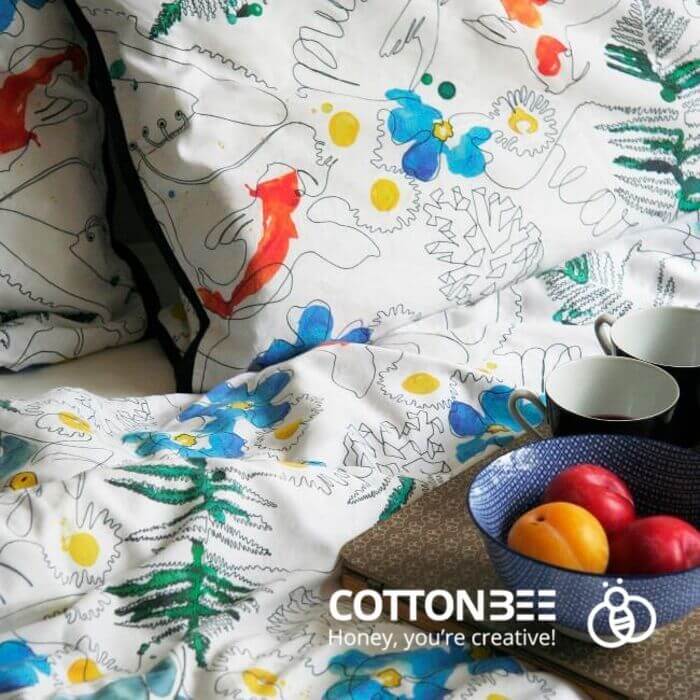 Falling asleep beneath such bed linen will be a pure pleasure.
Overclothes and interior design
The last group consists of cotton fabrics of higher grammage, for which you will find a whole scope of purposes. Plain weave à la linen, Sofia, Panama or gabardine can be used as a fabric for a transitional coat, a blazer or a jacket. Just sew a lining into them, or in case of a coat, add some kind of insulation. You can easily use all of these fabrics to make backpacks or bags. They also have a long list of interior decoration applications – from decorative pillows and bedspreads to curtains and upholstery materials.
It is worth remembering, however, that although the fabrics mentioned above may be used as upholstery, it does not mean that they are typical upholstery materials – our textiles require proper care. Plain weave à la linen, Sofia, Panama and gabardine should be washed chemically, using detergents without perchloroethylene and a washing programme for delicate fabrics. So take this into account before using them to upholster a pouffe or an armchair.
Summary
In our broad assortment of fabrics, you will surely find a woven or knitted fabric that is ideal for creating your dream project.
Remember, if you do not know which material to choose, you can always order a CottonBee woven and knit fabrics swatch book for 1,99 EUR/GBP. We'll ship it to you for free.