Upload your pattern

Drop the file or click here to upload it
Ops! Your file is WRONG!
Choose a different file
Great! Your file is GOOD!
Uploading the file can take a while.
Processing...
upload file
NEXT
We accept TIFF, JPG, PNG. Max 25 MB and 10 000 x 10 000 px, CMYK profile
If you have any difficulties with uploading a file, please contact us on [email protected]
Don't know how to prepare your design? Check our tutorial.
Free shipping over 100 EUR
Once your order surpasses that amount we will ship it for free.
Ready to ship in 3-5 business days
You never have to wait long for your custom printed fabrics.
Excellent quality at a good price
Order with bulk discounts or have your order priced individually.
GOTS and OEKO-TEX® Standard 100
We are GOTS (Global Organic Textile Standard) and OEKO-TEX® Standard 100 certified.
How to prepare a file for fabric printing?
What parameters should a file have?
We accept closed files in jpg, png and tiff formats (with LZW compression). They can't be bigger than 10 000 x 10 000 px and 25 MB. Before you upload a file, make sure there are no pixels or unwanted elements as we don't interfere in files and print exactly what we receive (according to settings in an order). In case of big files, email us at [email protected] or call + 48 516 278 821
What colour model do you use?
We use CMYK colour model, U.S. Web Coated (SWOP) v2 profile. It is an essential aspect of file preparation as colours displayed on a monitor might differ from colours printed on fabric. Final colour of print depends on a fabric type as well. In case of doubts, we recommend to order colour maps or a sample of your design printed on fabric. The sample is 2.49 EUR/GBP regardless of fabric type.
Do you print patterns only?
No, we don't. We print everything what is uploaded. That can be a dress pattern, poster, photo or anything else you need. If your file is technically correct, we print it. Before uploading a file and placing an order, make sure it has required parameters. In our printing house we don't interfere in files received from our customers. After a file is uploaded, a preview shows your design and gives you an idea of what it looks like when printed on fabric.
What size of printed fabric can I get?
We can print even a small piece of your fabric! You can start from a 20x20cm sample for 2.49 EUR/GBP regardless which fabric type you choose. If you need a bigger sample, perhaps a 48x48cm swatch is a good choice for 4.99 EUR/GBP no matter what fabric you'd like to order. We also print full running metres and their price depends on a type of fabric you would like to print your design on. Fabrics differ in their maximum printable area which is between 140 cm and 156 cm.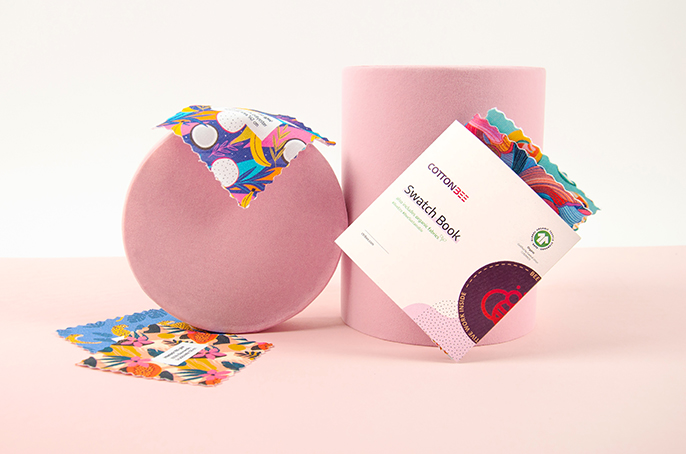 Order CottonBee Swatch Book!
For 1,99 EUR/GBP and free shipping, you'll get 9 x 9 cm swatches of all fabrics we print on.
Swatch book includes organic fabrics.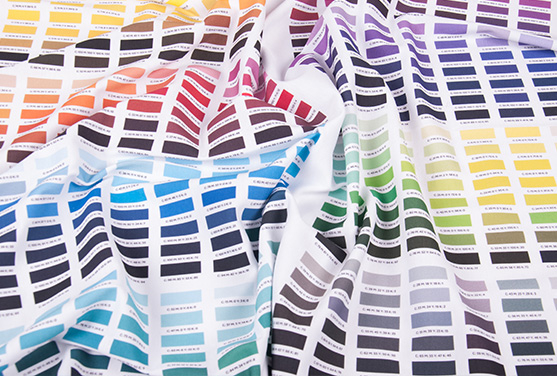 CottonBee color guide!
Order color guide for 5 EUR/GBP with free delivery. Colours may vary between types of fabric. Want to know the possibilities of fabric of your choice? We will print for you CMYK colour palette we use for fabric printing.
See, how colorful your project could be!
For business
GOTS fabrics
Haven't decided yet?
Order a Swatch Book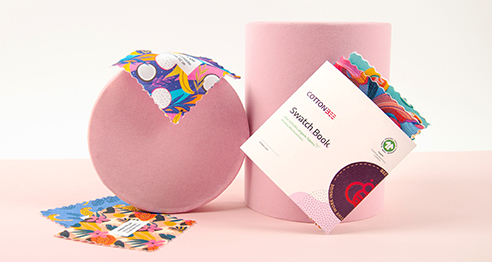 Haven't decided yet?
Order a Swatch Book!
also includes organic fabrics
Order our Swatch Book including 9 x 9 cm swatches of all CottonBee fabrics and be sure what you buy.
Only 1,99 EUR / GBP and free shipping.