We print on
cotton woven and knitted fabrics
Our business offer starts from 20+ meter orders!
Learn more
If you are:
a clothing manufacturer
an independent fashion designer
an architect
a costume or stage designer
or you need lots of sewing fabric – ask for an individual offer.
Why us?
Short delivery time
Vivid colours and great fastness
No minimum orders
Eco friendly technology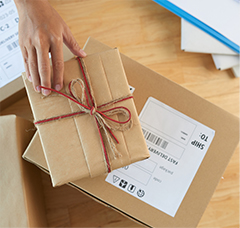 Short delivery time
We ship orders within 5 business days from the moment of accepting them to their execution. We take care not to keep your clients waiting – now you can respond flexibly to their needs and maintain optimal stock levels. Seasonal products can be a strong point of your business – there is no need to prepare for stock changes in advance. We will let you know, if delivery time gets longer.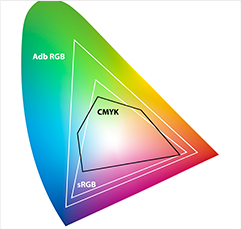 Vivid colours and great fastness
Pigment print is a modern technology of many advantages. It provides long lasting colours that are comparable to the colours of traditional print and the production process is more effective and eco friendly. Fabric finishing combined with Japanese water inks and print fixation at a high temperature guarantee great fastness and light resistance.
No minimum orders
We don't have to prepare costly matrixes and set the machines for a particular design. Start from ordering a sample of material with your own design with no quantity limitations. Storage is not a problem any more. You can buy as much as you need with CottonBee. Print your favourite pattern, make a prototype and find out which designs sell best – respond to your clients' needs on a regular basis and avoid high stock levels. If your business gets bigger, we will be delighted to print more and offer you a special discount.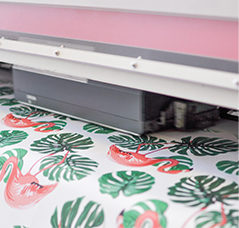 Eco friendly technology
The Earth is very close to our heart and that is why, we do our best to be eco friendly. We don't use water in printing and fixation which makes CottonBee exceptional in the textile industry. Advanced technological process allows us to minimise energy consumption and the use of chemical substances. What is more, our pigment inks are found to be safe and the materials are certified according to OEKO-TEX. We print as much as you need with little textile waste.
Business discounts
No matter the pattern or number of colours, you pay only for ordered fabric!
No minimum orders, no setup fees, nor extra costs for more colours.
10% discount
more than 10 m
1 fabric
any pattern number
individual pricing
more than 20 m
1 fabric
any pattern number
Contact us
Business Starter Pack
Want to try us out? Order our Business Starter Pack!
What's inside:
colour guide printed on fabric
printed and unprinted samples
washing test swatchbook
information flyers
15 GBP / EUR and free delivery!
order starter pack
Ask for quotation
Do you need an individual pricing for your project? Need to know what discount would you get by ordering bigger amount of fabric at once? Drop us a line here, and we will contact you to help you out with everything you need!
Dedicated Customer Care
Our dedicated Customer Care Department will take care of your order - from placing to delivery.
You can place your order by our web service, but our Customer Care Team will surely help you with anything.
Contact us and we will answer your questions and prepare a personalised offer.

Agata
+ 48 516 278 821 | [email protected]
Join our satisfied Customers!
Very high quality printing, easy to use interface.

Robert, Weston Super Mare
Fantastic quality and so soft!

Leanne, Berlin
Excellent customer service, quick turnaround and lovely quality of printing! I'd definitely recommend this company for fabric printing!

Laura, Derby
Excellent service and fabulous material.

Caroline, Bishop Auckland
I needed help with my design and I sent some emails the response was very quick and the help I got throughout the process was very helpful, definitely would recommend to everyone.

Zaibun, Birmingham
Very prompt delivery.

Elliot, Oldham
Beautiful material! Would definitely recommend.

Tabitha , Marlborough
I am beyond impressed with the quality and pricing of CottonBee fabrics and with ethical products at the heart of what I make. I am thrilled.

Jessica, Newcastle-Emlyn
Good service, I am happy.

Mari-Liis, Tallinn
Great! Fantastic! Awesome! Fenomenal! The BEST! Fast shipping, good communication, great quality! The best DTG Company in Europe! Really!!!

Agnes , Budapest
I've used CottonBee a few times now, always really happy with the results and a fast turn around!

Silvia, Swindon
Great colors and many fabrics to choose from.

Magdalena, Askim
So far first impressions have been amazing. Extremely quick service and always making sure the customer is happy. I loved the packaging our fabric came in, it comes across as a very fun company and we look forward to working with you more in the future.

Samantha, Gillingham
Such great quality printing on an impressive selection of quality fabrics.

Jennifer, Bristol
Fantastic quality and fast delivery as always

Natasha, Larkhall
Perfect fabric, brilliant colours, fast service. 😊 Definitely 5 stars.

Melinda, Gardony
Good quality, fast shipping. I am very pleased!

Minna, Lappeenranta
Love the print and the ability to wash printed fabric in the washing machine (single jersey with lycra). Print itself is very sharp and the communication during the order being processed was great.

Katy, Leicester
Keep going your great work! Love your printed fabrics!

Amelia, London
Excellent quality fabric and print exactly as I'd hoped, if not better! I will definitely be ordering again and would recommend CottonBee for the quality, speed of service, and customer care. Thanks bees, you made me smile when I opened my parcel :)

Tania, Penrith
I've ordered once from Cotton Bee but will definitely be ordering from here going forwards. I'm really impressed with both the service and quality. Plus after a pre-wash all of the colours are still lovely and bright. Perfect!

Trudi, Totton
I love the quality and print of my sample. It's really helped me make some design decisions.

Charlotte, Norwich
8m of lovely fabric and a quick turnround. Very pleased and will use again.

Neil, Peterston Super Ely
We love your fabric and what you do, our designs always arrive to a good standard in prompt timing

Megan, Milton Keynes
Absolutely in love with this fabric and the whole process. I love how you get to choose everything you want, size of pattern, pattern, fabric type etc. CottonBee were very informative and kept me up to date with my order. I'm very happy.

Nicole, Washington
I started with two test-prints and I am very content with everything. :) It was very easy to order, a nice print (even after wash) and the order came fast! I also love that you send info and the swatch book on recycled paper. Thanks!

Sofia, Uppsala
Great service and super quality fabric!

Victoria, Steeple, Southminster
The printed fabric with my own design is great. It was my first order but not the last one :)

Anett, Szárliget
Very impressed with the depth of the black. Colours great and staff very helpful.

Julia, Canterbury
Good quality, great online instructions for printing, quick delivery time.

Georgina, South Bank, London
Perfect service!

Melissa, La Cala de Mijas
I am very happy for the service I have got. It is very nice to find a company with so good service. I will come back very soon. I got the fabric very quickly. Thanks for so good works!

Marina, Järlåsa
The quality of the print is wonderful! I'll definitely be using them again!!!

Allana , Kippax
Lovely fabric.

Angela, Cambridge
I have been printing wovens for home decor for some time now, but I tried printing on knits with you for the first time. Would reccomend for sure! Such a pleasure - fast, always friendly and the quality is great. THANKS!

Amelia, Walberswick
Great print quality and fast delivery.

Andrea, Stockholm
Great product gold colour could be better but very empressed with fabric and I will use you again. Thanks .

Dawn, Stevenage
Amazing customer service and gorgeous fabrics, very happy with my printed first batch, lets see what the next is like! :)

Natalia, Kenley
I love the prints, quality and how fast is the order ready and shipped. Last time it took only a week! I have ordered now 30 m of jersey fabric and I can't wait to order more!

Kadi, Tallinn
This was my first order,but definetly not the last! Fabric is of great quality,and the colors are very lovely. I got answers to all my questions very quickly and everything went smooth with my order.

Anett, Üröm
Thank you! Happy with the fabric and it is packaged with care.

Naomi, Arbroath
Thank you for the order, very quick delivery and awesome fabric with my own pattern! Love it.

Liz, Fateham
Fab customer service underpinning the high quality product provided.

Anna, Glasgow
I am so happy and I will shop more times.

Monika, Vintrosa
Great service and quality very satisfied.

Malcolm, Wakefield
Love my fabric. Thank you. Can't wait to be able to afford large amounts to make my exclusive collections xx

Scarlett-Emma, Newark
Great quality and super fast turnaround. Will be ordering again. Thank you!

Maike, London
Ordered several times and always impressed with the vibrant patterns and quality of fabric.

Anna, Dorset
Good customer service and the fabric was great.

Minna, Varkaus
Really pleased. The turn around on orders is really amazing with this company. The printing is of even better quality than last time I purchased (about a year ago). I would love it if you could add a higher weight of cotton elastane to your options.

Ruth , North Berwick
Wonderful quality fabric and excellent colour representation.

Lydia, Clifford, Herefordshire
CottonBee is just great. Lot of patterns, great fabrics and the prints come up perfect. I like that you can order small amount od various patterns, I am a returning customer.

Petra, Nová Ves u Mělníka
It´s always a pleasure to get a printed fabric at Cottonbee. Great customer service !

Petra, Nová Ves u Mělníka
Really easy to use website. Fast service. Lovely quality fabric. Highly recommend xx

Sarah, Nottingham
Good quality print and great customer service!

Diogo, London
Super fast printing and shipping. Just the print my friend was looking for !

Andrea, Daventry
Tag us on Instagram!
#cottonbee
Haven't decided yet?
Order a Swatch Book
x

Haven't decided yet?
Order a Swatch Book!
Order our Swatch Book including 10x10 cm samples of all CottonBee fabrics and be sure what you buy.
Only 1,99 EUR / GBP and free delivery.
Order a Swatch Book