Do you print on fabrics? Or maybe you plan on trying? Choosing one from the available fabric printing methods can be tricky but is a key issue if the effect is to please the eye and be durable.
Table of contents
Types of printing – choose the right method
Fabric printing seems to be surrounded by many "myths and legends". Our clients often have problems with understanding and choosing the right method of fabric printing, which has a colossal effect on the final result of their work. Whether your project turns out exactly as you planned depends on the choice of the right printing method, medium and type of dye. Since we have not found a comprehensive and substantive summary of types of printing anywhere on the Internet, we decided to collect everything in one place. We really hope that we will make your choice much easier!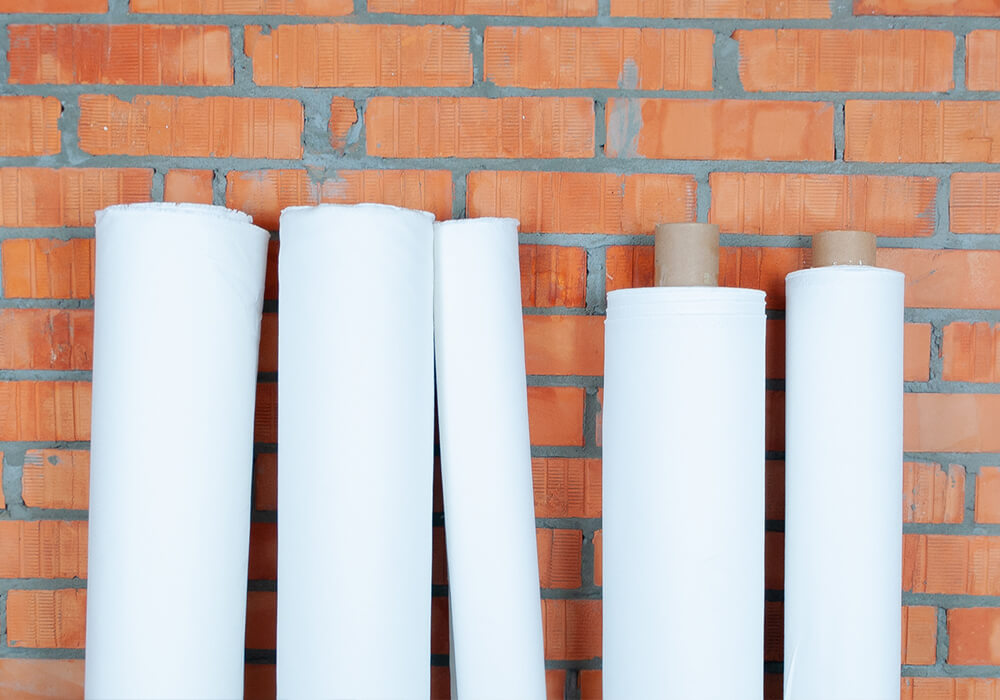 Division into analogue and digital fabric printing methods is the basic way of categorisation of the printing methods. Below, we will try to explain different methods and their characteristic features.
Analogue printing – screen printing
Screen printing is an analogue method of fabric printing. Screen printing involves pressing the paint through a printing screen (made of a steel frame and a nylon mesh) and thus making a print. This operation can be performed manually (the paint is then squeezed manually through the screen) or with a machine (the paint is automatically pressed by the machine through the screen).
Preparing the screen in screen printing resembles preparation of a template, where individual parts of the grid are covered, and a specific shape is obtained on the fabric. By means of screen printing, one colour is printed at a time as each colour is a separate layer. For this reason, screen printing is not particularly recommended for multicolour prints – in such cases, digital printing will work much better. Screen printing method can be used both with material beams (in such instance a rotational screen is used) or on ready-made clothing items (T-shirts, bags, accessories).
Screen printing – what to print?
Screen printing imposes very many limitations linked to what you want to print – this is mainly due to the way the colours are applied. In screen printing, each colour is applied individually on a separate screen during a single machine cycle. In the case of screen printing, it is very difficult (and sometimes even impossible) to perform smooth tonal transitions in print (smooth/seamless transition from one colour to the other). It's difficult to achieve, for example, a two-colour gradient. Screen printing works best when printing relatively simple (e.g., geometric) shapes with a small number of colours. What is more, it is basically impossible to print pictures using the screen printing method as shading, tonal transitions and accurate reproduction of details are not its strongest point. In turn, it allows for overprinting coloured (colourful) fabrics – screen printing can be used to print, for example, white patterns on black fabric.
Types of screen printing:
Flat screen printing – most often used for printing on ready-made objects (t-shirts, bags)

Rotary screen printing – used for printing on entire rolls of fabric. As far as this fabric printing method is concerned, the initial cost is high, because the preparation of cylinders significantly raises the price
Hand-screen printing – introduced to the studio by Andy Warhol, it has been quickly accepted by the independent artists who often screen print manually in their workshops using homemade constructions. You can read more about the hand-screen printing here.
How does printing with rotary screen printing arise?
Screen printing – an analogue method of fabric printing:
High cost of entry – preparation of expensive screens

Each colour requires the preparation of a separate screen
Limited number of colours
Number of colours used in the project has a significant impact on the cost of printing
Cost-effective when printing in bulk – with an increase in the number of goods produced, the price of a single unit noticeably decreases
Due to the cost of preparation of the screens, it is not suitable for printing individual pieces (and small volumes)
It is not possible to perform a sample print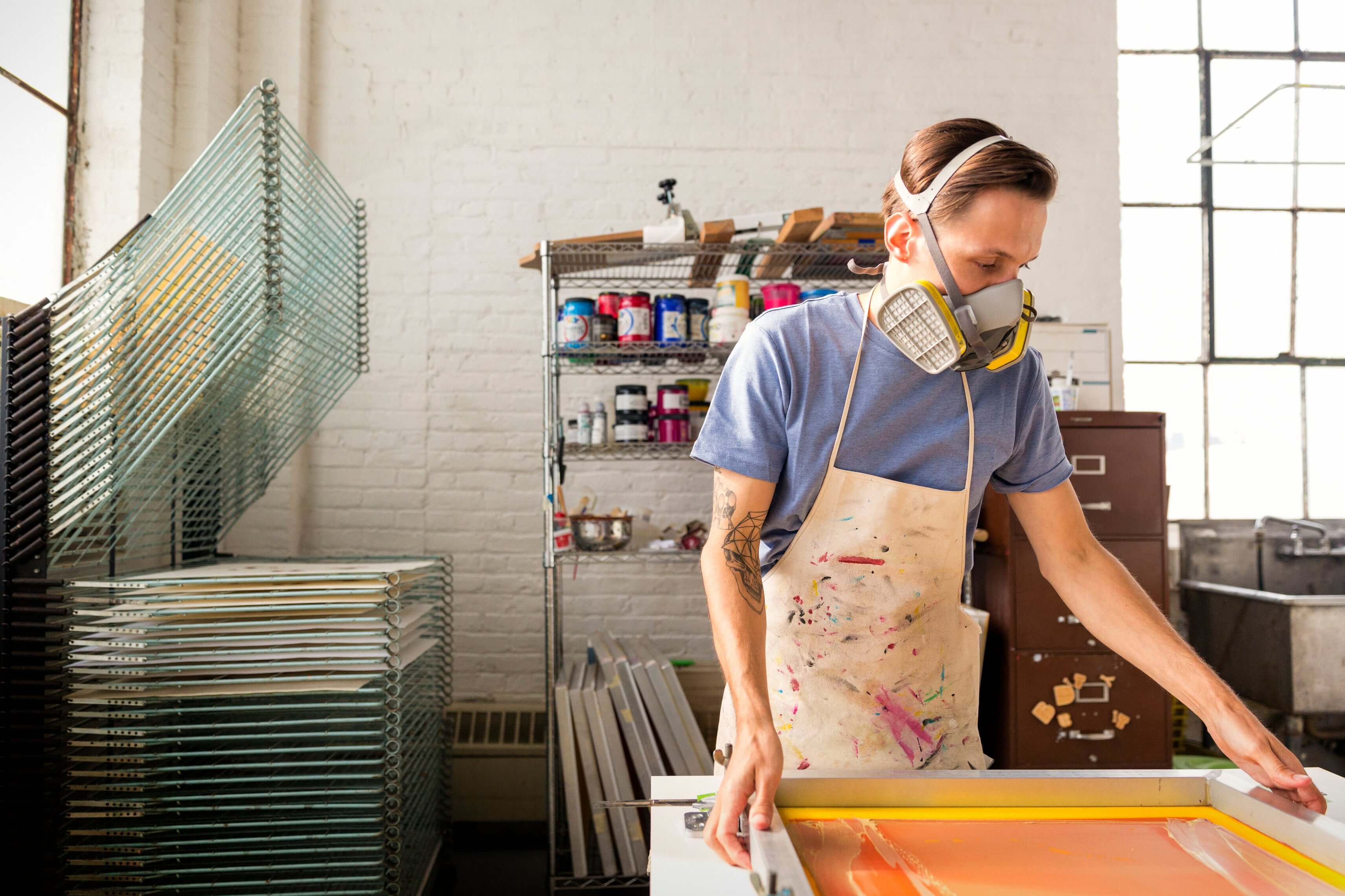 So when should you opt for screen printing? For example, when you want to print 1000 linear metres of black material with white dots. To carry out a project with such an uncomplicated design, the method of screen printing will be ideal. Currently, there is no better method available on the market for printing such graphics on fabric. The basis may be a black-coloured fabric on which white dots are applied with a single screen. Therefore, the conditions to be met are a large volume (which cancels out the cost of preparation of the printing screens), undemanding patterns and the necessity of putting colour on a very dark background.
Digital printing
As in the case of digital printing on paper, digital printing on fabric allows you to make even a single print without the initial costs (e.g., printing screens). In simplified terms, digital printing on fabric acts similar to a home inkjet printer. In fact, this method of fabric printing does not impose any restrictions on the project itself – you can print any graphic on the fabric, without any limitations on the number of colours or tonal transitions between the colours.
Printing is the result of applying microscopic droplets of paint (dye) on fabric resulting in the creation of a pattern. The printer is able to reproduce virtually any colour from the normal colour palette through a combination of four basic colours from the CMYK palette (cyan, magenta, yellow, black) and additional so-called spot colours (e.g., orange, blue). On the other hand, digital printing also brings limitations: very narrow possibilities of using special colours (metallic, fluorescent) or, for example, PANTONE palette.
Digital printing is usually carried out on white fabric – so printing white dots on a black background boils down to printing the entire surface black and leaving unprinted "white dots". Such a "difficult" colour scheme is, therefore, the basic premise to choose a different method (in this case, for example, the screen printing method). Digital printing on fabric works perfectly for printing photos, detailed patterns, tonal transitions and graphically complex designs.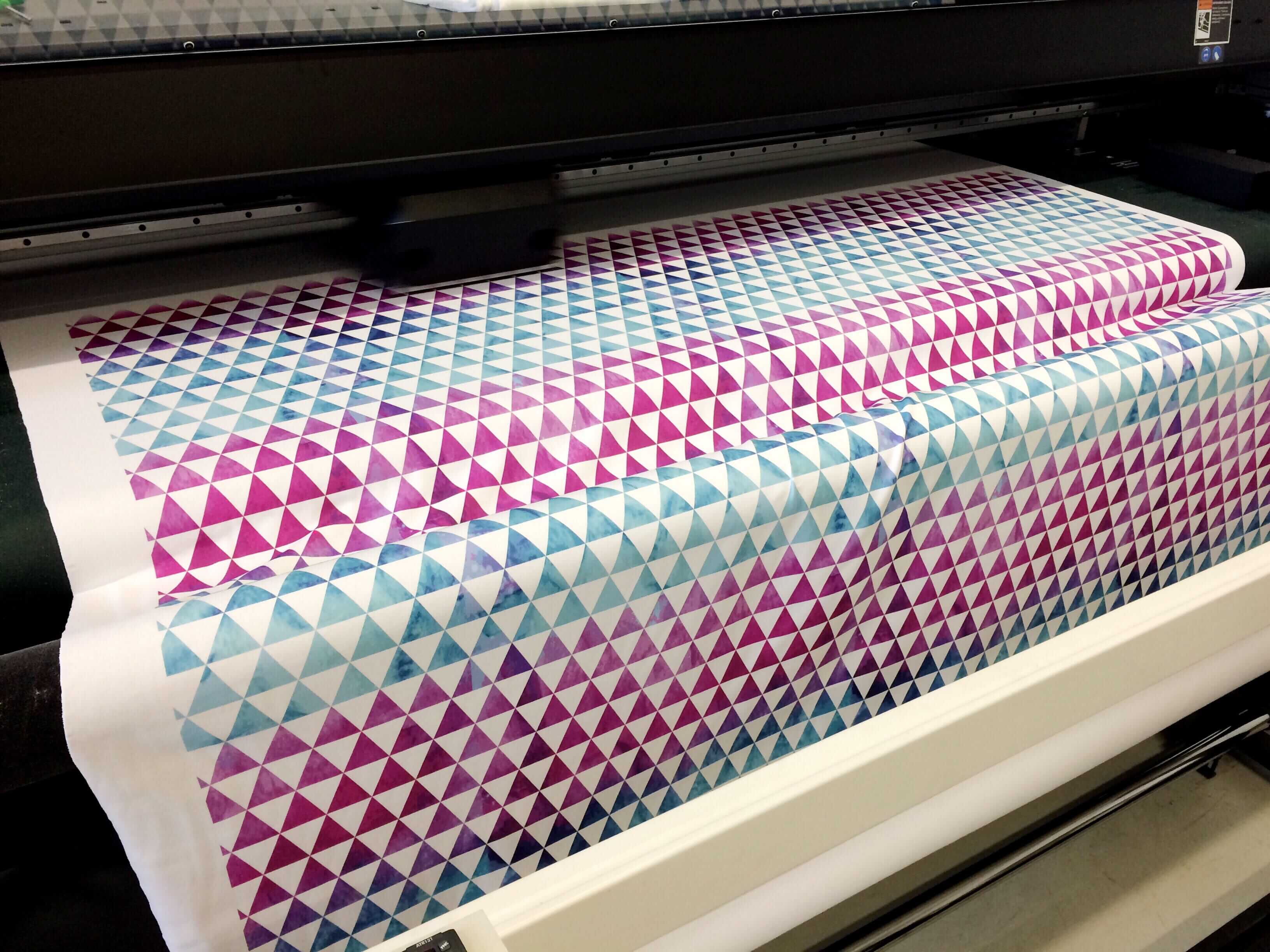 Digital printing:
No printing screens – no initial cost

The ability to print even a single copy
No colour limitations
The number of colours and the appearance of the print does not affect the cost of manufacturing
Economy of scale is definitely lower than it is when screen printing – printing the first and the hundredth meter costs basically the same
Ability to perform a sample print
The division into analogue and digital printing is the basic categorisation of printing on fabric. However, there are also other divisions – see which ones best meet your expectations when it comes to your projects.
Due to the medium being overprinted, we divide the fabric printing methods into:
DTG printing (direct to garment)

roll-to-roll printing (fabric on a roll)
DTG printing (direct to garment)
In free translation, DTG means "directly on clothing".
It is a printing method that involves the application of patterns and colours directly to the base, which in this case is a finished clothing product. The sewing of the product takes place before the printing process and the components are ready for use the moment they are removed from the printer.
DTG is perfect if you want to print on finished products such as:
t-shirts

polo shirts
sweatshirts
bags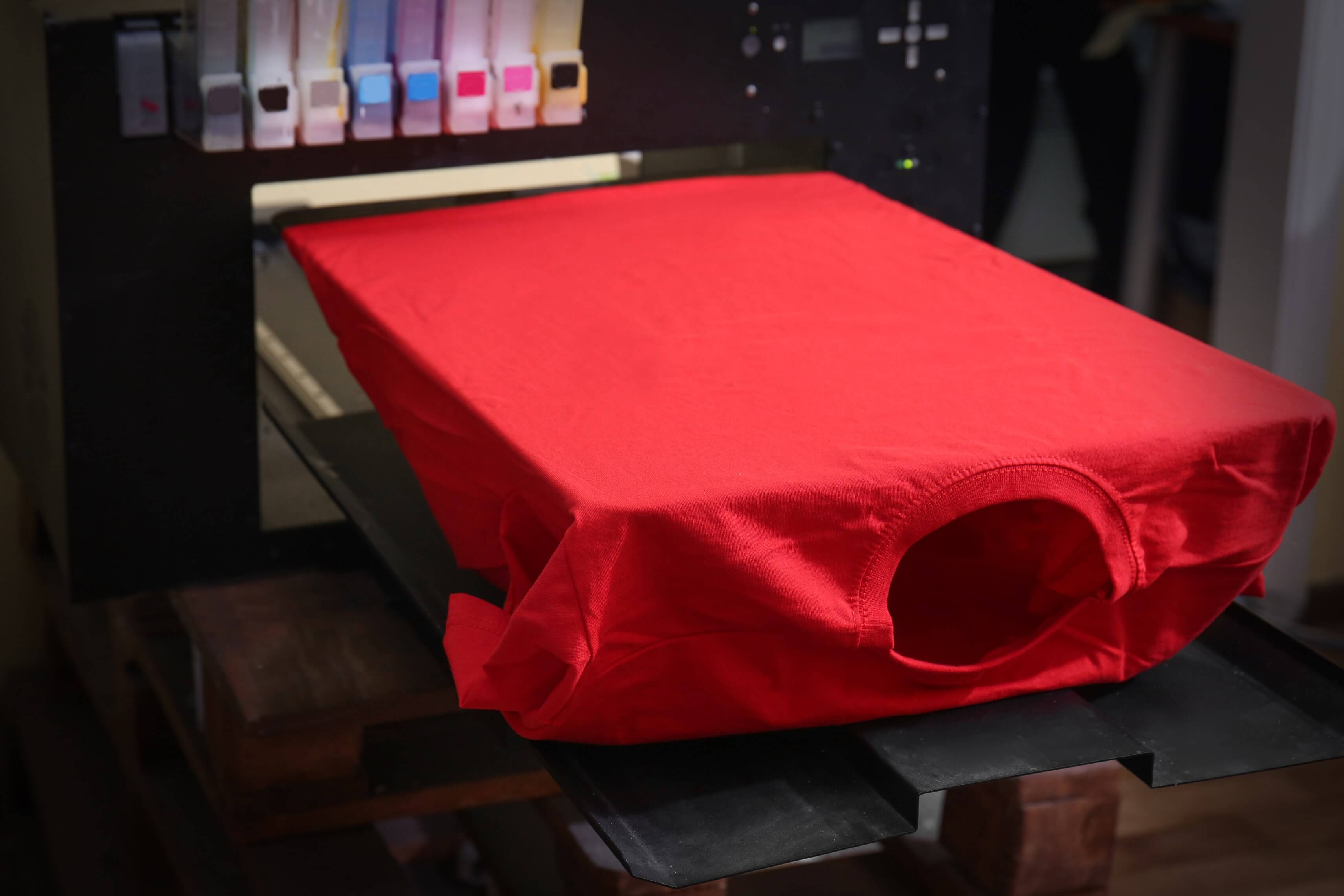 When printing on fabric using the DTG method, there is no need to prepare printing plates or screens, which directly affects and reduces the cost of small volume production (no initial, "start" cost). DTG printing method gives the possibility of personalisation even at small amounts. When printing with the DTG method, however, we have a limited print area (depending on the machine used, but we will usually not achieve a surface larger than 50×70 cm).
The minimal amount of the printout starts with one piece (however, the higher the volume, the lower the unit price). The price is influenced by the quantity of the printouts, the size of the print and the colour of the fabric on which the pattern is printed. If the final product on which you want to print is of a colour other than white., then a white surface is always printed underneath the pattern, which significantly alters the price.
As you can see, the DTG print carries a certain number of limitations. If you are not satisfied with the restricted form of printing on specific cotton clothing, we recommend you to consider printing on fabrics using the roll-to-roll method.
Roll-to-roll – printing fabric in bolts
Application: Printing of material in rolls (bolts).
In practice, this means more or less the fact that a powerful printer (like a home digital printer, but on a much larger scale) is fitted with a bolt of clean, unprinted fabric. Then, the printheads apply dyes to the fabric surface in the printing process.
Digital printing on fabric is recommended, especially, if you do not want to be restricted by the already existing form on which you print (t-shirt, bag, etc.). It provides you with the broad possibility of sewing from the fabric that is printed over the entire width of the bolt, printing in running metres and cutting out the sewing patterns from fabric only after printing. Thus, you are not limited in shape – you can sew anything you can from fabric – from shirts to curtains, accessories or home decor items.
When choosing the method of printing on fabric (DTG or roll-to-roll), we should take into account the amount of material and in what form we will need it.
The method of printing (DTG vs roll-to-roll) is not the only choice you will face. Another way to divide methods of printing on fabrics is to distinguish between methods considering the type of dye used for printing.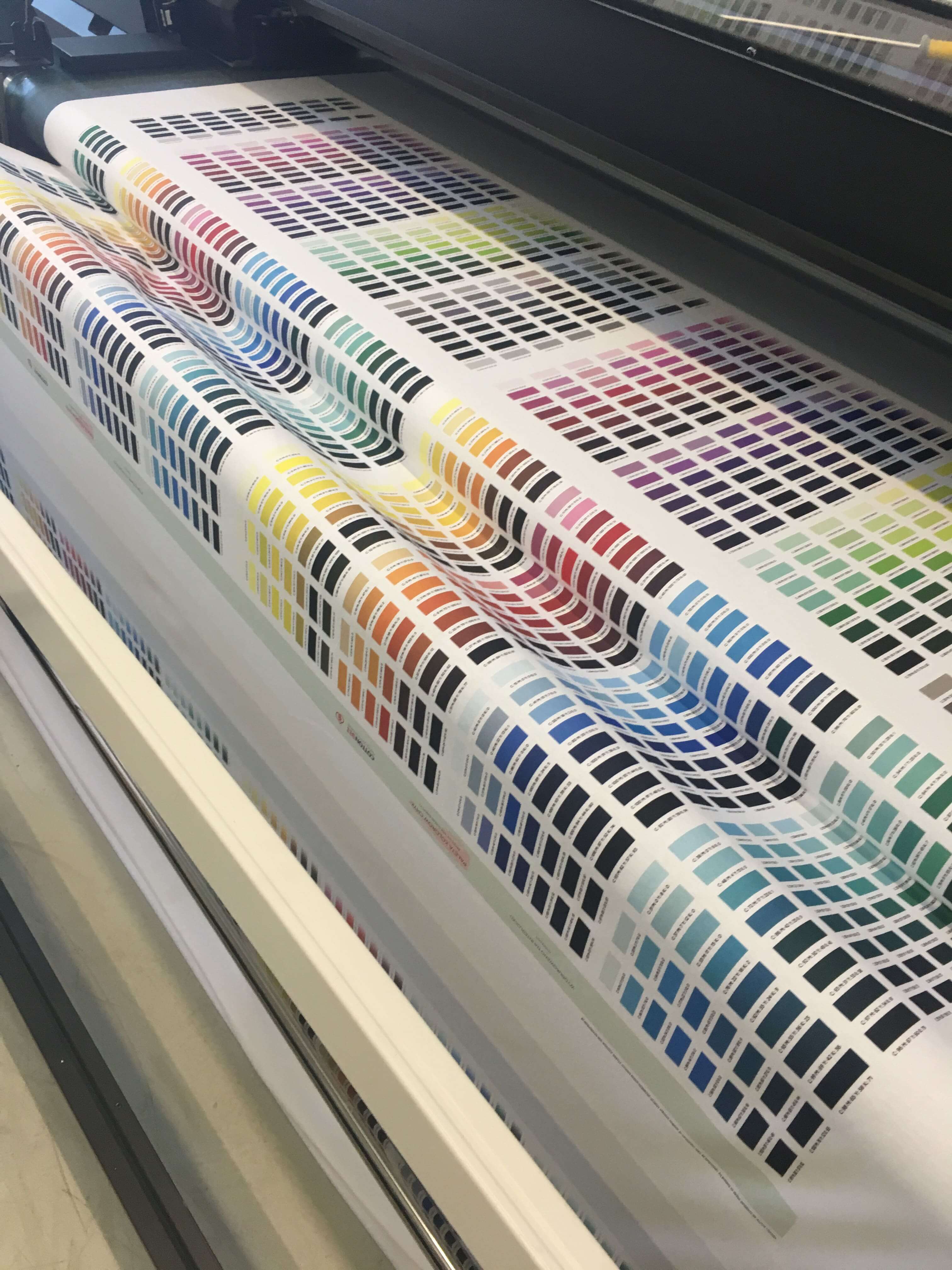 Regarding the type of dye used, printing on fabric can be divided into:
Fabric printing using pigment inks

Fabric printing using reactive dyes
Fabric printing using acid dyes
Dye-sublimation printing
Fabric printing using pigment inks
Application: all types of fibres, including cotton.
Often referred to as the "future of digital printing", It is suitable for printing on any type of fibre, though, in practice, it is most often used to print on cotton. Moreover, this method develops dynamically and quickly, responding to the needs of recipients. Although it is not perfect, at CottonBee, we are charmed by it, and we make every effort to ensure that printing on fabric is widely available and characterised by the highest quality – this is where printing with pigment inks comes in.
For printing on materials, specific dyes are used – in our case, these are Japanese pigment inks.
The second important factor is the preparation of the fabric for printing, i.e. finishing. In order to provide the right characteristics (vivid colours, resistance to washing out), the fabric has to be prepared adequately before printing. The unprinted fabric is soaked in a substance that makes the pigment "stick" to the surface, which in turn makes the fabric retain its original appearance for a longer time.
After the process of digital fabric printing using pigment inks is finished, the printed pattern is fixed with temperature, without the use of chemicals, but above all – without the use of water. Very eco! For this purpose, we use calenders and special furnaces. As a result, most digitally printed fabrics can be machine washed, despite digital printing with pigment inks being surface printing – the pigment remains stuck on the surface of the textile and thus colours it.
The process of finishing (preparing the material for printing) and heating (fixing the colour on the surface) considerably increases the ease of use of the fabrics printed with pigment. Printed with pigment ink and properly treated cotton (washed in a washing machine on a delicate program, with a cleaner that does not contain strong detergents or only chemically, without the use of water) guarantees the longer lifetime of beautifully printed cotton fabrics and knitwear.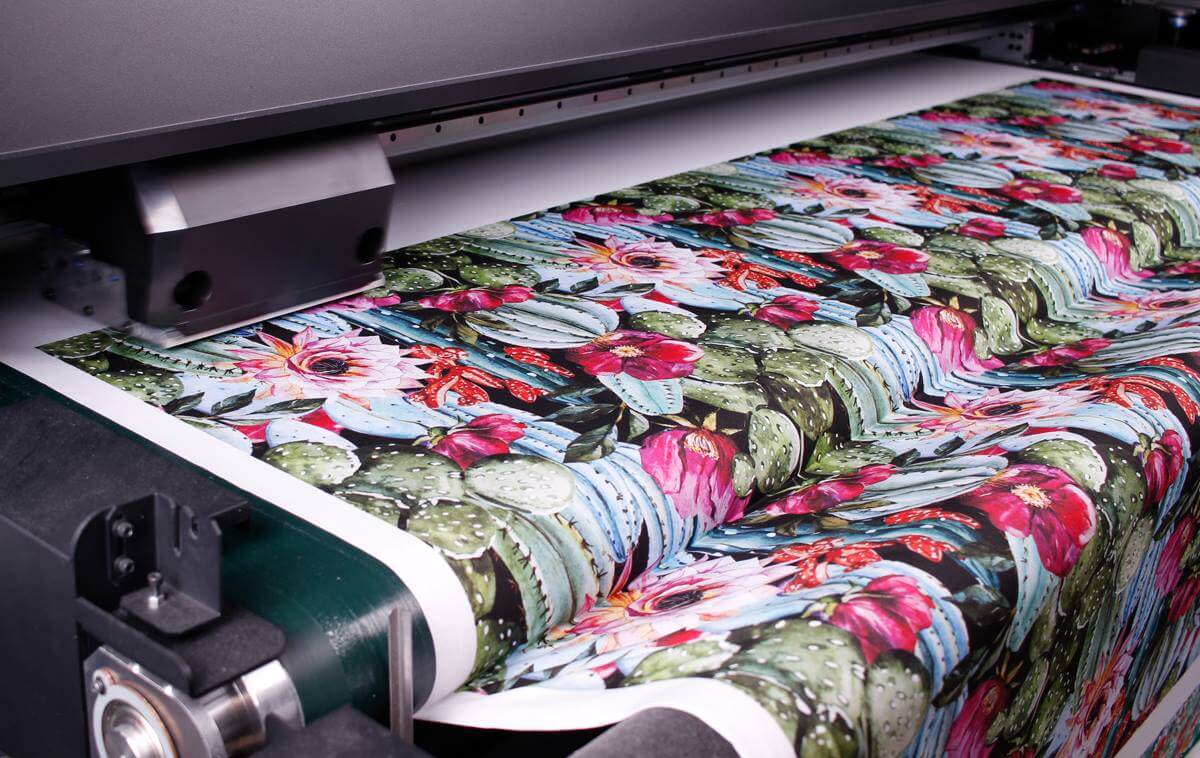 When should you not choose to print with pigment ink on the fabric?
During fabric printing with pigment inks, it is problematic to generate bright colours. Moreover, black will be slightly less deep in comparison with the one achieved during printing using reactive dyes. The pigment is better suited for lighter, e.g., pastel, inhomogeneous surfaces. Watercolour flowers in light, pale colours are the perfect design for printing with pigment inks. Digital printing is a surface print, potentially susceptible to damage. For this reason, it is not recommended to rub (or "clean down") materials printed with pigment ink, especially wet.
Printing with pigment inks on fabric will not be the best choice when you want to pint such things as white dots on a black background. Unless you need a single printout that is, for example, 2 running meters long or you want your order to be completed fast – then fabric printing using pigment inks is the only sensible way out.
The entire printing process is definitely less complicated than printing using reactive dyes, and therefore printing houses that deal in pigment ink printing are usually able to guarantee shorter deadlines and lower prices for small orders than printing houses that deal in reactive dye printing.
For example, when printing 1 running metre of any pattern with pigment ink on cotton fabric, prices at CottonBee start at PLN 56.90 per meter of textile with a print, and the time of fulfilling such order is a maximum of 5 working days (often even shorter). Such a small order in a printing house dealing in printing using reactive dyes would not be accepted at all, and you would have to wait even a few weeks for the entire bolt of fabric. It is worth taking these factors into account when choosing the method of printing your designs.

Application: Used primarily for printing on synthetic fibres (polyester) and blends (which are mostly composed of polyester). Additionally, it is unsuitable for prints on cotton.
Sublimation is a process in which matter moves from a solid state to a gaseous state (bypassing the liquid state). When printing using sublimation inks, this process occurs during the heating phase, i.e. fixing the print using a temperature of up to 200 degrees Celsius. The dyes then sublimate, merging with the material.
[Polyester t-shirt overprinted with the use of sublimation method from the FreckledThreads store on etsy.com]
The process of printing using sublimation inks can be carried out in two ways:
Direct sublimation

Intermediate sublimation
As far as direct sublimation is concerned, sublimation inks are applied to the material directly using a digital printer. In the case of indirect sublimation, we are dealing with transfer printing. The pattern is printed on transfer paper and then using a calender or a flat press, where it is exposed to high temperature (dry or steam), it is transferred to the base material. During this process, sublimation is accountable for transferring the print to the fabric.
[Video showcasing the sublimation method]
When should you not choose to print on fabric using the sublimation method? Primarily, you do not want to opt for it when you want to print on, for example, cotton, silk, viscose. That is because only polyester and its blends (where the polyester significantly predominates in the composition) are suitable for the dye-sublimation printing.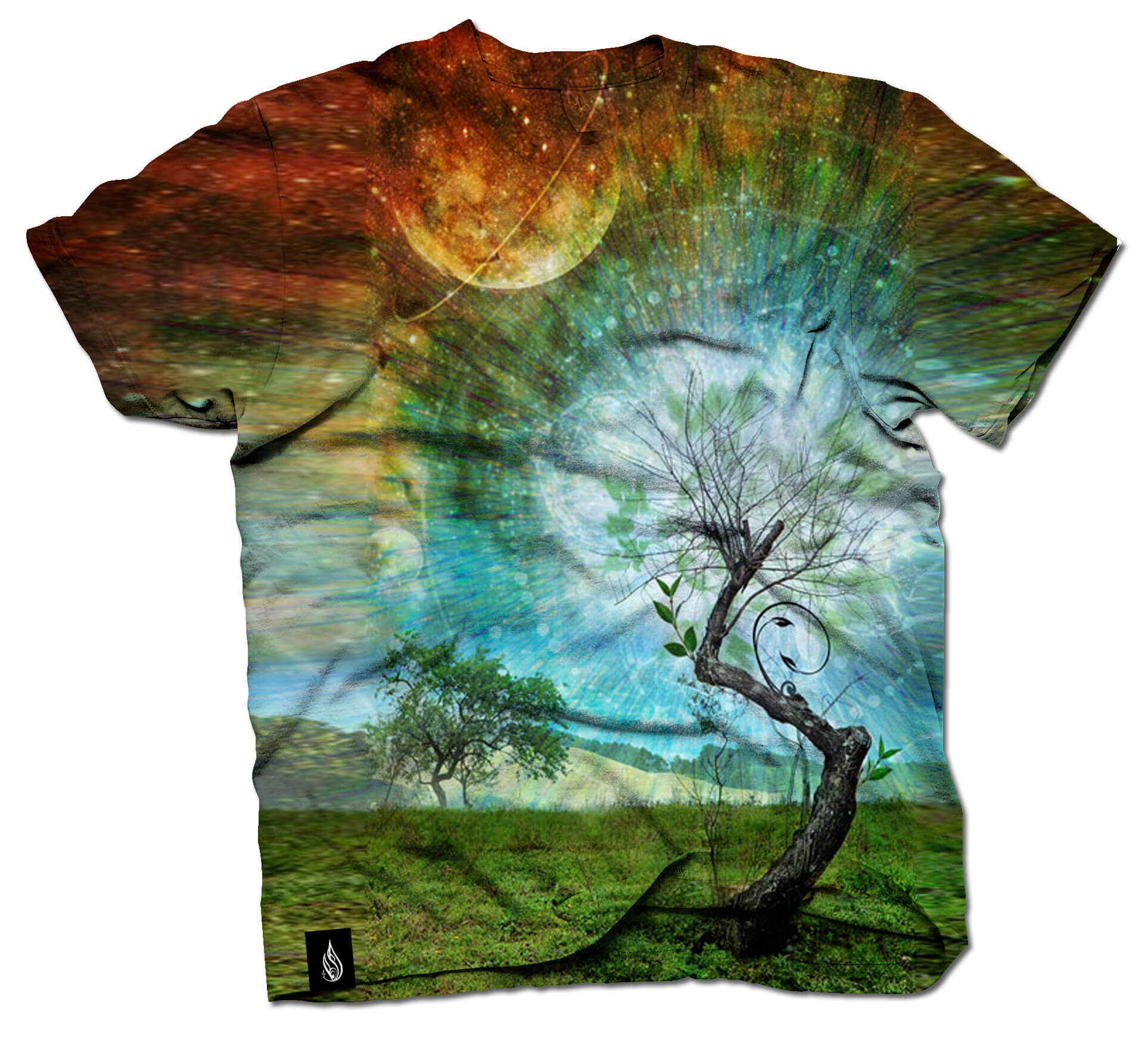 Digital printing using reactive dyes
Digital printing with reactive or acid dyes is nothing more than the use of dyes that are absorbed by the material and react with the fabric in digital print. This method, much more invasive than printing with pigment inks, guarantees a good "grip" of the overprinted material and its high durability – the chemical dye, having been absorbed by the fabric, will be more resistant to washing out than pigment ink print.
Printing using reactive dyes will be perfect for people who want to print over large amounts of material at the same time, though, this is a viable option only for those of you who are not in a hurry as the waiting time for orders using this method, in most of the printing houses, is often several months.
What is more, one of the main advantages of printing using reactive dyes is the amazing colour saturation that can be achieved – dyes reacting with the material colour it thoroughly. Additionally, it gives you the option of printing on fabrics that, for some reason, are not fit to be printed on digitally, for example, viscose.
Digital reactive printing, however, is characterized by a much more complex process than digital printing using pigment inks. As a result, this directly affects the price – reactive printing is, therefore, much more expensive. Printing with reactive dyes is also less eco-friendly – the dyes themselves contain invasive chemicals and "bite into" the material, permanently modifying it. Moreover, reactive printing is unprofitable at a lower volume of production as you often have to order entire rolls of fabric in the printing house several months in advance.
When to print using reactive dyes? When you have to print a large or medium amount of fabric (i.e. at least a few bolts), and you do not worry about how fast the order will be completed. If you are able to pay more than it costs to print with pigment inks, place a large order and wait a minimum of a few weeks for a complex project that is both full of saturated colours and durable – then digital printing with reactive dyes is a good choice.
Digital printing using acid dyes
If you plan to print on wool or silk, you will need to print with acid dyes.
The printing process resembles the prior method of printing using reactive dyes, with the exception of the dyes being acidic. They adhere well to the surface of fabrics such as silk and wool, which usually cause problems for pigment inks.
Which method of fabric printing should you choose?
In practice, most often, you will meet the following fabric printing methods, which are the outcome of the abovementioned divisions merging. We hope that after reading the text, you already know which type of printmaking will be the best for your projects, and which you should avoid. We summarize the most popular methods and their hybrids on the market below:
Flat screen printing

– for graphically simple prints, e.g. on T-shirts

DTG digital printing

– for complicated prints, e.g. on T-shirts

Digital roll-to-roll printing with pigment inks

– when you want to do low/medium-volume print on cotton, and you care about the time

Digital roll-to-roll printing with reactive dyes

– when you want to make medium/high-volume printing on cotton and a long order completion time is not a problem

Digital roll-to-roll dye-sublimation printing

– when you want to print on polyester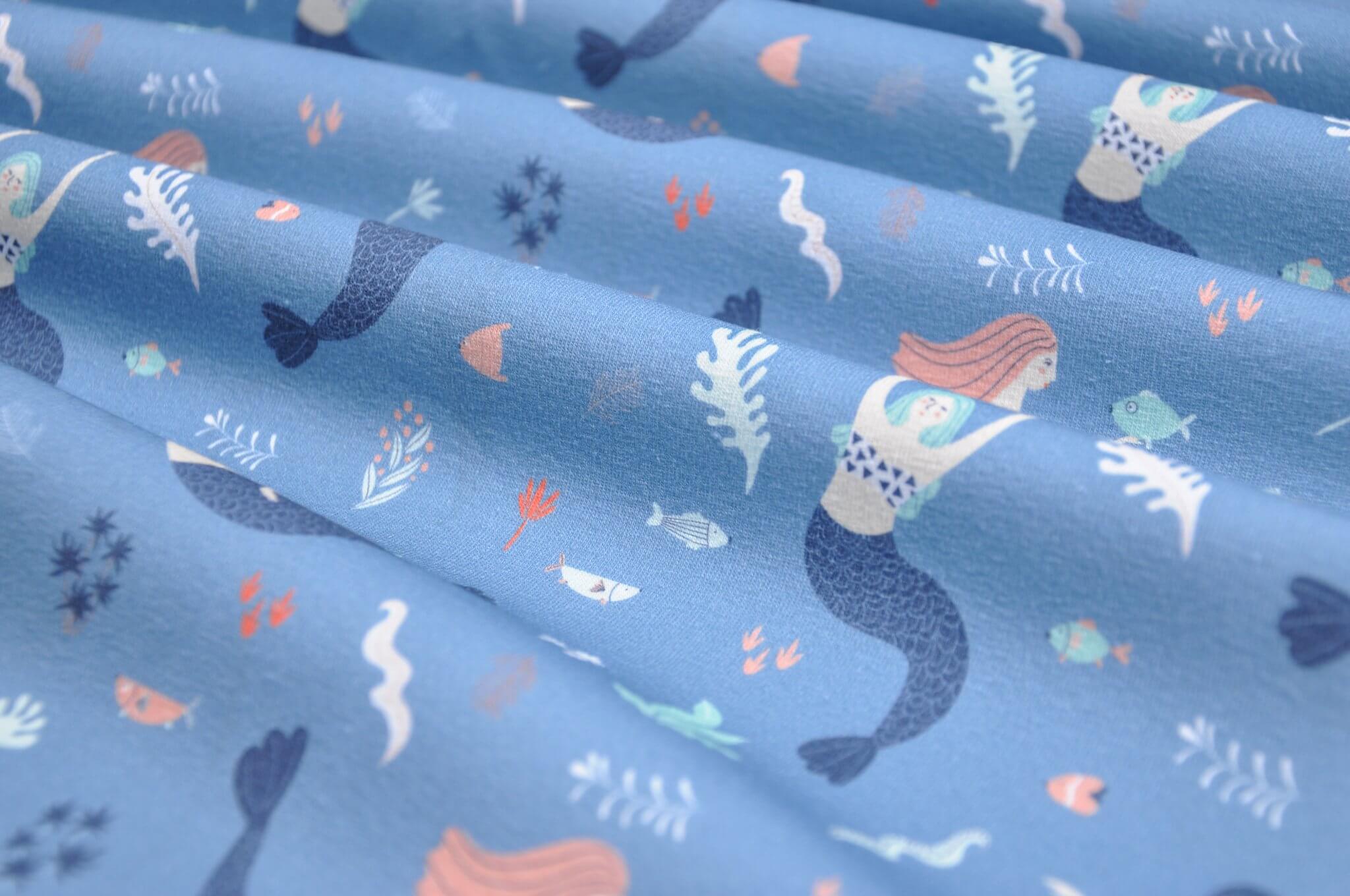 Colour reproduction in textile printing
In this text, we have almost entirely left out the issue of colour reproduction – it varies depending on the chosen method of fabric printing. You should pay attention to this issue especially in the case of digital printing, where the barrier to entry is very low, and you can very easily fall into the trap that you are able to print everything. The advantage of choosing digital fabric printing using pigment inks is the possibility to perform a sample print. At a relatively low price (PLN 20 for a square with sides of 48cm), you can order a sample of your design before you decide on a larger order. This option is recommended especially for graphically demanding projects that include dark, "overinked" or very detailed designs.
Check also: Pigment ink printing on fabrics: why is it on the rise?