Every year, digital fabric printing with pigment inks gains more and more supporters. Thanks to the fast development of technology, it is also becoming a leading printing technique on the market, enabling inexpensive, express and professional printing of any pattern on fabrics. So how to properly prepare a file for printing using this technique?
Let us start by explaining why digital fabric printing is said to be the future of the textile printing industry. Above all, this technology has a constantly expanding scope of advantages. These include no printing plates, relatively low production costs, no minimum order size, no restrictions on the number of colours and quick order processing. This printing method is also considered to be very ecological: at CottonBee, we dye fabrics with high-quality GOTS compliant pigment inks, and we fix the patterns using high temperature only – without the use of any chemicals. Moreover, the fabrics on which we print are certified, natural woven and knitted cotton fabrics. Our printed fabrics are GOTS and OEKO-TEX Standard 100 (Class I) certified.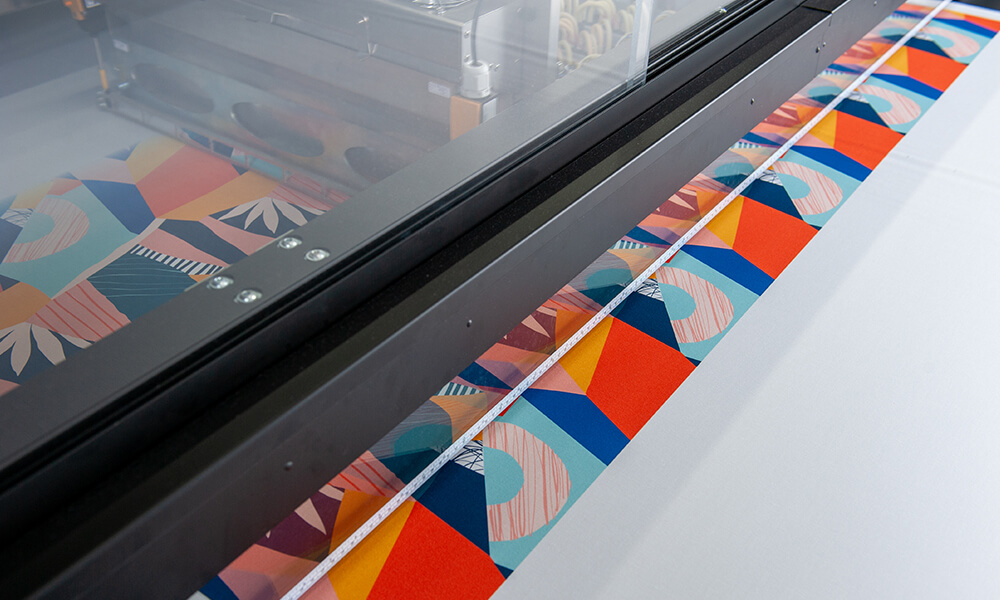 What can you print on the fabric?
Digital printing technology provides many printing possibilities. This way, you can print any desired pattern, even the most complicated one: designed by you, selected from a catalogue or a photo – all while keeping faithful to the original tonal transitions, appropriate colour saturation and the highest quality of the print. What is important, the number of colours used does not affect the price of the order. You pay only for the amount of selected woven or knitted fabric, regardless of the appearance of the graphics. If you are wondering if the chosen project will look good on woven or knitted fabric, all is not lost yet: order a 20 x 20 cm print sample or a 48 x 48 cm printed swatch first.
At CottonBee, you are not limited by any form: you print at the full width of the beam in running meters. From the fabric you receive, you can cut out any sewing pattern: clothes, bedding for children, toys, curtains or other interior decoration accessories.
Preparing a file for printing: step by step
If you want to print your pattern on a fabric, follow the instructions below:
1. Designing the pattern
Design a pattern, while keeping in mind that you will be able to repeat it on any length of fabric in any way you want. A single element of the pattern should have matching edges so that it forms a compact whole at a large number of vertical and horizontal repetitions, without visible links at the edges, so-called seamless.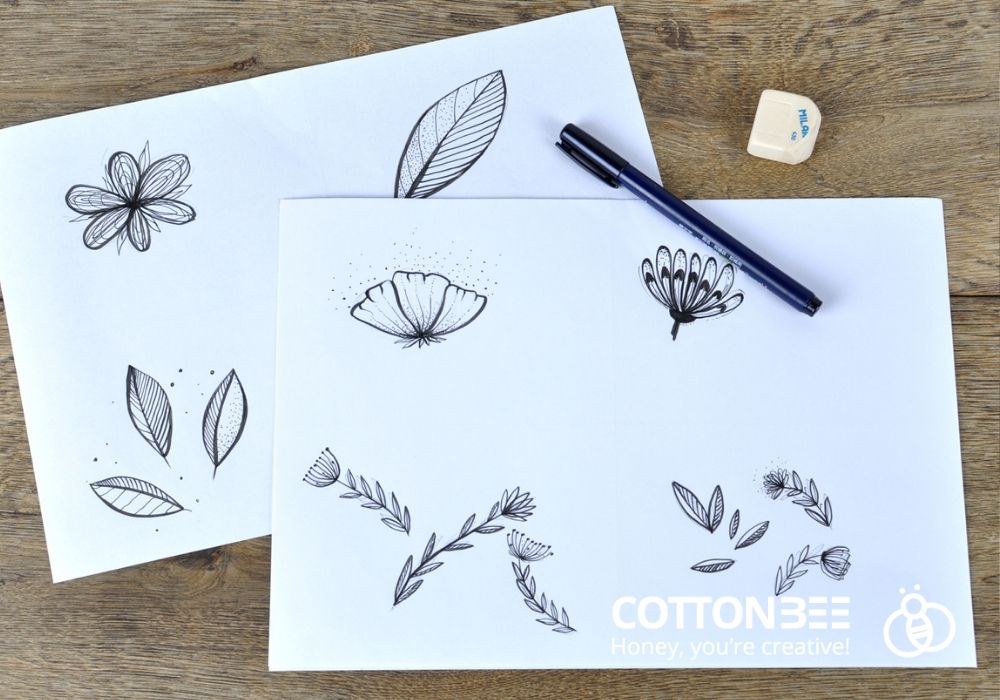 For pattern designing, we recommend vector graphics editing programs (e.g. Adobe Illustrator or Corel Draw), although you can create projects in other programs, e.g. Photoshop, Procreate, Clip Studio Paint or even Canva.  In the project, you can include any graphic elements and photographs.
2. Acceptable file formats
For the best print result, prepare a TIFF-format graphics file with a resolution of at least 150 dpi. In TIFF saving options, enable LZW compression and save flattened graphics without layers – this will help reduce the size of the file. The maximum size of the attachment you can upload is 25 MB and it can not exceed 10,000 x 10,000 px.
We also accept files in JPG and PNG formats, but during the process of preparation for digital printing on fabrics, we eventually convert them to TIFF format either way.
You must save the colours in the CMYK palette. Colour profile: CMYK: U.S. Web Coated (SWOP) v2.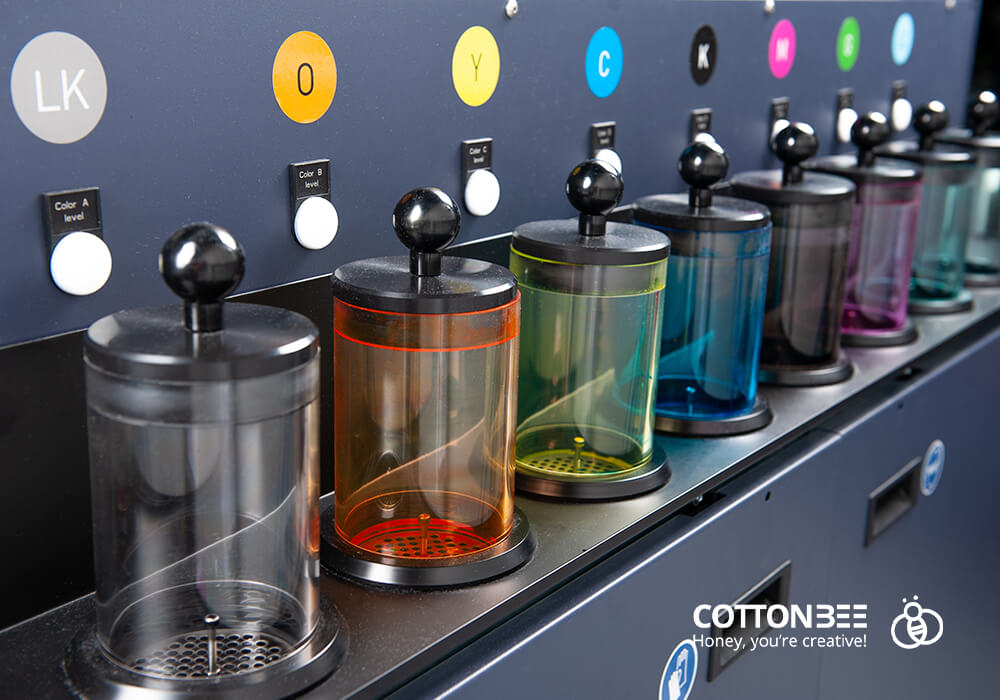 Remember that the colours you see on the monitor may differ from the colours on the printed fabric. The difference may be due to the way your monitor is calibrated, the printing technology, the fabric used, the physical characteristics of the pigment and the way it behaves on the surface of the fabric.
3. File resolution
The minimum resolution of files that we accept for printing is 150 dpi (150 dots per inch, 1 inch = 2.54 cm). For us to be able to print a square with a side of 2.54 cm on fabric, the uploaded graphics file must have at least 150 x 150 pixels.
If the graphic motif is to be repeated on the fabric, it is necessary to send a single repetition of it in the file and determine the way it should look using our app. If you want to order, for example, 3 running metres of fabric with a width of 150 cm, do not send us a full project. All we need is a small fragment of a single motif, as you will define its final size and the manner of repetition when placing an order on our website.
To explain this process in more detail, we will use an example:
Let us suppose that you want a single 10 x 10 cm side graphic motif to be repeated on the fabric. The file you send us should be at least 591 x 591 pixels.
10 cm / 2.54 cm * 150 = 591 pixels
Printout size / 1 inch expressed in centimetres * number of pixels per inch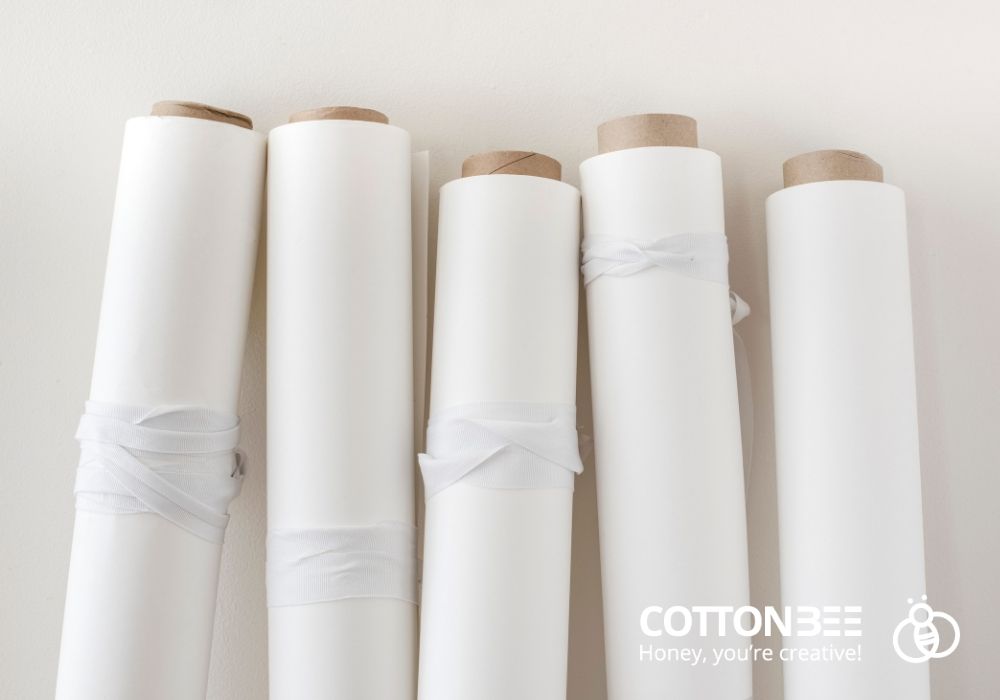 4. What should be the size of the file?
While DPI determines the quality of the target printout, we still need to know what size the planned print should be. No less important than the resolution is also the file size, which we recommend to state in centimetres.
To put this in perspective, let us discuss it with an example. When you have a 6000 x 4000-pixel graphic, and you want to print it at 150 DPI, its size will equal 101.6 (6000/150 * 2.54) x 67.7 (4000/150 * 2.54) cm.
Summary
At CottonBee, we do not have a minimum order size – we are flexible and adapt to your needs related to printing on fabrics. So, you can order both several dozen centimetres and several dozen meters of fabric.
After placing an order, there is nothing else to do but wait for your shipment. We will go to great lengths to ensure that your order reaches you as soon as possible – at the very latest, we will send it within 5 working days from the date of receipt of the order.
Lastly, it is worth noting that the development of digital printing technology propels the entire textile, home decor and fashion business. It allows stylists, designers and creators to easily realise their artistic visions on fabrics intended for both clothing and accessories of interior decoration. Therefore, we can expect successive progress of new styles and designs.
Check also: Fabric printing methods – which one to choose?