Printing on woven fabrics
We offer digital printing on woven fabrics weaved from high quality American cotton. Perfect for making clothes and home decor. Fabric printing is fun! And all our woven and knitted fabrics are certified according to OEKO-TEX that is a leading safety mark of textile products.
The woven fabrics we print on have different weave and grammage - you can use them in many various projects. Select a fabric type below to learn more about our woven fabric printing practices and use of each woven fabric.
What type of printed fabric do you need?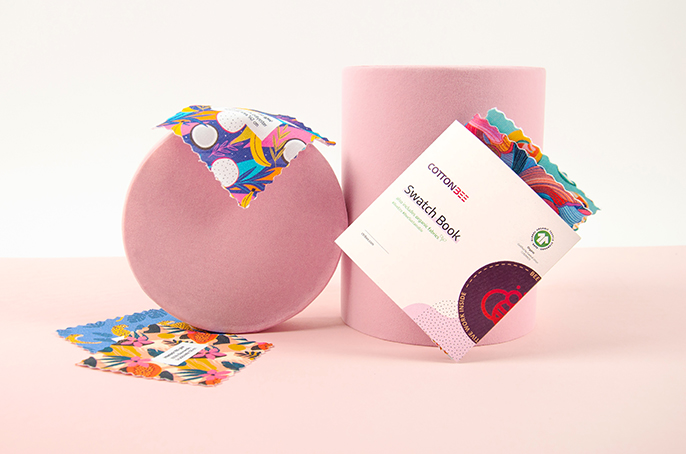 Order CottonBee Swatch Book!
For 1,99 EUR/GBP and free shipping, you'll get 9 x 9 cm swatches of all fabrics we print on.
Swatch book includes organic fabrics.
Frequently Asked Questions
What fabric printing technology do you use?
We offer digital fabric printing. We use high quality water pigment inks developed specially for printing it. Printed fabric is fixed at a high temperature with no chemicals. What is more, no water is used and minimum waste is generated throughout the process which makes CottonBee exceptional in the textile industry.
Can your fabric be used for sewing clothes?
Of course, it can! We print on high quality cotton woven and knit fabrics which are produced for sewing clothes. They are woven from American cotton in one of the leading Polish mills. You can learn more about our woven fabrics here, more details about knit fabrics can be found here.
What certificates do the fabrics have?
All our unprinted fabrics have OEKO - TEX certificate. They have been tested for harmful chemicals and are found to be safe for humans; that's why, you can enjoy sewing children's clothes and underwear.
How fast do you send printed fabric?
99% of orders are dispatched within 5 business days starting from a day of accepting them. If you choose shipping by courier, you can enjoy your printed fabric after a week from placing an order.
Printing on woven fabrics
You see loads of woven fabrics every day - you wear them or they surround you. Plenty of them were made by printing on woven fabrics. In a shop, at a museum or in the street - they are everywhere, even if you don't notice them at first sight! Take a closer look and you'll see that each woven fabric we print on is slightly different and have a completely different use. Fabric is made as a result of weaving the warp and weft together by means of a loom. The sewing fabric made in this way is rigid and it doesn't stretch. The warp and weft can have different density - it influences fabric thickness and rigidness. You can see it holding the woven fabric against the light. Different ways of weaving make printing on woven fabrics even more interesting.
Usage of custom printed woven fabric is endless. You can start, for an instant with home decor. Create a space that you will never want to leave! The great thing about refreshing your interior with woven fabric printing is that you can change it easily with next season or wherever you feel like it. It's just so simple! Use custom printed woven fabric for sewing cushions, throws, curtains and make your home look like from the cover of the home decor magazine!
In need of refreshing your wardrobe? Make it more unique and yours? Here are custom printing woven fabrics to help you out with this. Use our wovens for sewing clothes - cretonne, voile, satin, gabardine... Printing on woven fabrics if fun, because you can choose the base we print on as well as the pattern! Custom printed woven fabrics is a great way to go, when you want some uniqueness and sewing fun.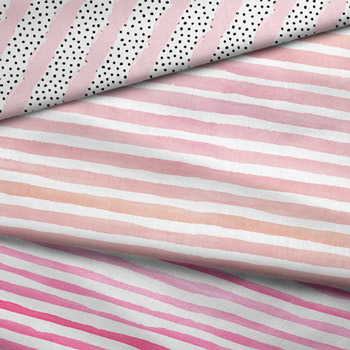 Sewing on custom printed woven fabric
Learning about fabric composition is essential when choosing a woven fabric type for your sewing project. Only natural woven fabrics or the ones with small additions can be light and airy. Choose printed woven cotton fabrics and you'll never be disappointed!
Woven fabric printing is a great way to express yourself in a way you never imagined before. The best thing for using woven fabric printing is to prepare a graphic seamless design an upload it into our app. Then we transfer it to the woven fabric of your choice. You can choose woven fabric printing perfect for home decor or choose one that's better for clothing. Feel free to to use custom printed woven fabric in any way you can imagine - there are no limits!
Unique designs on custom printing woven fabrics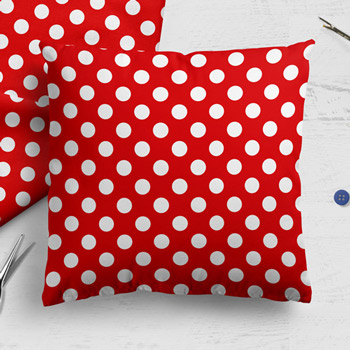 Choose your favourite design from our catalogue or upload your own into our application. Decide on its size and the way it is repeated on woven fabric - it is up to you what your sewing fabric looks like! Next, select a material for printing on woven fabrics You can choose from a variety of custom printing woven fabrics for your sewing project - it depends what you are going to sew. Something for yourself? See our wovens for t-shirts, dresses as well as bedding. Do you want to freshen your interior? Choose woven fabric printing for home decor! Can't make a choice? Order our CottonBee Swatch Book before printing on woven fabrics for 1,99 EUR/GBP with home delivery and you'll get samples of all our woven fabrics!
For business
GOTS fabrics
Haven't decided yet?
Order a Swatch Book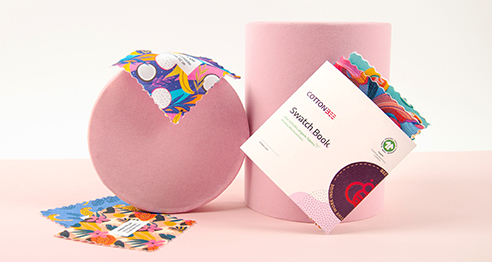 Haven't decided yet?
Order a Swatch Book!
also includes organic fabrics
Order our Swatch Book including 9 x 9 cm swatches of all CottonBee fabrics and be sure what you buy.
Only 1,99 EUR / GBP and free shipping.