Marta is a great dog lover, especially of greyhounds. This year she has started her own business where tailor-made dog clothing was to be a minor project. Now she can't stop sewing. Read her story full of positive energy and motivation for action.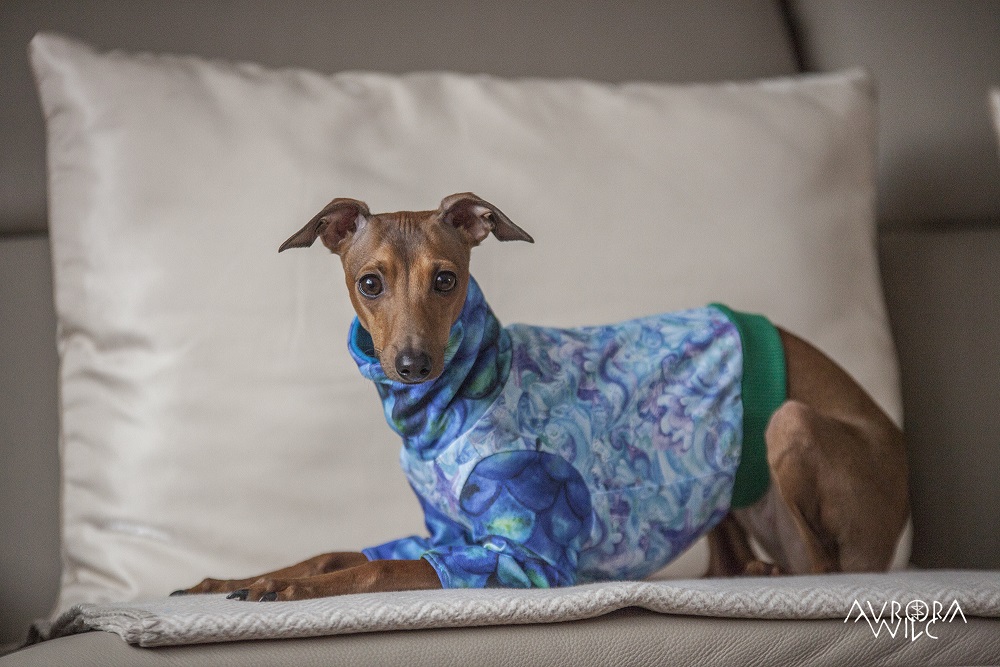 How did your sewing adventure start? How and when did you learn to sew dog clothing?
I have two Italian greyhounds and they feel cold most of the year. In the past I bought dog clothing from different sources, but I always had an idea on how to make it better. I make dolls and that was the reason why I've recently got a sewing machine. Once on my day off I decided to sew something for my dog. I made the cut by trial and error by trimming fabric simply on the dog. When I managed to cut something, I moved it into paper. My first clothing wasn't perfect, but I always had a vision on how to improve it. I'm still looking for a way of making better, prettily and most of all, more comfortably for a dog.
Your clothing is often uniquely patterned. What inspires you? How do you choose the fabrics?
I choose only high-quality fabrics that I would personally like to wear. I can't imagine using fabrics which get damaged after the first washing. Maintaining high quality is very important to me, even in case of intensive usage. I love new patterns and designs. I often order a different fabric for my projects, consulting it with my client. I like to combine various patterns to make the clothing interesting and colourful. I have an individual approach to each of my clients and I always start from deciding on a fabric choice, then the design. Fabric printing with CottonBee is a great option. Clothing for greyhounds aren't big and I can make small orders for fabric with any designs I want. What is more, my design can be printed on a thinner or thicker fabric, woven or jersey one, depending on my client's needs.
See also: What sewing materials to choose? A short guide to woven and knitted fabrics
Where do you make the clothing? Do you work in a workshop or at home?
Sewing tailor-made dog clothing doesn't require a lot of space. I have one room, half of which a sewing table and a cupboard for fabrics take. The sewing machine was occasionally placed on the table, but now it is always there.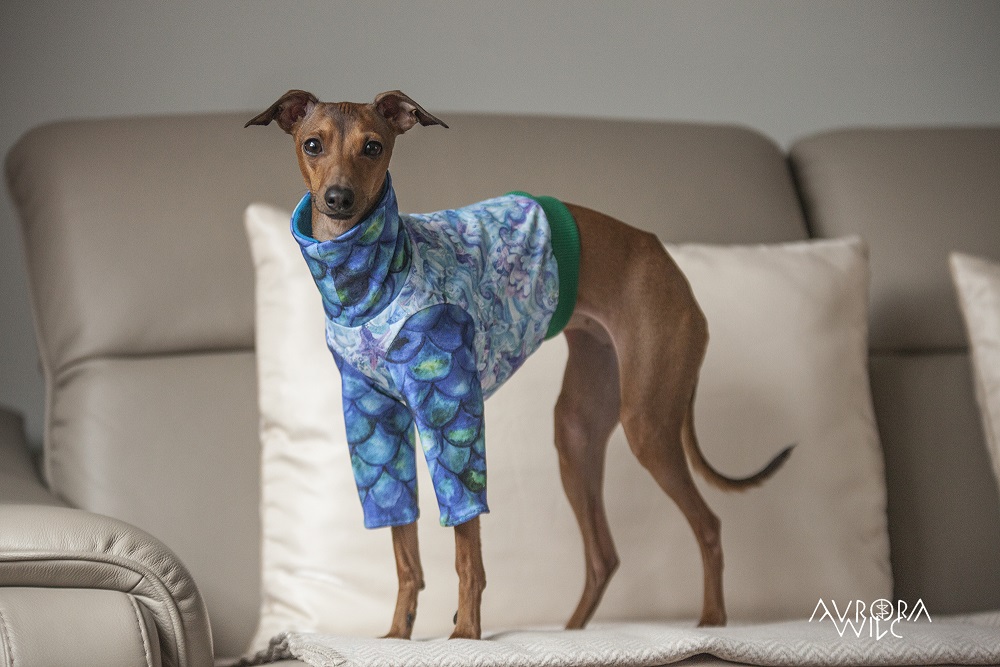 How did you decide to sew for commercial purposes? What made you sell your tailor-made dog clothing?
At first I sewed only for myself, later for my friend, too. She was visited by her friend who is also a dog owner and this is how it started. Now I can't stop sewing!
In what extend is your business international? Do you sell the clothing in Poland or abroad?
At present I sell mainly abroad. The market is much bigger there and I don't have problems communicating in a foreign language. I have my clients in Poland too, but as I've just started my own business, I haven't advertised it enough.
Does promoting your sewing business cost you a lot of effort? How do you reach new customers?
I don't spend much time on it now. I'm poor at marketing and social media, but I talk to my clients instead and publish photos of my projects. I like taking pictures of dogs and I love receiving photos of my tailor-made dog clothing from my clients. You can see them on Facebook, Instagram or Facebook groups for dog and sewing lovers.
See also: How do I print a pattern on a woven or knitted fabric?
What tips do you have for those who want to change sewing for pleasure into business?
Mos of all, not to be scared and try. At first I was afraid of making a mistake. I don't have any special education into sewing and I've been doing it for a couple of moths now. However, it turned out it is not as scary as I thought. I know it is sometimes difficult to measure a dog, so I've prepared tutorials that help do it properly. When you start a business, it is important ti find a good accountant. As an artist I don't have a head for accounts and it doesn't make sense to me. My accountant stops me from crying over papers at the end of the month and wasting time on them.
Thank you for talking to us.
Thank you and greetings to all readers 🙂
The dog is wearing cotton jersey clothing printed in CottonBee, designs:
Abstract pattern – printed on sweatshirt jersey
Mermaid scales pattern – printed on sweatshirt jersey