Fabric for children's bedding
Print the personalised bedding fabric for your child! Choose the uniqueness instead of recurring patterns you see everywhere. Guarantee the beautiful dreams to your child by providing the soft, lovely and health-safe bedding! Print a pattern from the catalogue or upload your own. No limits!
The printed, customised children bedding fabric is soft, sensuous and safe to children skin. All of the fabrics on which we print have OEKO-TEX certificate. It means they are not hazardous to health nor they contain harmful substances. All of them can be washed in a washing machine (mode: delicate fabrics) which makes them easy to maintain! What to expect more from a bedding fabric?
Fabrics with print as children bedding
Watch our proposals of some individual prints on children bedding fabrics. Provide your child with an unique sleeping set which perfectly reflects their personality!
Fabrics for children bedding
Do you dream of a perfect bedroom for your child but have difficulty finding the ideal bedding? It's a piece of cake now! CottonBee printing house offers a wide variety of top quality materials of diverse colours, patterns and textures. You are bound to find the appropriate material for your child bedding!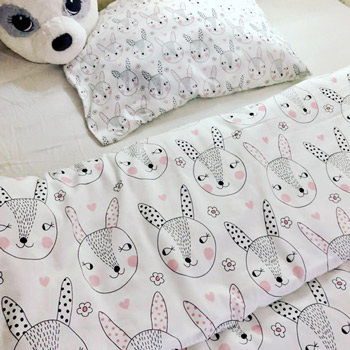 What are the best sewable fabrics for bedding?
The first suggestion, ideal for sewing bedding, is satin (100% cotton.) It is a soft, drapey, cotton bedlinen fabric of satin weave. At the same time, it is useful, because it's made of natural fibres and elegant - the fabric has a subtle gloss. A characteristic feature of it is that after the first washing it increases 0,5% in length and 0,5% in width. Remember, however, never to use bleach with children bedlinen nor other aggressive bleaching products, nor wring the fabric after washing. Another material perfect for sewing bedding and other home accessories is cretonne. This light fabric of plain weave has a lot of different usages; apart from bedlinen, you can use it for sewing dresses, shirts, children clothes and many others. However, we recommend washing below 40°C using the special mode for the delicate fabrics, most preferably with a detergent without phosphates. Cotton interlock (100% of cotton) is one of the best quality, natural material whose edges do not ride up. It is frequently called a 'bodysuits' fabric. Not only is it perfect as bedlinen fabric but also for child bodysuits, blankets, pyjamas and many others. What is characteristic for this type of fabric is its dimension change after the first washing - from -5% to -6% in length and from -5% to -6% in width.
Why CottonBee?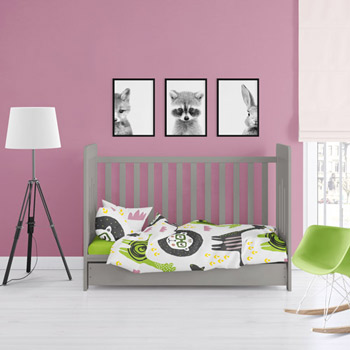 Do you think that our product range does not meet the appropriate colour or pattern for you? Our website provides you with the possibility of creating your own pattern and printing it on the fabric selected by you! We are the first company in Poland which offers this innovative solution. As a result of it, you can arrange your child's room completely according to your concept and ensure your child only the sweet dreams!