Fabrics for casual clothes
Discover custom-printed sewing fabrics and stun everyone with an extraordinary handmade outfit! Digitally printed sewing fabrics are also a great idea for fashion designers who can carry out their creative projects!
Fabrics for casual clothes are characterised by ease of use and care (they can be machine washed on a delicate setting) and have a wide variety of purposes. Choose your favourite one from woven and knitted fabrics perfect for sewing clothes!
Fabrics for casual clothes
Casual clothes should be not only stylish, but also comfortable to wear. There are many sewing fabrics on the market. Which one to choose in order to charm everyone with a unique project that will be additionally practical?
We print patterns on the sewing fabrics that are meant for making clothes. You can choose single jersey, cotton interlock or loopback jersey. All these knitted fabrics are made from cotton which doesn't lose its shape and is marked by its stretch and durability. The fabrics offer you a wide choice of possibilities to create extraordinary projects that you'll enjoy for years. You can use them to sew casual clothes for you and your family. Dresses, sweatshirts, trousers and tracksuits with a unique print will become your favourite casual outfit.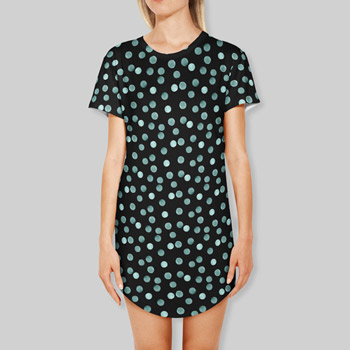 Knitted fabrics perfect for sewing garments, woven fabrics for smart clothes
If you would like to create smart clothes perfect for an office or special occasions, it is important to choose suitable fabrics that will make them chic and stylish. You can decide on satin that will work out well as a basis for an elegant shirt. This soft and fluid fabric is an ideal fit for fancy dresses and blouses. We print also on cretonne, a light cotton fabric of widespread use. It can be a good choice for sewing smart skirts, dresses, shirts and blouses. Sewing fabrics for smart or smart casual clothes are usually non-stretchy and they look beautiful in classic outfits.
Casual clothes in a unique style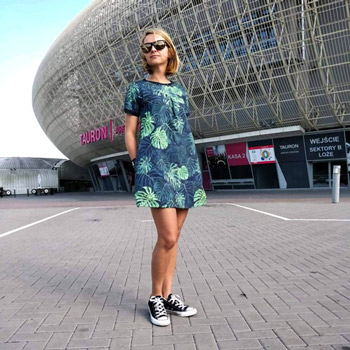 Printing your own patterns on fabrics gives you a great possibility to create an extraordinary fabric that you won't find anywhere else. Your casual clothes will get a unique character and bring out an individual style. You can design your garments from top to bottom by selecting the fabric on our website and preparing a cut-out tailored to your figure and preferences.