We ship to United Kingdom!

Fabrics for cushions with print
Decorative cushions are an important element of the decor - make them exceptional! The sewing fabrics printed on demand will guarantee the originality to your home interior as well as great mood! Match the cushions to your style and print the appropriate fabric. You can use the patterns from our catalogue or you can upload your own file. You can get down to the sewing machine!
On one hand, the fabrics for cushions with print are strong, fixed fabrics of high grammage. On the other hand, however, there are soft satin fabrics ideal to achieve the light effect of the soft cushion, i.e. to the bedroom. You decide!
Watch our suggestions of the fabrics for cushions with print:
Do you fancy sewing some unique cushions and you are looking for inspiration? Check our proposals how to use the fabric for cushion printed on demand! Give free rein to your imagination and choose your pattern!
Cotton fabrics for cushions with print
At CottonBee you can print some cotton fabrics with pattern which are perfect for sewing cushions. The cotton fabrics are extremely long-lasting and practical - they will help you sew some wonderful pillow-cases for cushions or pillows. You can create the overprint which will complete the decor of a sofa, a bed or your favourite armchair. Our website also displays the catalogue with a huge variety of colourful patterns - big and small ones. Looking for the appropriate fabric, we have to consider the product destination. Will they be decorative cushions or sleeping pillows?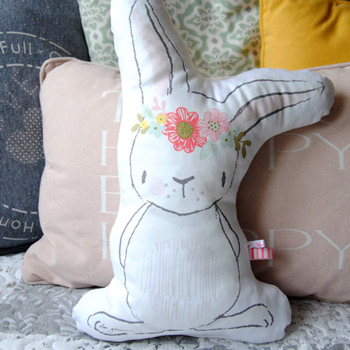 What fabric for decorative cushions with print will be the most appropriate?
We print the patterns on the fabrics which are perfect to sew the decorative cushions to a sofa or an armchair. Gabardine is a strong and cotton fabric. Cotton linen with linen-imitating weave is also perfect as a strong and lasting fabric for decorative cushions. Both fabrics provide cushions with durability - even used day-to-day, they do not wear out quickly. You can use both fabrics to sew the colourful pillow-cases applying the pattern designed by you. Our website also provides you with the ready flower, geometrical motives or some colourful flourishes. Decide yourself what style you wish to apply to decorate your sofa. The possibility of printing your pattern on a fabric is an opportunity to decorate your home with another, unrepeatable style far different from the popular chain stores.
Bedroom pillows - what fabric to use to sew them?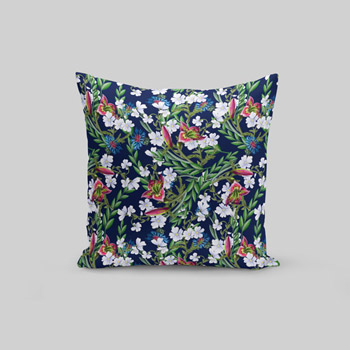 It is worth making your sleep comfortable and sewing such pillows which will make it happen. Satin pillows to your bedroom is an ideal solution. It is a soft and fluid fabric perfect as the bedding fabric. As the pillow fabric, natural and ventilated satin meets the decorative role in the bedroom and guarantees the sound sleep in pleasant surroundings. We offer printing patterns on satin which will let you create an original arrangement of your bedroom and adjust the decorative design of the pillows with the rest. This fabric will be used both in the classical and more modern arrangements of the rooms.