Custom Printed
Silk Satin

69 g/m2

100% natural silk

See all silk materials

89.00 € / running metre

Price of printed fabric before bulk and business discounts. See bulk discounts.

Free shipping over 100 EUR

Place an order right now and we will send the printed fabric not later than on:
Tuesday, 19.12.2023
Delicate, airy, subtly shining silk satin, perfect for sewing casual and evening wear, as well as accessories, beddings and home decor.
Specification
Maximum printable area: 138 cm
Grammage: 69 gsm (+/- 5%)
Estimated shrinkage after first wash: 1-3% on length and 1-3% on width
Print technology

Silk is printed in acid dye technology due to its ability to precisely and durably cover the fabric with patterns. This process depends on covering the areas of the fabric selected for dyeing with acid, which is then washed off and the pattern is solidified. This printing technique guarantees precision, resistance and colourfulness.
Usage

Silk satin is a gentle, soft to touch material with a thick weave. It is marked by the soft surface, the subtle shine on one side and the intense colour, because of which it is a wonderful choice for creating evening wear, dresses, underwear, shawls, scarves, ties, beddings, pillows or home decor.
Care instructions

Dry cleaning is recommended, but it is also permitted to hand wash or use a special delicate fabric setting in 30 ° C. You can use a soft detergent for delicate fabrics or a special one for silk. Avoid wetting the silk for too long and do not rub it too hard. Dry it flat on a towel or a net, best out in the fresh air. Do not dry in a tumble dryer or directly in the sun. More information about taking care of our fabrics can be found here.
Silks
Print on elegant silks at CottonBee
Print on elegant silks
100% natural silk Silk combines exceptional softness, eye-catching shine and the ability to regulate temperature, while maintaining the intensity of colours.
Acid dye printing The acid dye printing technique on silks stands out through precise reproduction of details as well as achieving durable and saturated colours.
Elegance The subtle shine, formed by a harmonious combination of smoothness, softness and tenderness, makes silk a noble material.
We are eco!

Reduced water and energy consumption

We are OEKO-TEX® Standard 100 (Class I) certified

CottonBee is a GOTS 6.0 certified company
Frequently asked questions
What is silk?
Silk is an animal-derived natural fibre, which is produced mainly by silkmoth larvae, the insects of the domestic silk moth family. Silk is one of the oldest textile materials known to mankind and is praised through the ages due to its tenderness, shine, durability and other unique qualities.

The process of silk production begins by the creation of cocoons by the silkmoth larvae. The cocoons consist of one long thread of silk which the silkworms produce out of glands in their bodies. To retrieve silk, the cocoons are subjected to processing. The most widely used method is cooking of the cocoons, which disolves the glue that holds the threads together. Then the long threads are winded up, and many threads are binded together, so that more durable threads ready for spinning can be formed.

Silk is exceptional due to its qualities. It has a natural shine, which gives the fabrics their elegance and luxurious look. It is also light, airy and cool, which makes it popular for summer and formal wear. Silk has the ability to regulate temperature, which means it can adjust to warming and cooling of the body. It is strong and durable, however it is also more vulnerable to damage due to sun ray and moisture exposure when compared to some synthetic fibres.
What can you sew out of silk?
Natural silk is a universal material, which can be used to sew many products. Due to its special qualities, it is utilised in the production of clothing, underwear, accessories, beddings and home decor, such as curtains, drapes, blankets and decorational pillows.

Silk fabric is fit for manufacturing both casual and formal wear: from loose blouses, comfortable trousers and everyday skirts to elegant evening dresses and suits. It is used with success in sewing airy shawls and scarves, stylish ties and bowties, as well as subtle handbags for special occasions and fancy caps, hats and bands.
Why is silk considered a luxurious fabric?
Silk is considered a luxurious fabric because of a set of unique qualities, which make it stand out among other textile materials. One of the reasons why natural silk is regarded as a top-shelf material is the specialised production. The process of producing silk is labour-consuming and requires diligence and professional knowledge. The cocoons must be collected, and the silk threads winded up and intertwined. This is a process that requires time and skills, which makes silk relatively expensive to produce. Due to the challenging production process and the limited number of silkworms and cocoons, the availability of silk is limited, which also largely contributes to its exclusiveness.

The high status of silk materials is also maintained by the subtle shine, granting them elegance and luxurious look.

The wearing comfort is not without meaning as well. Silk is very comfortable to touch and wear. Its smooth surface is delicate for the skin and gives a feeling of comfort. Furthermore, the fabric has the ability to regulate temperature, which means it can sustain warmth in colder conditions and coolness during the hotter days. This makes it a perfect choice for various occasions.
Why are silk clothes relatively expensive?
Silk clothes are luxurious products with unique qualities, such as shine, texture and wearing comfort. Many factors contribute to their price. One of them is the producition process, which is complicated and labour-consuming. Retrieving silk threads from the cocoons, their processing and weaving require specialised skills and time. It is a process demanding precision and diligence.

Another significant element affecting the price of silkwear is the limited supply. The silkworms and their cocoons cannot be bred in large numbers. Additionally, not every cocoon is fit to produce high-quality silk. This leads to the limited supply of the resource, contributing to the price of the fabric.

The demanding dyeing process is also of importance. Dyeing of silk can be complicated due to the specific qualities of threads. It requires specialised techniques to achieve durable and precise colours.

Furthermore, silk clothes are created in compliance with higher production standards, with greater attention to detail and finishing. Hand sewing, embroideries and other adornments may raise the cost even further.
If you have any questions, please contact us at [email protected].
Bulk discounts
The discount is calculated automatically at the checkout, the quantity applies to one fabric (not a pattern) in one order
For business
GOTS fabrics
Haven't decided yet?
Order a Swatch Book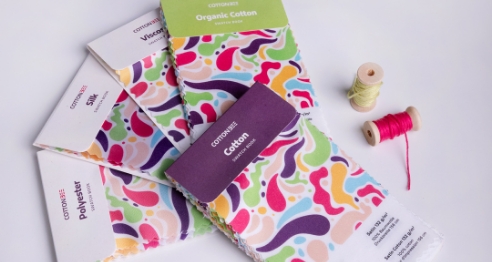 Order CottonBee swatch book with free shipping!
Compose your own swatch book! The base version includes cotton fabric swatches, but you can also add organic cotton, viscose, polyester and silk swatches.