Fabrics for sewing toys
Print the fabrics for sewing toys on demand! The toys you will sew will be unique not only in form but also with the reference to your individual pattern printed on the fabric.
We offer the digital printing on fabrics perfect for toys - cotton, natural, hypoallergenic. All woven and knitted fabrics on which we print have the OEKO-TEX certificate. It means they are free from any health-hazard substances and absolutely safe.
Some inspirations from the fabrics for sewing toys
Do you fancy getting inspired by self-made sewn children toys from the natural fabrics? Watch how our customers used the sewing fabrics printed by their order to make toys!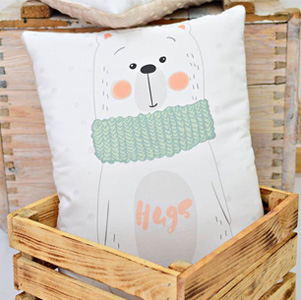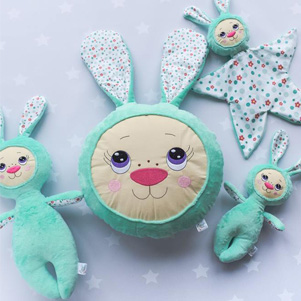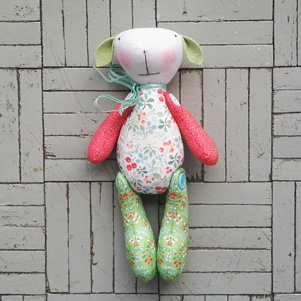 Fabrics for sewing toys
The handmade toys will become more unique after you have used the fabrics with your original pattern. We print them on various fabrics which you can adopt to your projects. Thicker and thinner knit-goods are excellent while creating teddies and mascots which will make a perfect gift and an everyday toy to your child. The fabrics of various weave, grammage and additions will make your toys long-lasting and convenient to use. So, which fabrics for sewing toys are the best?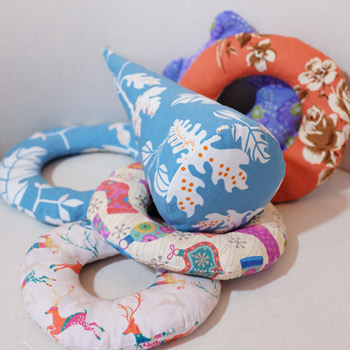 The fabrics children-friendly and safe
The fabrics for sewing toys on which we print the patterns are friendly and safe to children who are their primary users. The sateen toys are soft, coruscant and tactile. The stronger fabrics like gabardine and cotton linen have got a thicker weave and therefore they will be perfect to sew some plush toys of various elements. Whereas the cotton knitted fabrics with printed patterns will be ideal to sew some soft cuddly toys and dolls. We print patterns on jersey which has the polyester addition which makes the fabric long-lasting and resistant to reshaping. Single jersey and cotton interlock are soft, breathable fabrics which are flexible and resistant to stretching. Thanks to these characteristics they are ideal during their day-to-day usage by children.
Exceptional fabrics patterns for sewing toys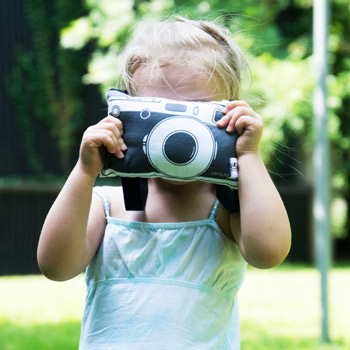 Designing a toy, you can choose one of the patterns available at our website or print your own theme on the fabrics. Our catalogue presents a lot of colourful, available themes with plants, flowers or animals. Choosing the option to design your pattern, you have the chance of creating a unique mascot which will be an ideal souvenir to your child. You can let your child create the decorative design on their own of the fabric of which the toy will be made. These might be their favourite cartoon heroes, some animals or some abstract patterns - let your child decide. It will give them the feeling of joy even before the toy is made.