Printed fabrics for curtains
Create a unique decor of your windows using the digitally printed fabrics for curtains! The unrepeatable interior arrangement guaranteed regardless of the fact if you choose the print from our catalogue or upload your own design. The patterns can be adjusted by changing their size and their repetitions on the fabric. Choose the fabric and get down to work!
Curtains fabrics are characterised with natural components, good ventilation and also high grammage. The patterns printed on them are sharp and clear.
Watch our proposals of the printed fabrics for curtains
The windows arrangements can have a lot of visages - find your style and get inspired by our proposals! Select a sewing fabric, decide on the pattern to print and create your own project of curtains!
Printed fabrics for curtains
While designing the curtains, apart from their pattern and colour, what also matters is the proper selection of the fabric from which the curtains will be sewn. We print the patterns on fabrics suitable for various types of curtains that can match any interior. The thick, thin and delicate curtains not only protect against the sunlight but also play the decorative role, nicely framing the windows and the whole room arrangement. It is worth dedicating some to decide what fabrics for sewing curtains are the best.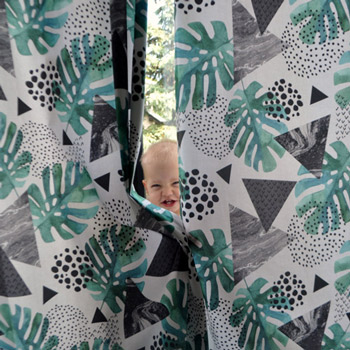 Thick fabric for curtains perfect for a bedroom
Gabardine and panama are thick fabrics which are perfect for sewing the curtains. The first one is a tight woven, elegant cotton fabric. Panama, however, has an interesting texture and diffuses light in an interesting manner. The printed patterns on these fabrics are perfectly clear and it can help to complete the room arrangement. If you wish to sew some thick, heavy curtains perfect in a bedroom, take into consideration these two types of fabrics.
Patterned and thin curtain fabrics - ideal for decoration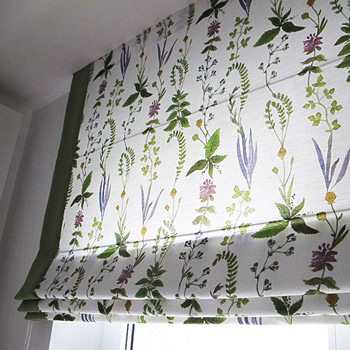 We also offer printing patterns on thin, light fabrics, like voile. It is a slightly transparent cotton fabric of delicate texture. It is ideal for the overprint of some light, pastel patterns. The voile curtains are light and flowing, they let the light in and will be perfect in a living-room. You will easily find the delicate prints ideal for voile curtains, but also you can design your pattern which will be the completion of your room decor. An interesting effect is achieved by sewing curtains from two layers of voile. Such light curtains mainly have the decorative function, therefore it is worth paying the special attention to the fabric decorative design. The decorative function is also fulfilled by the satin curtains and the cretonne ones. Satin is a light, flowy fabric of satin weave - this fabric can help to achieve some effective window arrangement in a traditional living-room but also in more modern rooms. Cretonne is a light cotton fabric, practical for sewing. The decorative curtains of this fabric will quickly become an adornment of your interior.