Free shipping over 100 EUR
Once your order surpasses that amount we will ship it for free.
Ready to ship in 3-5 business days
You never have to wait long for your custom printed fabrics.
Excellent quality at a good price
Order with bulk discounts or have your order priced individually.
GOTS and OEKO-TEX® Standard 100
We are GOTS (Global Organic Textile Standard) and OEKO-TEX® Standard 100 certified.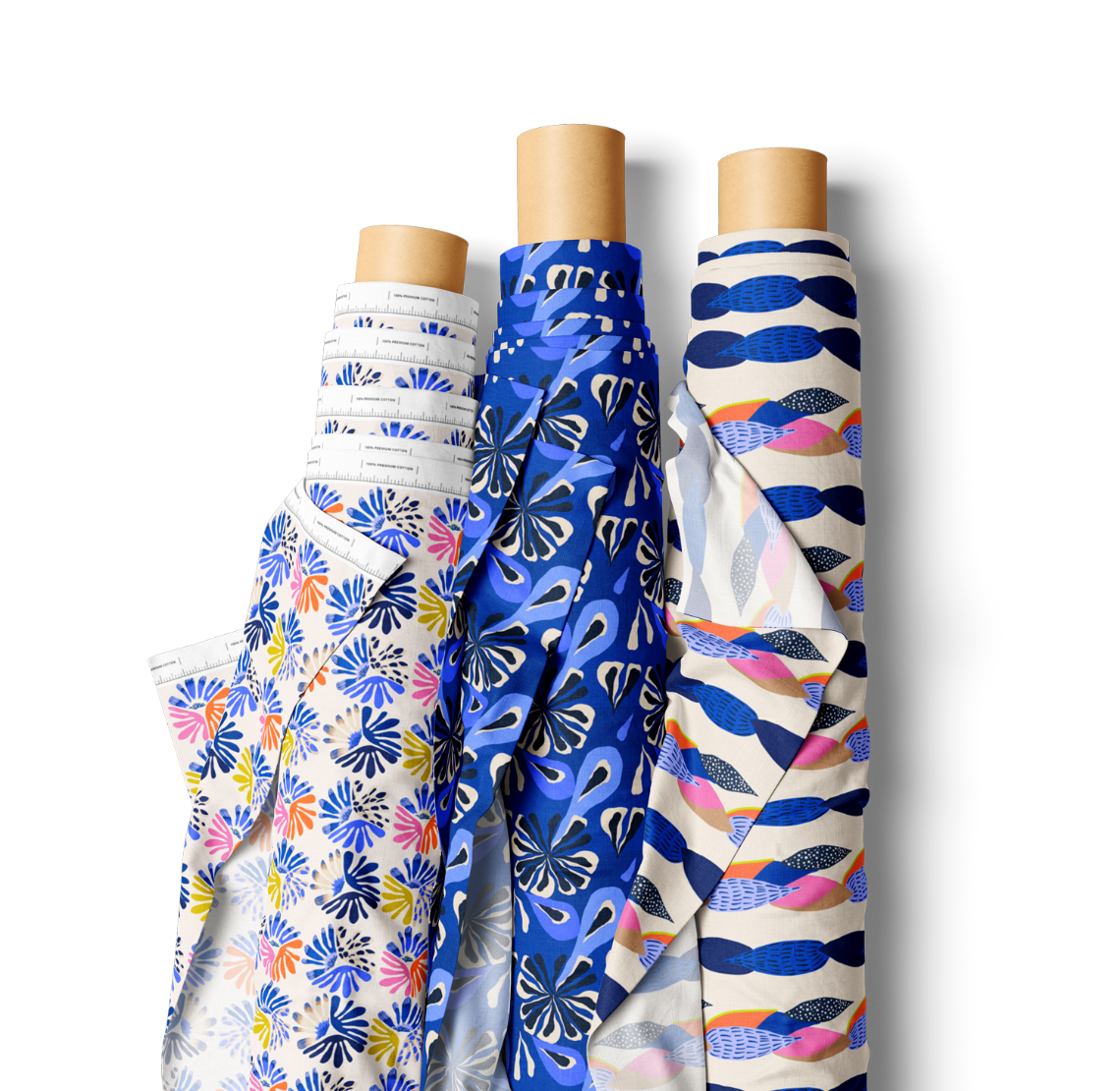 Find a pattern and order it on fabric
More than 20,000 customers from all over Europe have already trusted us!
We love your fabric and what you do, our designs always arrive to a good standard in prompt timing

Megan, Milton Keynes
Love the print and the ability to wash printed fabric in the washing machine (single jersey with lycra). Print itself is very sharp and the communication during the order being processed was great.

Katy, Leicester
I have been printing wovens for home decor for some time now, but I tried printing on knits with you for the first time. Would reccomend for sure! Such a pleasure - fast, always friendly and the quality is great. THANKS!

Amelia, Walberswick
Keep going your great work! Love your printed fabrics!

Amelia, London
Really pleased. The turn around on orders is really amazing with this company. The printing is of even better quality than last time I purchased (about a year ago). I would love it if you could add a higher weight of cotton elastane to your options.

Ruth , North Berwick
I needed help with my design and I sent some emails the response was very quick and the help I got throughout the process was very helpful, definitely would recommend to everyone.

Zaibun, Birmingham
Very high quality printing, easy to use interface.

Robert, Weston Super Mare
8m of lovely fabric and a quick turnround. Very pleased and will use again.

Neil, Peterston Super Ely
I love the quality and print of my sample. It's really helped me make some design decisions.

Charlotte, Norwich
Great service and quality very satisfied.

Malcolm, Wakefield
Ordered several times and always impressed with the vibrant patterns and quality of fabric.

Anna, Dorset
The quality of the print is wonderful! I'll definitely be using them again!!!

Allana , Kippax
Materiał do szycia we wzór kawy
Kawa, czyli serwowany na gorąco napar (poza upalnym latem, gdy najchętniej pije się ją podawaną na kostkach lodu), to napój znany na całym świecie. Pije się ją w różnych formach już od 1. tysiąclecia p.n.e., jednak we współczesnej wersji Europa zna kawę od ok. XVI w. Kawa przez wieki przeszła wiele modyfikacji: dziś większości ludzi trudno wyobrazić sobie spożywanie jej w towarzystwie soli i masła, raczej preferowane są ewentualne słodkie dodatki. Motyw kawy na Twoich ubraniach i akcesoriach to ukłon w stronę magicznego napoju – znanego i uwielbianego. Choć trwa odwieczny spór między preferującymi subtelniejsze napary z herbaty a tymi, którzy wolą kawę, to ta druga doczekała się zaszczytnego miejsca w skrótach językowych i na pokaźniejszej liście metafor. Wyskoczysz dziś na kawę? Jeśli sama myśl sprawia Ci przyjemność, tkanina kawa na pewno Ci się spodoba.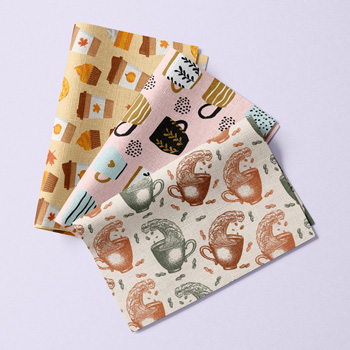 Twoja najładniejsza tkanina – kawa z mlekiem czy czarna?
Nie wyobrażasz sobie dnia rozpoczętego inaczej niż od parującej filiżanki espresso, przed południem umawiasz się z koleżanką na apetyczną latte, a Twoją ulubioną powieścią jest Pożegnanie z Afryką, opiewające historię kawowej farmy w Kenii? Jeśli Twój świat obraca się wokół tego intrygującego, energetyzującego napoju, podkreśl to w wyjątkowy sposób, wybierając materiał we wzór kawy. Tkanina kawa to pomysł na wyrażenie siebie, podkreślenie charakteru miejsca, które chcesz udekorować, a także genialna inspiracja prezentowa dla Twoich przyjaciół kawoszy. Odcienie ciemnego i średniego brązu oraz ciepłego beżu doskonale wyglądają we wnętrzach.
Oryginalne ozdoby z motywem kawy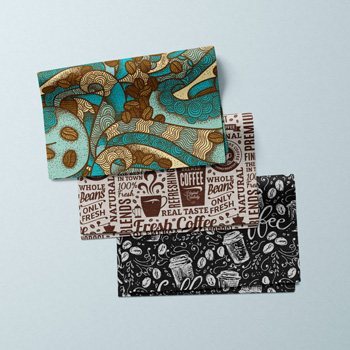 Kolekcja tkanin w motyw kawy to bardzo długa lista propozycji dla każdego. Jeśli prowadzisz elegancką kawiarnię i jesteś zapalonym baristą, być może tkanina kawa przyda Ci się jako materiał do wykonania uroczych i praktycznych serwetek dla Twoich gości. Możesz też wykonać z niego obrusy, a nawet zasłonki – tak, by ozdobić tematycznie całe miejsce i nie pozostawiać wątpliwości, w czym się specjalizuje. Tkanina kawa nie musi mieć jednak dominującego charakteru: nic nie stoi na przeszkodzie, aby całość została utrzymana w subtelnym i minimalistycznym stylu klasycznym, a motyw kawy stanowił jedynie akcent, który dopełnia całość. Stwórz z kawowej tkaniny urocze fartuszki lub ozdoby (na przykład muszki lub krawaty) dla pracowników kawiarni, aby dodać spójności załodze i wprowadzić przyjemną w odbiorze jednolitość. Ozdób kuchnię ładną ściereczką, aby podkreślić swoją sympatię do kofeiny.
For business
GOTS fabrics
Haven't decided yet?
Order a Swatch Book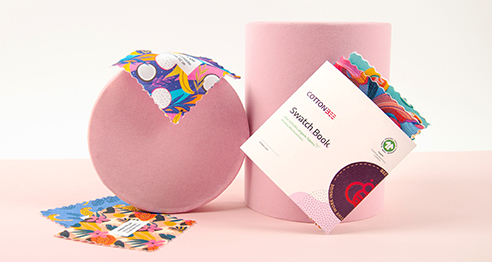 Haven't decided yet?
Order a Swatch Book!
also includes organic fabrics
Order our Swatch Book including 9 x 9 cm swatches of all CottonBee fabrics and be sure what you buy.
Only 1,99 EUR / GBP and free shipping.