Dinosaurs fabric
Print your own custom dinosaurs fabric! Pick a motif and basic cotton fabric you want it printed on. We will print the dinosaurs fabric of your dreams in 5 business days.
Organic
Certified by Control Union CU1099579
Free shipping over 100 EUR
Once your order surpasses that amount we will ship it for free.
Ready to ship in 3-5 business days
You never have to wait long for your custom printed fabrics.
Excellent quality at a good price
Order with bulk discounts or have your order priced individually.
GOTS 6.0
CottonBee is a GOTS certified company (license number: 1099579).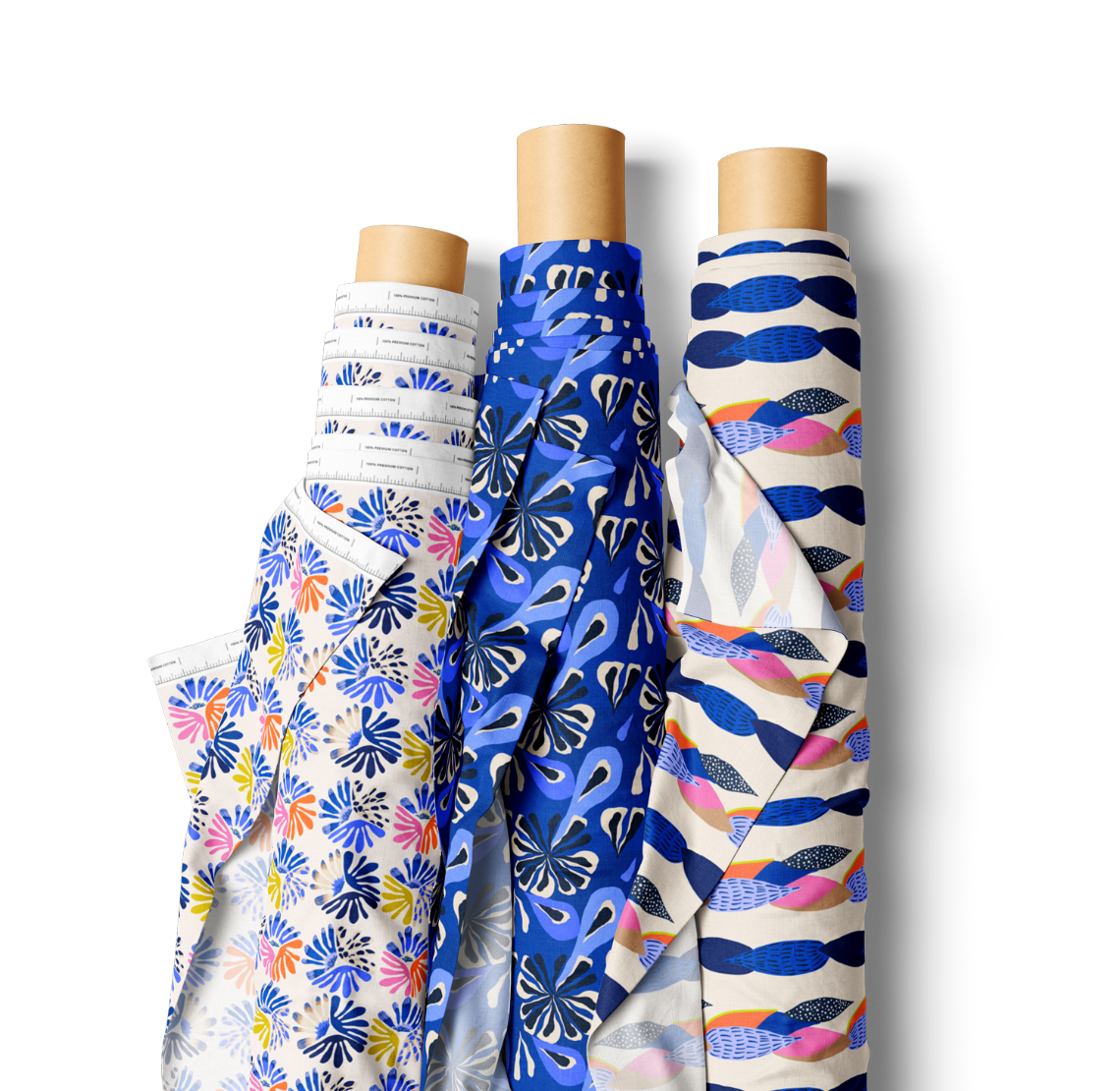 Find a pattern and order it on fabric
Join our satisfied Customers!
No po prostu super! Nie mogę się doczekać kiedy zamówię kolejny materiał!

Klaudia, Łódź
Jestem bardzo zadowolona! Szybka realizacja, super jakość. Wszystko dokładnie tak, jak miało być :-) Na pewno wrócę!

Jadzia , Siemianowice Śl.
Materiały i wydruk są świetnej jakości. Dziękuję też za telefoniczne wsparcie techniczne! ;)

Magdalena, Kraków
Niezawodni!

Ewa, Skierniewice
Zamówienie zrealizowane bardzo szybko. Jakość jerseyu z lycrą oraz nadruku rewelacyjna! Polecam.

Katarzyna, Łódź
Pięknie i szybko!

Aneta, Warszawa
Jestem zadowolony jak zwykle :) Z tkanin tworzę unikalne muszki, których nie można dostać nigdzie indziej ;) Kolory są żywe i zgodne ze zdjęciem :)

Marcin, Gierałtowice
Kolory na materiałach są zgodne z przygotowanym projektem, a same materiały naprawdę wysokiej jakości. Przesyłka dociera najczęściej szybciej niż termin podawany po przyjęciu zamówienia. Polecam serdecznie wszystkim kreatywnym!

Maciej, Poznań
Amazing Customer service. Agata was just fantastic and talked through all the options etc and made it very easy to order. Quality of fabric was great. Will be ordering again in the next couple of days!

Emma, Southend on sea
Amazing service, quality prints and a quick turn around. Would highly recommend such a great team :) xx

Jade , huntingdon
I ordered cotton satin and jersey. Both fabrics are really nice, they didn't loose any color after washing. I'm also really happy about how the print turned out.

Gaelle, Wien
So far first impressions have been amazing. Extremely quick service and always making sure the customer is happy. I loved the packaging our fabric came in, it comes across as a very fun company and we look forward to working with you more in the future.

Samantha, Gillingham
Dinosaur printed fabric
Even the youngest fans of prehistoric times and creatures will be able to find in the CottonBee shop an exciting fabric that will satisfy all their expectations. If you have a particular liking for the prehistoric age, dinosaur print on fabric will be the best choice from over one million different patterns available on our website. Prehistoric animals which became extinct millions of years ago are still present in our lives as an important element of popular culture. We can see them in movies, dinosaur artwork frequently decorates children's rooms and they are also successfully used as toys or the leading theme of many board and role-playing games.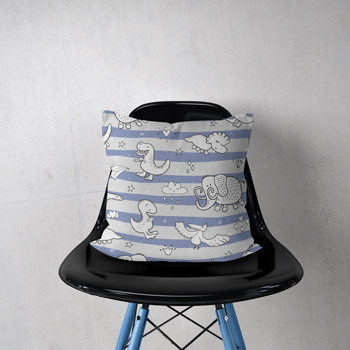 CottonBee's intriguing fabrics with dinosaur design
Stegosaurus, Pterodactylus, Tyrannosaurus or Triceratops are just a few of the most popular and recognisable dinosaur species. The majority of young school-age children know not only these creatures but also at least several other representatives of the diverse group of extinct reptiles, even though they disappeared from the earth more than 60 million years ago. They still, however, capture our imagination – their ongoing popularity is the reason why new dinosaur films and books as well as dinosaur-shaped toys are brought out every year.
Almost every child has a dinosaur figure in their toy box which they like to play with while watching exciting, dinosaur-themed animated cartoons like "The Good Dinosaur" or "The Land Before Time". For any older child the "Jurassic Park" films are certainly can't-miss movies. Purchasing CottonBee's dinosaur pattern fabric means that the prehistoric animals can accompany you on a daily basis. Our woven and knitted fabrics are perfectly suitable not only for making garments but also home textiles, including curtains, duvet covers, pillow cases or sheets. Every imaginative parent can use them to create a surprise gift for their dinosaur-loving kid.
Printing dinosaur patterns on sewing fabric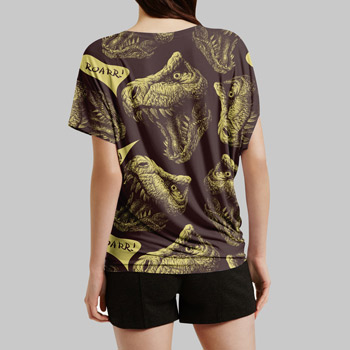 Woven and knitted fabrics provided by CottonBee are best-quality sewing materials. One of them is dinosaur cotton fabric. Its unique, aesthtetically pleasing design attracts more and more customers, which translates into its increasing popularity.
Our many years of experience in the textile industry have provided us with substantial expertise, which makes us the unquestionable market leader in the segment of custom-printed fabrics. In our shop there is no minimum order size. Each order is processed by CottonBee's competent and fully committed staff. We guarantee your complete satisfaction with every CottonBee product you purchase as well as quick shipment of your orders – in 99% cases the maximum delivery time is just 5 days. Feedback from our customers shows that they particularly appreciate professional assistance and consistently friendly attitude of our customer service staff.
For business
GOTS fabrics
Haven't decided yet?
Order a Swatch Book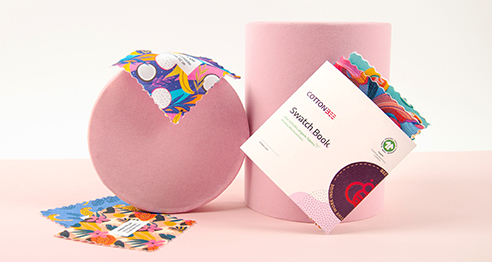 Haven't decided yet?
Order a Swatch Book!
also includes organic fabrics
Order our Swatch Book including 9 x 9 cm swatches of all CottonBee fabrics and be sure what you buy.
Only 1,99 EUR / GBP and free shipping.