Free shipping over 100 EUR
Once your order surpasses that amount we will ship it for free.
Ready to ship in 3-5 business days
You never have to wait long for your custom printed fabrics.
Excellent quality at a good price
Order with bulk discounts or have your order priced individually.
GOTS and OEKO-TEX® Standard 100
We are GOTS (Global Organic Textile Standard) and OEKO-TEX® Standard 100 certified.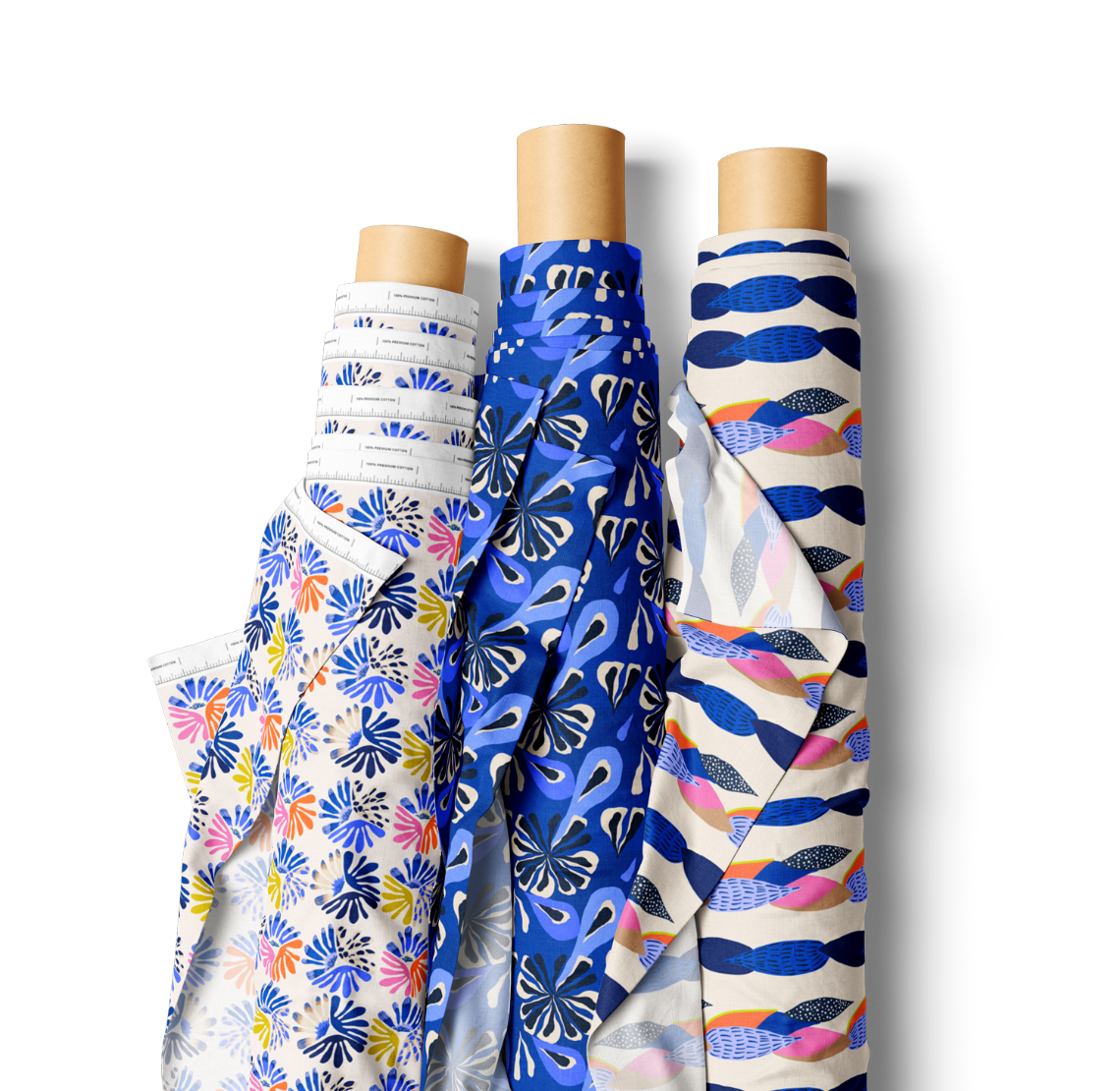 Find a pattern and order it on fabric
More than 20,000 customers from all over Europe have already trusted us!
Jestem zadowolona z jakości druku i przejrzystej obsługi telefonicznej. Bardzo polecam i wracam!

Magdalena , Warszawa
Bardzo dobra jakość wydruku i obsługa na najwyższym poziomie. :)

Marzena, Gzy
We love your fabric and what you do, our designs always arrive to a good standard in prompt timing

Megan, Milton Keynes
Szybko, sprawnie, materiały świetnej jakości. Polecam!

Łukasz, Nowe Proboszczewice
Bardzo dobra obsługa klienta, realizacja expresowa. Jakość materiału super. Rewelacja. Na pewno jeszcze skorzystam.

Ewa, Łąck
Love the print and the ability to wash printed fabric in the washing machine (single jersey with lycra). Print itself is very sharp and the communication during the order being processed was great.

Katy, Leicester
I have been printing wovens for home decor for some time now, but I tried printing on knits with you for the first time. Would reccomend for sure! Such a pleasure - fast, always friendly and the quality is great. THANKS!

Amelia, Walberswick
Keep going your great work! Love your printed fabrics!

Amelia, London
Za każdym razem zamówienie jest realizowane szybko i sprawnie. Cudowne wzory i kolory, materiały bardzo dobre gatunkowo. Do tego możliwość wyboru wielkości grafiki na tkaninie jest po prostu genialna! Będę wracała :-)

Katarzyna, Nekla
Zawsze świetna obsługa i ekspresowe terminy. Nadruk bezbłędny!

Zuzanna, Warszawa
Super kolory, dokladnie to czego chcialam:)

Kamila, Warszawa
Jakość użytych materiałów i druku jest rewelacyjna. Błyskawiczny czas realizacji. Świetnie, że można u Was zamówić próbkę materiału zanim zdecyduję się na zakup całego metra.

Anna, Szczecin
Nice and warm children's clothing made with elephant fabric
The elephant motif often appears on clothing for toddlers and children as well as bed linen. The elephant fabric always makes a good impression on us, so we are happy to choose it for our bundles of joy. The pattern of sweet, small elephants decorating the fabric is rarely associated with strength and power, though this is the symbolic meaning of an elephant. It symbolises not only physical strength but also spiritual and mental power. Because of that, let us choose the elephant fabric for our children who we hope to grow up strong in spirit and knowledge. A baby's sleeping bag covered in sweet, small pink or blue elephants looks very cute. The elephant fabric made out of soft cotton will also be perfect for sewing both a set of bed linen for a baby cot and a set of colourful pyjamas. Moreover, children's clothes for everyday wear can be sewn using this textile. Elephant fabrics can also be combined with other materials that are uniform in colour. You can use the coloured fabric to sew knee patches for children's trousers as well as pockets, belts and badges. Traditionally, it is said that elephants bring luck. Thus, the clothes decorated with elephants are not only pleasing to the eye. By adding them to your child's wardrobe, we subconsciously want to bring them days that are all smiles.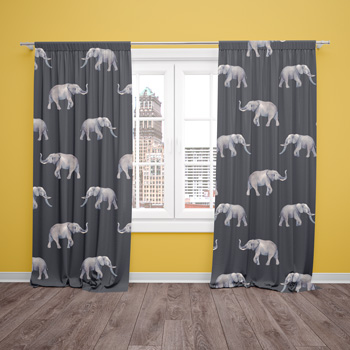 Elephant fabric - not only for the youngest. Why do we like elephants?
The elephant has played a significant role in human history. In many cultures, they are considered the most intelligent animals on Earth. In African tradition, their role in the jungle is to settle all disputes and conflicts between animals. They are not only associated with wisdom, but also with gentleness and justice. The Indian god who has the head of an elephant is the patron of luck and wealth. In China, the elephant is a symbol of luck, longevity and prosperity. Elephants are valued by people for their intelligence and a complex network of social bond. Elephants communicate well with each other and collectively protect baby elephants from predators. We like elephants, so the elephant fabric is often a part of children and adult clothing. In our offer, you will find various types of fabric with an elephant motif, both for clothes and for sewing various home accessories. Elephants can bring us luck not only in the form of porcelain figurines. The elephant fabric covering living room cushions, curtains and tablecloths will also make us optimistic about life and stimulate us to work.
What can you sew with the elephant fabric?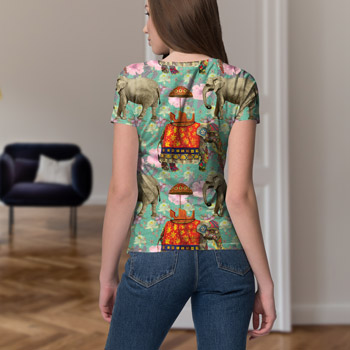 Sewing clothes requires skills that not everyone has. Those who want to learn how to sew, or occasionally sew a little something home, can also use this fabric. It is best to start with small items such as a napkin, pillowcase or a neckerchief in the form of a triangular shawl. With the right fabric, you can sew beautiful shopping bags, lunch bags, as well as awesome shoe/sportswear bags for preschoolers and schoolchildren.
The elephant fabric will also look good in an elegant version. It will even work in a living room kept in glamour style. If we combine it with glossy silk or sateen, it will decorate the cushions on the couch perfectly. See the elephant fabric at our site and use it in your home.
For business
GOTS fabrics
Haven't decided yet?
Order a Swatch Book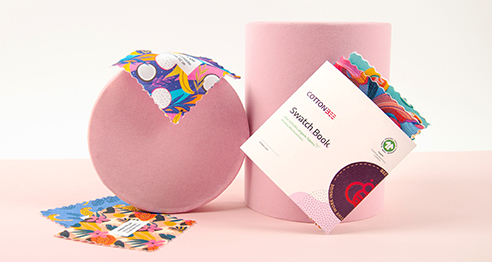 Haven't decided yet?
Order a Swatch Book!
also includes organic fabrics
Order our Swatch Book including 9 x 9 cm swatches of all CottonBee fabrics and be sure what you buy.
Only 1,99 EUR / GBP and free shipping.