Flower fabric
Print your own floral fabric! Want a flower fabric which is totally unique? Pick a design and we will print it especially for you on a cotton, OEKO-TEX certificated fabric. In 5 business days!
Print a sample 20x20 cm from 2,49 EUR. See our pricing.
X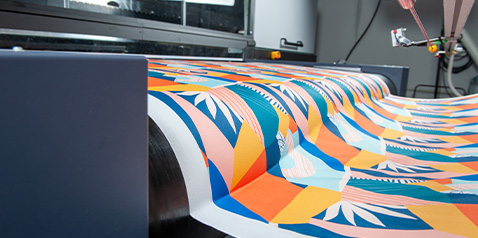 Fast delivery
Lead time up to 5 business days
Print as much as you want!
No minimum order
Excellent quality
Vivid colours, print on Polish cotton
Be eco - conscious
Eco - friendly technology
Find out more
Join our satisfied Customers!
Really pleased. The turn around on orders is really amazing with this company. The printing is of even better quality than last time I purchased (about a year ago). I would love it if you could add a higher weight of cotton elastane to your options.

Ruth , North Berwick
I needed help with my design and I sent some emails the response was very quick and the help I got throughout the process was very helpful, definitely would recommend to everyone.

Zaibun, Birmingham
Very high quality printing, easy to use interface.

Robert, Weston Super Mare
8m of lovely fabric and a quick turnround. Very pleased and will use again.

Neil, Peterston Super Ely
Ich bin sehr zufrieden mit dem Druck, schau sehr gut aus und die Lieferung war auch sehr schnell. Ich kann die nur weiterempfehlen.

Nikola, St. Georgen am Ybbsfelde
Ich habe meine ersten Drucke bestellt und bin mit der Qualität, dem Lieferservice und der Kundenbetreuung hoch zufrieden! Ich freu mich schon auf weitere Zusammenarbeit!

Gudrun, Saalfelden
Schnelle Bearbeitung, satte Farben. Die Lieferung lässt auch nicht lange auf sich warten. Ich bin vollstens zufrieden. Die nächsten Muster sind schon vorgemerkt :)

Maria, Schellerhau
Wunderschöne Andrucke, leuchtende Farben, ich habe schon das nächste Muster im Visier.

Maria, Schellerhau
Mein Motiv sieht super aus. Der Sweatstoff hat eine gute Qualität und ich bin total happy. Würde bei CottonBee wieder was drucken lassen :)

Deborah, Eppingen
Super Kundenservice und wirklich gute Qualität.

Stephanie, Radolfzell am Bodensee
Der Stoff ist von bester Qualität und der Druck spiegelt genau meine Vorstellung wieder. Ich bin begeistert und freue ich mich auf das nächste Projekt.

Tanya, Lübbecke
Einfach nur Top!!! Egal ob Stoffe, Druck oder Service! Wenn ich könnte würd ich 10 Sterne geben!

Sabine, Vilshofen an der Donau
Flowers print fabric - inspirations
Flowers are one of the absolutely timeless and most colourful decorative patterns. In spring and summer we seem more likely to choose floral designs but also during the winter months you may be willing to add a touch of freshness to your wardrobe – flowers will ideally serve the purpose. Choosing from different types of made-to-order fabric with flowers print, you can give free rein to your imagination and arrange the floral motifs in numerous ways – depending on the latest trends, the decor of your home or your mood on a given day. You are the one in charge!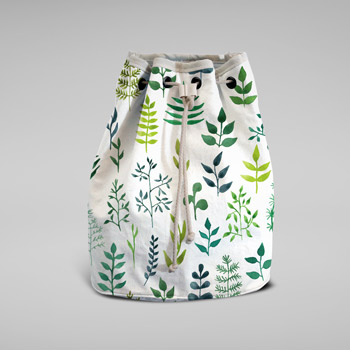 Roses – flowers print on fabric
Who doesn't like roses? They are a symbol of love and the most romantic flowers of all. It is no wonder that the world's top designers take advantage of rose designs to create a variety of glamorous garments that can be seen in fashion shows: suits, dresses as well as shoes! The last few months have seen roses used in every imaginable way and the trend quickly moved from the catwalk to the sidewalk. Use our roses printed fabrics to refresh your wardrobe in style. A satin blouse with flowers print will go well with a smart outfit while large, conspicuous roses against a dark background will be a perfect choice for everyday casual looks.
Another floral theme are wild flowers - a less obvious but equally charming design. They are fresh, we associate them with airiness and lightness and, last but not least, they are admired for their stunning diversity. Haven't you ever returned from a meadow with a bunch of wild flowers which you couldn't resist to pick? CottonBee offers you a chance to introduce wild flowers patterns into both your wardrobe and home, which can be decorated with home decor accessories made from a flowers printed fabric. How about gabardine drapes with flowers design, flowers printed cushions or sheer voile curtains decorated with a fine floral print?
Exotic flowers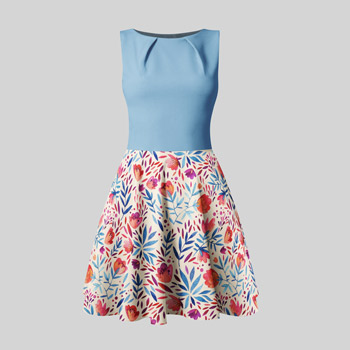 Would you be willing to try something much bolder? Tropical, juicy, colourful flowers with intriguing shapes will make anything they appear on look much more exciting. Whether your intention is to make a loopback jersey dress with exotic flowers pattern or a cotton interlock baby bodysuit with tropical design, remember that brightly-coloured, eye-catching flowers are here to stay. So, don't hesitate – choose a flowers printed fabric and start sewing!
Flowers fabric – custom-designed prints!
flowers print on fabric. CottonBee offers you total control of the whole process: you choose the pattern, its size, the repeat option and finally the fabric on which the pattern will be printed. The bees in our hive will be pleased to print, cut and pack the flowers printed fabric of your dreams, which will be then delivered right to your doorstep.
For business
Organic fabrics
Haven't decided yet?
Order a Swatch Book
x

Haven't decided yet?
Order a Swatch Book!
also includes organic fabrics
Order our Swatch Book including 9 x 9 cm swatches of all CottonBee fabrics and be sure what you buy.
Only 1,99 EUR / GBP and free shipping.
Order a Swatch Book