Free shipping over 100 EUR
Once your order surpasses that amount we will ship it for free.
Ready to ship in 3-5 business days
You never have to wait long for your custom printed fabrics.
Excellent quality at a good price
Order with bulk discounts or have your order priced individually.
GOTS 6.0
CottonBee is a GOTS certified company (license number: 1099579).
Join our satisfied Customers!
We love your fabric and what you do, our designs always arrive to a good standard in prompt timing

Megan, Milton Keynes
Love the print and the ability to wash printed fabric in the washing machine (single jersey with lycra). Print itself is very sharp and the communication during the order being processed was great.

Katy, Leicester
I have been printing wovens for home decor for some time now, but I tried printing on knits with you for the first time. Would reccomend for sure! Such a pleasure - fast, always friendly and the quality is great. THANKS!

Amelia, Walberswick
Keep going your great work! Love your printed fabrics!

Amelia, London
Ich finde es toll, dass es keine Mindestbestellmenge gibt, außerdem ist die Lieferzeit sehr kurz, in nur wenigen Tagen war der bestellte Stoff schon vor meiner Tür, ausgezeichnet!

Frieda, Rothenburg
Die Produktqualität ist super, lebendige und haltbare Farben, alles passt.

Agatha, Düsseldorf
Wunderschöne Stoffqualität, viel Möglichkeiten im Design, ich habe diesen Geheimtip schon vielen weiterverraten!

Tina, Eugendorf
Super Service und sehr schöner Druck!

Ruth, Hermagor
Ich bin sehr zufrieden mit dem Druck, schau sehr gut aus und die Lieferung war auch sehr schnell. Ich kann die nur weiterempfehlen.

Nikola, St. Georgen am Ybbsfelde
Ich habe meine ersten Drucke bestellt und bin mit der Qualität, dem Lieferservice und der Kundenbetreuung hoch zufrieden! Ich freu mich schon auf weitere Zusammenarbeit!

Gudrun, Saalfelden
Schnelle Bearbeitung, satte Farben. Die Lieferung lässt auch nicht lange auf sich warten. Ich bin vollstens zufrieden. Die nächsten Muster sind schon vorgemerkt :)

Maria, Schellerhau
Wunderschöne Andrucke, leuchtende Farben, ich habe schon das nächste Muster im Visier.

Maria, Schellerhau
Woodland pattern cotton fabric
These days many people live under constant stress, overwhelmed by problems that accumulate day by day. Many of us fondly recall our childhood days when you could play in the forest all day long and your only worry was to fill the basket with wild mushrooms or forest fruits. CottonBee's products can help you return to that wonderful time of your life – the only thing you need to do is to purchase our best-quality woodland printed fabrics. Thanks to them you can feel as if you were surrounded by nature inside your home. Not only will woodland print on fabric have a soothing effect, making every day of your life much more pleasant, but also you will enjoy the privilege of wearing original clothes and living in a uniquely decorated interior. Woodland pattern cotton fabric is just a perfect match for you!
In the CottonBee printing company you will find products that cater for all tastes and requirements. There is no minimum order size, so you don't have to buy the whole bolt of fabric if you need a smaller amount. In addition, you can choose one of over one million patterns on offer. We guarantee professional assistance and quick shipment of your orders – the maximum delivery time is just 5 days.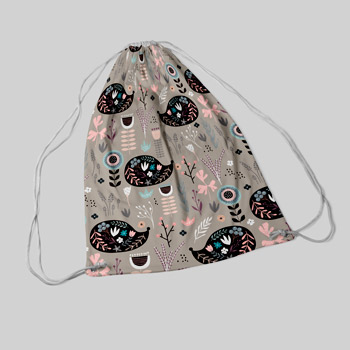 Original home decor
Woodland pattern cotton fabric allows you to design an interior whose decor resembles the natural habitat of roe deer, foxes or owls. The dominant green hue will help you to relax effectively after a long hard day of work while the eye-catching patterns will attract attention of your guests. These are timeless designs as positive associations with an atmospheric forest will certainly be in vogue for many years to come. A wide range of products available in our shop includes different types of textiles. Among CottonBee's vast choice of fabrics you will find not only perfect materials to make clothes or home textiles but also their thicker counterparts which you can use to create original decor for any interior. Woodland prints on fabric make it possible to create uniquely decorated flats or houses.
Fabric with woodland design – for anyone fond of wildlife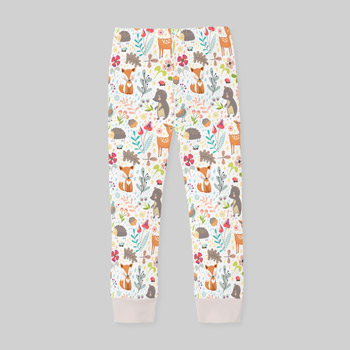 There is a reason why cotton fabrics with woodland patterns never go out of style. A forest is a perfect place for teeenagers and younger children to play under the watchful eye of their parents. It is associated mostly with unforgettable adventures, picking wild blueberries, raspberries or mushrooms and having a good time. Your kids will surely be attracted to one of CottonBee's numerous woodland animal patterns. Roe deer, owls, hedgehogs, hares or foxes are creatures that frequently appear in fairy tales and animated cartoons, so children obviously love them. Made-to-order fabric with woodland print lets you create original garments that your kids will enjoy wearing! You can use woodland pattern fabrics to familiarise your children with the flora and fauna around them. Before your child ventures into a forest, they should know the rules that should be observed there. Woodland pattern cotton fabrics can be a starting point for teaching your kids the importance of keeping quiet in the forest in order not to disturb wildlife. Aware of the basic principles of conduct, your children will be ready to go into the forest in search of adventures.
For business
GOTS fabrics
Haven't decided yet?
Order a Swatch Book
x

Haven't decided yet?
Order a Swatch Book!
also includes organic fabrics
Order our Swatch Book including 9 x 9 cm swatches of all CottonBee fabrics and be sure what you buy.
Only 1,99 EUR / GBP and free shipping.
Order a Swatch Book