Free shipping over 100 EUR
Once your order surpasses that amount we will ship it for free.
Ready to ship in 3-5 business days
You never have to wait long for your custom printed fabrics.
Excellent quality at a good price
Order with bulk discounts or have your order priced individually.
GOTS and OEKO-TEX® Standard 100
We are GOTS (Global Organic Textile Standard) and OEKO-TEX® Standard 100 certified.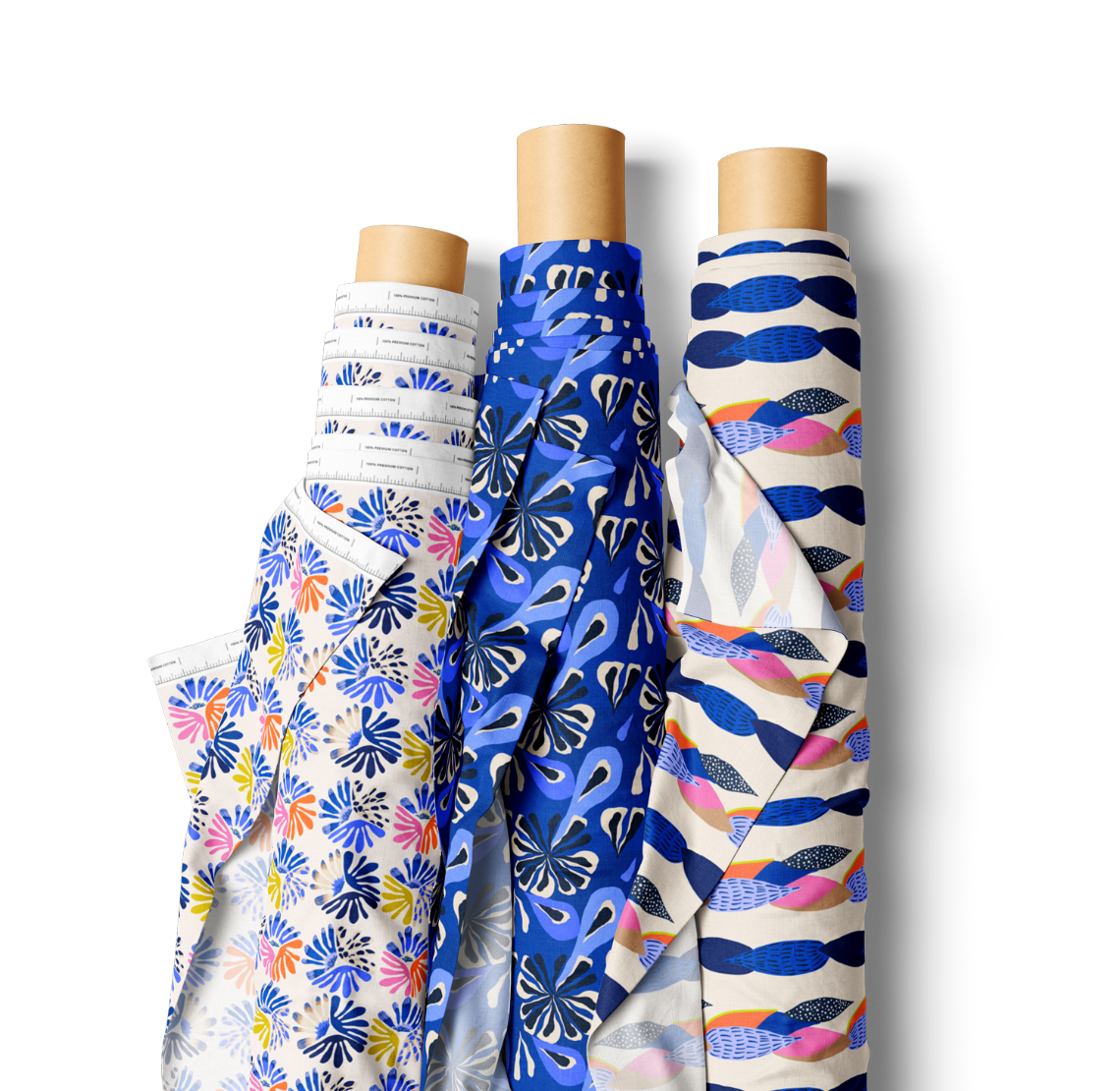 Find a pattern and order it on fabric
More than 20,000 customers from all over Europe have already trusted us!
We love your fabric and what you do, our designs always arrive to a good standard in prompt timing

Megan, Milton Keynes
Love the print and the ability to wash printed fabric in the washing machine (single jersey with lycra). Print itself is very sharp and the communication during the order being processed was great.

Katy, Leicester
I have been printing wovens for home decor for some time now, but I tried printing on knits with you for the first time. Would reccomend for sure! Such a pleasure - fast, always friendly and the quality is great. THANKS!

Amelia, Walberswick
Keep going your great work! Love your printed fabrics!

Amelia, London
Owl fabric - ideal for bed linen
The owl fabric reminds us of sleep because we do not see these birds during the day. An owl is also a symbol of wisdom. Its image can be seen in children's books with puzzles and crosswords. In the past, it was believed that by looking at its eyes, you could gain wisdom, find answers to many difficult questions and look inward. The owl was also an important symbol for the ancient Athenians. They believed that this night predator would speak to people and share its wisdom if it wanted to. Every ancient Greek dreamed of meeting it one day. It was also believed that their close presence helps the sick to recover.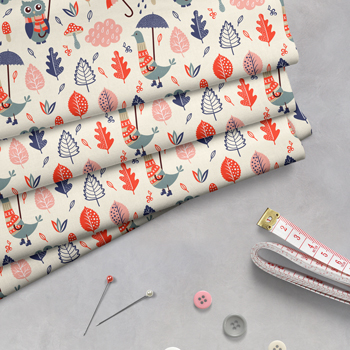 Owl - a symbol of sleep and wisdom
Owls are associated with sleep, so we often buy or sew bed linen with their motif. Scandinavian style bedroom linen should be in light, neutral colours. There must also be some white in it. Fabric in beige or light brown owls will, therefore, be perfect for sewing bed linen for a Scandinavian bedroom - especially if you like to be surrounded by animal accents.
The owl fabric will not only be ideal for bed linen for the little ones but also nightwear, shirts and pyjamas. Owls wearing glasses are also often found on school clothing for children, school backpacks, shoe bags or gymnastic outfits.
The owl fabrics can also be used for curtains, spreads for bed or sofa or decorative pillowcases for the living room. In a Scandinavian style living room, a pillowcase made out of owl fabric will look beautiful on an armchair, corner seating or sofa. It will be especially noticeable against the background of a soft, woollen blanket or a light bedspread made with natural fabric - linen, wool or cotton.
Baby bed linen made out of soft cotton owl fabric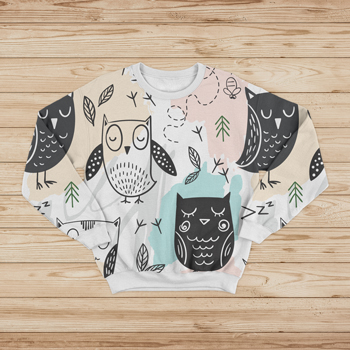 Owl fabric bed linen will also suit the children's room, especially in a lively and more colourful version. Intensive colours and distinct shapes appeal to children, stimulate their development and make them even more willing to stay in their room. The cotton owl fabric does not cause allergies, is pleasant to the touch and easy to keep clean - it can be washed at high temperatures.
As far as the children's room is concerned, owl fabric can also be used to sew curtains for windows, blinds and you can even to use it as a patchwork fabric in combination with plush and fleece. The room looks charming when the bed linen, curtains, blankets and pillows are made with the same owl fabric. And, of course, pyjamas with the same motif at that.
The owl motif as a symbol of wisdom is often used on school supplies. Every little pupil would be pleased with a set consisting of a backpack, a pencil case and a crayon sachet made out of this colourful fabric. If the set is complemented by a shoe bag and gymnastic outfit sewn in the same style, he will be happy to the power of 2. The backpack does not have to be entirely covered in owls. You can use this fabric to decorate just your pockets or some other parts, depending on your taste and vision.
For business
GOTS fabrics
Haven't decided yet?
Order a Swatch Book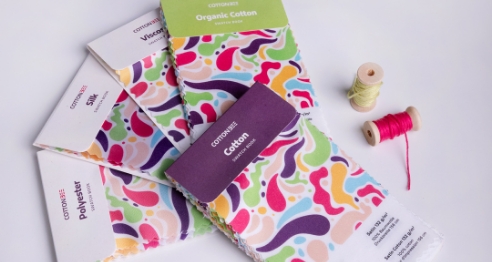 Order CottonBee swatch book with free shipping!
Compose your own swatch book! The base version includes cotton fabric swatches, but you can also add organic cotton, viscose, polyester and silk swatches.