Custom Printed
Cotton Loopback Jersey

Fabric 300 gsm

90% cotton, 10% polyester

See all cotton fabrics

22,90 EUR / 20,90 GBP / running metre

Price of printed fabric before bulk and business discounts. See bulk discounts.

Free shipping over 100 EUR

Place an order right now and we will send the printed fabric not later than on:
Monday, 18.12.2023
Thick sweatshirt jersey that provides more coverage, with addition of synthetic fibre to increase the longevity of the fabric.
Specification
Maximum printable area: 147 cm
Grammage: 300 gsm (+/- 5%).
Estimated shrinkage: 1,5% in length and -1,5% in width
Usage

Loopback jersey is a fantastic fabric for all types of sweatshirts, sweatsuit sets or dresses. In autumn and winter, it is a true must in any layered outfit - even the thicker loopback is still an airy knit, so you will not sweat too much.
Care instructions

Machine wash in max. 40° C on a delicate setting, using phosphate-free detergent. Set spin speed to max. 400 spins. More information on how to care about CottonBee fabrics can be found here.
Fabric printing tailored to your needs
Excellent print quality Sharp details and vivid colours.
Ready to ship in as little as 3 days Fast fulfilment even for a last-minute project.
State-of-the-art printing technology Best in class industrial pigment ink and sublimation printing lines.
Soft and smooth printed fabric touch Quality textiles for home decor and everyday wear.
Great light and washing fastness >7, ISO 105-B02 in lightfastness tests and 4-5, ISO 105-C06 in washing fastness tests.
We are eco!

Reduced water and energy consumption

We are OEKO-TEX® Standard 100 (Class I) certified

CottonBee is a GOTS 6.0 certified company
Frequently asked questions
What is OEKO-TEX certificate?
The OEKO-TEX Standard 100 certificate attests to the quality of textile products that are intended for direct contact with the human skin. It is an internationally recognised and respected testing and certification system for raw materials, semi-finished and finished textile products at all levels of processing.

During the certification process, the product is inspected for the presence of 100 hazardous chemical substances that may endanger the health of consumers. The certification process examines whether products are free of formaldehydes, pesticides or common substances that may cause allergies. The OEKO-TEX certification covers fibres and textiles, as well as finished products.

In the latter case, all parts of the product are tested, including buttons, snaps, threads, etc. Today, more than 160,000 OEKO-TEX certificates were issued worldwide, making it one of the most widely recognised quality marks for textiles that have been tested for harmful textiles.
What are the characteristics of an OEKO-TEX certified fabric?
A fabric with the OEKO-TEX certificate is a guarantee that every component of the fabric is free of harmful chemicals. Every OEKO-TEX certified fabric goes through a rigorous testing process to assess whether it is suitable for contact with human skin.

To receive the OEKO-TEX certificate, the submitted fabric must be free of more than 100 chemical substances recognised as harmful to health. An OEKO-TEX fabric is safe for children, allergy sufferers and sensitive skin. Fabrics that have passed the certification process are suitable for everyday use and do not irritate or cause allergies. OEKO-TEX certified fabrics are divided into several classes that define their recommended use.

Class I products are safe for infants and children up to the age of 3, which means that they are suitable for the manufacture of clothing, bed linens and fabric toys. Class II products are suitable for direct contact with the skin, so these are mainly clothing, underwear, bed linen, etc. Classes III and IV are products that are not in direct contact with the skin – decorative articles such as drapes, curtains and shades.
What fabrics will be best for my projects?
Cretonne and satin are really universal fabrics. They are perfect for sewing shirts, dresses or skirts, but you can also use them to sew tablecloths, bed linen or shopping bags.

Voile is an airy and transparent fabric, excellent for curtains with a pattern or as an extra layer in a dress or skirt. Printed voile applied to a uniform lining fabric will allow you to create a unique piece of clothing.

Gabardine and panama are great picks for curtains, decorative cushions or furniture covers. They require dry-cleaning, so they are perfect for sewing decorative elements that you do not have to wash often.

Cotton interlock is a sensational knitted fabric for children's bodysuits. It is soft, airy and just as pleasant on both sides. Interlock is a 100% cotton knitted fabric with a grammage of 160 g/m2, which you can also use to create underwear, pyjamas, etc.

You can print your design on three different types of jersey. Cotton single jersey fabric with a grammage of 180 g/m2 is ideal for children's clothes and everyone with sensitive skin. The natural fabric without the admixture of artificial fibres will not be allergenic and can be used in children's clothing with confidence.

The addition of Lycra in knitted fabrics increases their elasticity and additionally stabilises the fabric. Thanks to the synthetic fibres, natural knitted fabrics retain their shape and stretchability for much longer, and with mixtures characterised by a low percentage of artificial fibres, they do not lose all the advantages of natural fibre fabrics. Single jerseys of 200g/m2 and 230g/m2 grammage with 8% Lycra content will be great for light sportswear, various leggings, elastic t-shirts, shorts, etc.

Loopback jersey is a fantastic fabric for all types of jumpers, sweatsuit sets or dresses. In autumn and winter, it will prove itself as an element of the layered clothing – it is an airy knit, so you will not sweat too much. In spring or summer, it will be an incredible addition for a cool evening – they will provide warmth without restricting the airflow.
If you have any questions, please contact us at [email protected].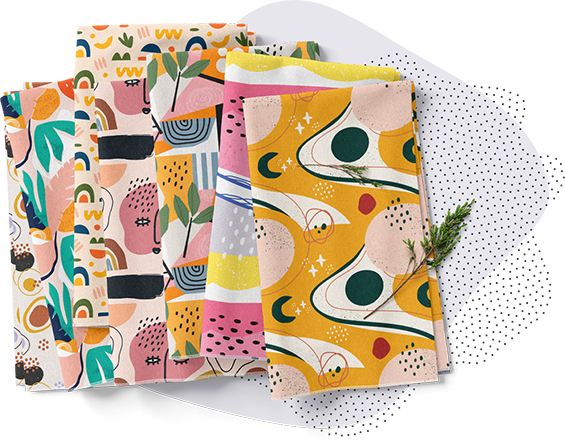 Bulk discounts
The discount is calculated automatically at the checkout, the quantity applies to one fabric (not a pattern) in one order
For business
GOTS fabrics
Haven't decided yet?
Order a Swatch Book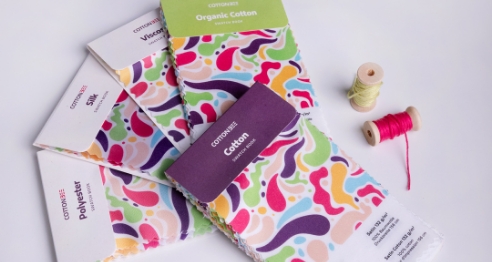 Order CottonBee swatch book with free shipping!
Compose your own swatch book! The base version includes cotton fabric swatches, but you can also add organic cotton, viscose, polyester and silk swatches.