GOTS certified
OEKO-TEX®
New version
Custom Printed
Organic Cotton Half Panama

230 gsm

100% organic cotton

See all organic cotton fabrics

24,40 EUR / 23,40 GBP / running metre

Price of printed fabric before bulk and business discounts. See bulk discounts.

Free shipping over 100 EUR

Place an order right now and we will send the printed fabric not later than on:
Monday, 18.12.2023
Woven fabric from organic cotton with a panama weave. Durable fabric with a variety of different uses. Due to the type of weave this fabric is best suited for light prints with lower coverage.
Specification
Maximum printable area: 135 cm
Grammage: 230 gsm (+/- 5%)
Thread count: 84 x 28
Estimated shrinkage: 3 to 5% warp and less than 2-4% weft
Usage

Organic cotton half panama is an amazing fabric for a vast variety of home decor pieces. Half panama can be also used for handmade accessories, i.e. bags, backpacks, satchels.
Care instructions

Dry clean only with phosphate-free detergents using a gentle machine cycle. More information on how to care about CottonBee fabrics can be found here.
Fabric printing tailored to your needs
Excellent print quality Sharp details and vivid colours.
Ready to ship in as little as 3 days Fast fulfilment even for a last-minute project.
State-of-the-art printing technology Best in class industrial pigment ink and sublimation printing lines.
Soft and smooth printed fabric touch Quality textiles for home decor and everyday wear.
Great light and washing fastness >7, ISO 105-B02 in lightfastness tests and 4-5, ISO 105-C06 in washing fastness tests.
We are eco!

Reduced water and energy consumption

We are OEKO-TEX® Standard 100 (Class I) certified

CottonBee is a GOTS 6.0 certified company
Frequently asked questions
What is organic cotton?
Organic cotton is a fibre whose production process is designed to be as ecologically sustainable as possible. No pesticides, insecticides or other chemicals are used on organic cotton fields, so the soil retains its fertility. By excluding chemicals from organic cotton production, local bodies of water are not polluted, and the work environment is much safer for human health.

Organic cotton is mostly watered by rainwater. It is estimated that up to 80% of the crops are irrigated like this. Thanks to that, it is possible to reduce water consumption in the textile industry considerably. Cottonseed oil, a by-product of the organic cotton production process, is used in food and cosmetics.

Although the price of organic cotton is usually higher than that of the conventionally-grown one, by investing in organic fibres, you not only receive a high-quality product, but you also contribute to reduced water consumption, cleaner air and improved working conditions for the farmers who work in the cotton fields.
What is GOTS certification?
GOTS certification, or Global Organic Textile Standards, is a textile processing standard that does not allow the use of bleaches, chemicals or dyes during the production process. The GOTS certification process is highly restrictive, so when buying fabrics certified in accordance with this standard, you can be sure that the product meets the highest environmental and social criteria. Proper water management is essential for the GOTS standard.

A manufacturer who applies for the certificate is obliged to use treatment plants and a closed water cycle. It is an extremely crucial aspect in cotton and flax manufacturers, where fabrics are spun wet. The GOTS standard examines every stage of the textile production process, but that is not all. To be GOTS-certified, the supply and distribution chains must also meet specific social and environmental requirements.

The GOTS certificate is issued for one year and is renewable. Every year the certified manufacturer is audited to check whether the company complies with the standard.
What can you sew using organic cotton?
You can use organic cotton everywhere you would use its conventional counterpart. It is used to produce both woven and knitted fabrics, which you can use to create clothes, underwear, bed linen and home décor. Organic cotton fabrics are not only environmentally friendly but also safe for the skin. These fabrics do not irritate, even in the case of sensitive skin, do not sensitise and are safe even for the youngest.

Sewing using organic cotton is no different from sewing using conventional cotton. Both woven and knitted fabrics made from organic cotton are easy and pleasant to sew, machine washable, as well as pleasant to the touch and airy.
If you have any questions, please contact us at [email protected].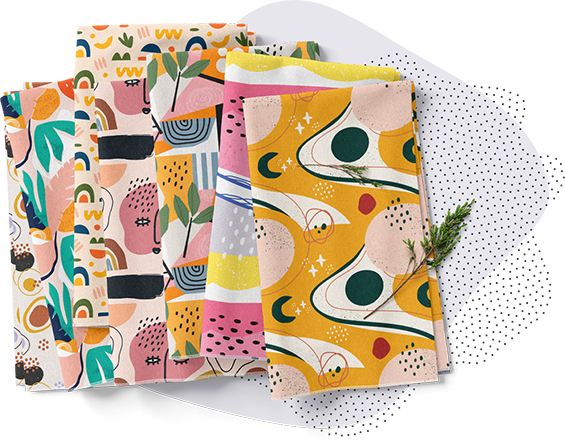 Bulk discounts
The discount is calculated automatically at the checkout, the quantity applies to one fabric (not a pattern) in one order
For business
GOTS fabrics
Haven't decided yet?
Order a Swatch Book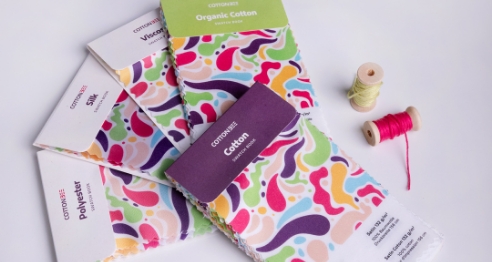 Order CottonBee swatch book with free shipping!
Compose your own swatch book! The base version includes cotton fabric swatches, but you can also add organic cotton, viscose, polyester and silk swatches.