Custom Printed
Waterproof Softshell

320 gsm

100% polyester

See all polyester fabrics

24,40 EUR / 23,40 GBP / running metre

Price of printed fabric before bulk and business discounts. See bulk discounts.

Free shipping over 100 EUR

Place an order right now and we will send the printed fabric not later than on:
Wednesday, 27.12.2023
Softshell fabric has two layers. First one, a waterproof membrane protects the inner, soft and warm fleece. Softshell is windproof, waterproof and breathable at the same time.
Specification
Maximum printable area: 140 cm
Grammage: 320 gsm (+/- 5%)
Estimated shrinkage: up to -3% in length and up to -2% in width
Waterproof: 6200 mm of water column

1000 - 2000 mm Water resistant (drizzle and very light rain only)
2000 - 5000 mm Lightly waterproof (light to moderate rain)
5000 - 10000 mm Good level of waterproof (withstands heavy rain)
Print technology

Dye-sublimation printed softshell fabric. Sublimation is a print technology in which the design is first printed onto transfer paper and then transferred onto the fabric in a calendering machine. The dye penetrates deep into the textile's structure, resulting in long-lasting, vivid prints that do not change the feel of the fabric.
Usage

Waterproof softshell is an exceptional textile for outerwear. Softshell can be used as a base for breathable, waterproof jackets, ski suits that won't obstruct the airflow and at the same time will shield from the wind. Perfect fabric for any kind of coat or jacket you can wear throughout the seasons, great for layering.
Care instructions

Wash at a maximum temperature of 60°C, preferably using a synthetic washing program and do not bleach. Spin at high speed and tumble dry only on the lowest heat setting. Iron potential creases on the lowest heat setting or use a steamer. More information on how to care about CottonBee fabrics can be found here.
Print your custom polyester
Long-lasting and vibrant prints Resistant to washing out, long lasting and fadeproof prints in vivid colours.
Flexible fullfilment time Printed polyester ready to ship in as little as 10 business days.
Environmentally safe print technology Solvent-free, water based pigments, non-harmuf to the environment and human skin.
Durable, stretchy, no deformations Elastic fibres that go back to their original shape even after intense usage.
Resistant to atmospheric conditions Functional polyester fabrics with basic and high resistance to rain.
We are eco!

Reduced water and energy consumption

We are OEKO-TEX® Standard 100 (Class I) certified

CottonBee is a GOTS 6.0 certified company
Frequently asked questions
What are the key features of polyester fabrics?
Unlike cotton fabrics, polyester makes for woven and knitted fabrics with water-repellent properties. Polyester fabrics do not absorb water that collects on or underneath their surface. For this reason, polyester is a popular sports fabric. When you exercise, your clothes stay dry so they don't cool your body, although they can be very warm on summer days. Polyester clothes dry quickly after washing and are not very prone to creasing.

Polyester is also a fabric valued for its durability. Polyester knit fabrics are very resistant to deformation. Highly stretchy lycra or spandex for a swimsuit, as well as sport lycra, will keep its original shape for a long time and return to its original dimensions even after strong stretching. Polyester knitted fabrics with spandex fit perfectly to the body and do not restrict movement. They work great on the body, they are soft and pleasant to wear.

Among the fabrics made of polyester, you will find many fabrics with unique uses. Its water-repellent properties make polyester the base fibre of many waterproof materials. Waterproof fabrics made of polyester do not get wet even in prolonged rain, they can also protect against the wind.
What are the advantages of sublimation printing?
Sublimation is a technology of fabric printing that allows you to obtain durable, non-fading, non-flaking prints on woven and knit fabrics. It is an environmentally safe method of printing on fabrics, which uses water-based dyes, without solvents and other harmful chemicals. Dyes in the sublimation printing process penetrate the structure of the material, hence the prints obtained in this method cannot be felt on the surface of the textile, cannot be rubbed off, and when the knitted fabrics are stretched, the white base fibre does not appear. The prints created in the sublimation process are resistant to weather conditions - they will not fade in the sun or discolour in the rain. Even after repeated washing, drying and ironing, they look exactly the same as right after printing. Sublimation printing is possible on polyester substrates such as lycra, softshell, waterproof fabrics, spandex, and synthetic silk.
What can you make from polyester?
Polyester is the most popular choice for functional or sports clothing. Strong and stretchy knits with the addition of lycra or spandex will fit perfectly to the body, which is why they are usually chosen for swimwear, leggings, yoga clothes or cycling clothes. Polyester can be successfully used in the design of a dance costume, sports clothing or underwear, or an element of cosplay or Halloween costume. Waterproof fabrics will be perfect for outerwear, including various rainjackets, raincoats or a light rain poncho that you can easily fold and put into a backpack or bag.
If you have any questions, please contact us at [email protected].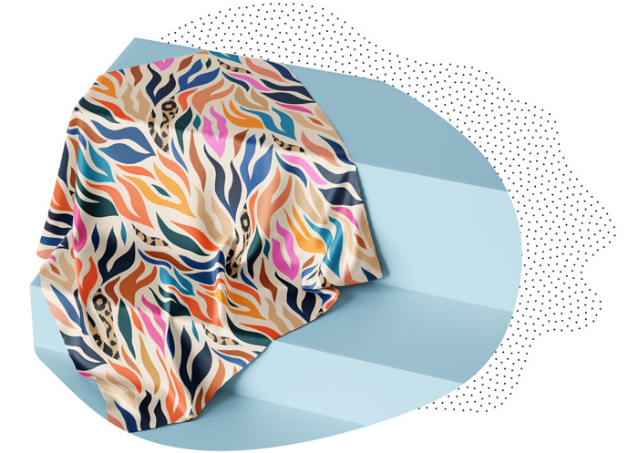 Bulk discounts
The discount is calculated automatically at the checkout, the quantity applies to one fabric (not a pattern) in one order
For business
GOTS fabrics
Haven't decided yet?
Order a Swatch Book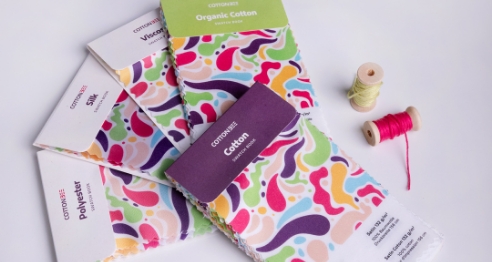 Order CottonBee swatch book with free shipping!
Compose your own swatch book! The base version includes cotton fabric swatches, but you can also add organic cotton, viscose, polyester and silk swatches.