Printing on knitted fabrics
We offer custom printing on knitted fabrics that are made in Poland, knitted from high quality American cotton.
The knitted fabrics we print on are certified according to OEKO-TEX, a leading safety mark of textile products.They have been tested for harmful chemicals and are found to be safe.
The knitted fabrics we print on have different composition and elasticity - decide what fabric is the best for your sewing project. Select a custom printed knitted fabric below and learn more about specifications and use of a digitally printed cotton knitted fabric. You can also see all the fabrics we print on, before you make a final decision.
What type of printed fabric do you need?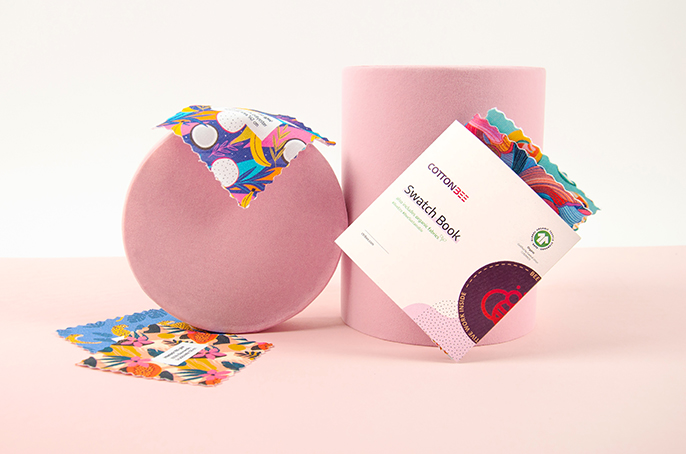 Order CottonBee Swatch Book!
For 1,99 EUR/GBP and free shipping, you'll get 9 x 9 cm swatches of all fabrics we print on.
Swatch book includes organic fabrics.
Frequently Asked Questions
What fabric printing technology do you use?
We offer digital fabric printing. We use high quality water pigment inks developed specially for printing it. Printed fabric is fixed at a high temperature with no chemicals. What is more, no water is used and minimum waste is generated throughout the process which makes CottonBee exceptional in the textile industry.
Can your fabric be used for sewing clothes?
Of course, it can! We print on high quality cotton woven and knit fabrics which are produced for sewing clothes. They are woven from American cotton in one of the leading Polish mills. You can learn more about our woven fabrics here, more details about knit fabrics can be found here.
What certificates do the fabrics have?
All our unprinted fabrics have OEKO - TEX certificate. They have been tested for harmful chemicals and are found to be safe for humans; that's why, you can enjoy sewing children's clothes and underwear.
How fast do you send printed fabric?
99% of orders are dispatched within 5 business days starting from a day of accepting them. If you choose shipping by courier, you can enjoy your printed fabric after a week from placing an order.
Printing on knitted fabrics
Cotton knitted fabric is a sewing material that is elastic and stretchy in all directions due to its specific structure. That makes it perfect for sewing various types of garments - tracksuits, sportswear, casual clothes, accessories, children clothing and many others! Check what knitted fabric type is the best in terms of a printed design for your sewing project.
As for knitted fabrics, their composition, thickness and the way they are knit can considerably influence their final use. Cotton knitted fabrics are distinguished by the best composition - there is no need to say more about advantages of printing on knitted fabrics with natural composition. They are breathable, skin-friendly and they are perfect even for children! Cotton jersey print is a real pleasure - you can enjoy the longevity of the printed knitted fabric. CottonBee offers digital printing on cotton knitted fabrics of different grammage and weave. Due to their composition, they are a bit stretchy, completely natural and pleasant to wear. Fabric printing on them is a pure pleasure!
Knitted fabric printing can be used to create unique sport and casual garments. Imagine custom printed knitted fabric printed by us, but having your own design on it! This is a way to express your individuality. Custom printing knitted fabric is perfect for sewing: dresses, leggings, hats, accessories, sports clothes. Use custom printed knitted fabric for sewing unique kids clothes - make your children look special and sew some clothes for them yourself! Knitted fabric printing guarantees, that in any preschool, any kindergarten nor on any playground you won't meet the exact same clothes.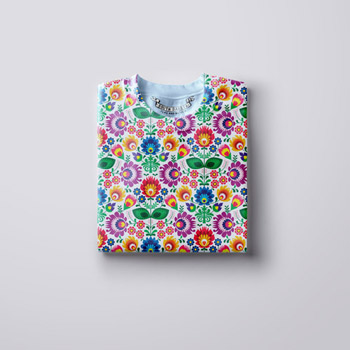 Custom printing knitted fabrics with additions
Printing on knitted fabrics made of cotton with addition of synthetic fibres are an alternative to 100% cotton knitted fabric. They keep their natural strength that comes from high-quality American cotton and they are characterised by a range of extra properties that turn out to be indispensable in everyday use. Their biggest advantage is their elasticity - the printed cotton fabrics don't bag at the elbows and knees as well as don't lose their shape. That's a big plus, especially when you have put a lot of energy and effort in sewing jersey garments.
Choose a custom printed knitted fabric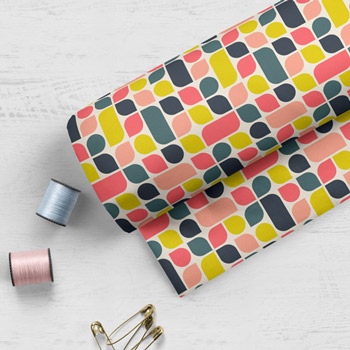 If you have an idea for your next project and have already chosen a design, it is time to decide knitted fabric that you'd like to print on. For light and airy garments, choose cotton single jersey or interlock. Need thick fabric for an outer garment? Printing on knitted fabrics choosing loopback jersey is a good choice. Our custom-printed jersey fabrics can be freely matched with different fabrics giving them their natural form. If you still can't make up your mind what fabric is the best for your project, we can help you. Order our Swatch Book for 1,99 EUR/GBP with free shipping. You'll get unprinted samples of all our woven and jersey fabrics. The decision will become much easier!
Knitted fabric printing is a great choice when it comes to expressing your unique style. Looking for unconventional clothes and garments, and are you truly dissapointed by the recurrence of popular designs while buying sewing fabric? Here is a solution! Knitted fabric printing will let you create not only garments, but also printed patterns from scratch. We will turn your art into custom printing knitted fabrics! Are you an owner of an independent fashion brand? Cool! Custom printed knitted fabric is a great choice when you want to make short series of your clothes. You don't have to order in advance - with CottonBee custom printing knitted fabrics is always just around the corner! Processing time never takes longer than 5 business days. If you want to use knitted fabric printing for growth of your fashion business, you are in the right place. Knitted fabric printed can be at your door in about a week.
For business
GOTS fabrics
Haven't decided yet?
Order a Swatch Book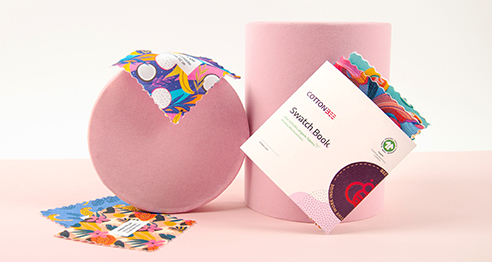 Haven't decided yet?
Order a Swatch Book!
also includes organic fabrics
Order our Swatch Book including 9 x 9 cm swatches of all CottonBee fabrics and be sure what you buy.
Only 1,99 EUR / GBP and free shipping.